American Capital Agency Corp. (NASDAQ:AGNC) released Q1 2012 numbers that are cheered by income oriented investors.
(Click chart to enlarge)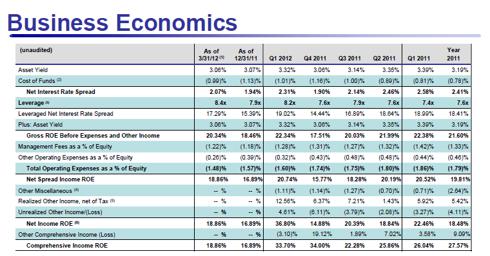 As highlighted in its Q1 presentation, AGNC earned comprehensive income per share of $2.44, a $1.42 net interest spread income and an increase in book value per share of 4.8% to $29.06 per share. Investors are likely to see the recent Q1 performance as a continuation of its past earnings and distribution record. Good earnings and a favorable net interest spread (achievable only through high leverage of over 8x) should be indicative of AGNC's capability to achieve excess returns. So, the bulls claim. I question the current results and I question their sustainability. AGNC has a distribution record of only four years, which were the most favorable an mREIT could ever encounter. First distributions were paid in Q2 2008 and returns are massively skewed by the current low interest environment. An environment not to continue. AGNC does not possess a credible earnings and dividend record in a more challenging interest environment. Even though the Q1 earnings release will be (falsely) hyped by long investors, the outlook looks grim. If earnings are so great that they cover more than the dividend, how come distributions were reduced, the first time after 2.5 years? Wouldn't that be counter intuitive? Management has sent a clear signal to investors that the $1.40 dividend is not sustainable, which is even more impressive as the company has paid it consistently over the last 10 quarters. A huge red flag.
Take that together with a still valid sector downgrade from BofA/Merrill Lynch and distribution reductions across the board, and the investor gets a more accurate picture of where the sector is headed.
AGNC currently has a dividend yield of 16%. It seems to me that a certain group of investors do not realize that this is a risk-adjusted return. It is a high-risk investment, which should not be bought by the average investor. Eventually, reality becomes apparent and gravity catches up.
Since I have laid out my view on mREITs in this article, I still stand with my points and take a small short position in AGNC, in addition to the short position in Annaly (NYSE:NLY). The general thesis goes certainly for all the other mREITs (Hatteras (NYSE:HTS), Chimera (NYSE:CIM), Invesco Mortgage Capital (NYSE:IVR), MFA Financial (NYSE:MFA) and ARMOUR Residential (NYSE:ARR) as well.