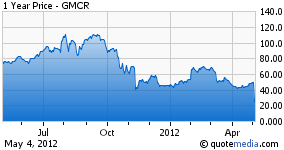 In one of my previous articles ("5 Stages Of Green Mountain Coffee, Based On Similarities With Solar") about Green Mountain Coffee Roasters (NASDAQ:GMCR), I had predicted what would happen to the GMCR stock in the medium term based on similarities with an unrelated sector, Solar. The reason I chose to make that comparison was that Solar had gone through the same boom and bust stages of a momentum sector that I expected the home-brew coffee sector to go through. I explained that home-brew coffee sector had yet to go through some developments such as rising input commodity costs and fierce competition, before stabilizing. I concluded in that article, that GMCR was still in the beginning stages of a bursting momentum sector. I suggested the company was a good one with a quality product, but investors should wait for much lower entry prices to initiate long positions.
As of the publishing of that article GMCR was trading at $43. I was literally mocked by the comments to that article about making a comparison to a totally unrelated sector and about the ridiculousness of my buy-in target, which was $26.
Well I am proud to say that as of this writing, GMCR closed right around $26, although I will admit that even I did not expect we would get at these levels this quickly.
So what was the rush in selling the shares?
Investors should understand that no matter the quality of the company, the investors of GMCR are still largely tilted to the momentum side. When something loses its hype, momentum investors sell. That's what they do. They don't need a fundamental reason to do so. Apparently, a brief comment by the company that "growth would moderate in the near term" is what hit the hype surrounding GMCR and what made the momentum investors literally stampede out of the stock.
However, as far as the fundamental reason behind the company's miss is concerned, I seem to have predicted that one quite accurately in my previous article also. I had suggested that, one of the initial stages of a bursting momentum sector is rising input commodity costs which pressure margins. Below are two quotes from SA's newsfeed, about both Green Mountain Coffee Roasters and Peet's Coffee (NASDAQ:PEET), confirming that is exactly what has happened in the sector.
"May 2nd' 12 Peet's Coffee (PEET -5.5%) slumps after its Q1 report lands with a thud. The company blames the higher price of coffee beans for its narrower-than-expected quarterly profit. On tap for after the bell is an earnings report from GMCR to see how it absorbed coffee price inflation and an update on if K-Cup sales are percolating."

"May 2nd' 12 More on Green Mountain Coffee Roaster's FQ2: While sales moved up 37%, inventory skyrocketed 100% on lower demand for K-cup packs. Gross margin falls to 35.4% on higher coffee costs, from 37.5% a year ago. Guides Q3 EPS to $0.48-0.53 vs $0.72 consensus and Q3 revenue to $861-897M vs $1.05B. Shares -38.9% AH."
So is there a trade to be made in GMCR after its 45% fall in a single day? In my opinion there is. The reason is primarily in the fundamentals. After the rout, the stock is trading at about 1.1X P/S and about 10X P/E for 2012. These are just way too low multiples for a high margin sector like home-brewn coffee. As a result, the multiples should draw in value investors for a near term bounce.
In the medium term, however, investors should note that multiples will probably collapse even further. GMCR will decline to around 4-4,5X P/E, if the similarities to solar sector is an indication. The trade I suggested above is for the near term.
Disclosure: I am long GMCR.