The Taiwanese Economy
Taiwan is a small state east of China and south of Japan. The existing republic government of mainland China moved to Taiwan in 1949 when the Communist forces took control of mainland China. The current government in Taiwan still believes it represents all of China and calls itself Republic of China though only 20-odd countries around the world recognize it as a sovereign nation. Taiwan has had rapid economic growth and industrialization in the last 50 years and is now considered one of the four Asian Tigers along with Singapore, South Korea, and Hong Kong. The country has high levels of public education, healthcare, economic freedom and human development along with freedom of the press.
In 1962, Taiwan had a per-capital GNP of $170 but by 2011 this has increased to $37,000. The country is highly industrialized with agriculture only contributing 2% of the GDP. The global financial crisis of the last four years has hurt Taiwan and economic growth has reduced but the country is still in very good shape. The low-cost labor-intensive jobs have moved to other countries like China and capital intensive have remained on the island. The semiconductor industry forms a major part of the IT industry in Taiwan and some of the biggest companies in IC manufacturing (design, chip foundries, packaging and test) in the world are based in Taiwan. Almost all the Taiwanese companies listed on the U.S. exchanges are giants with huge economic and technology moats around them. Taiwanese companies pay out a huge percent of their profits as dividends, otherwise the government charges extra corporate tax.
Stock

Ticker

ADR
Ratio

Price
(NT$)

EPS
(NT$)

P/E
(NT$)

Price
(USD)

Div Amt

Yield

Div Growth
1-Yr

Div Growth
3-Yr

Div Growth
5-Yr

Num Clicks
to Div Info

Chunghwa Telecom

10

87.6

6.04

14.50

29.47

1.85094

6.28%

-1.16%

12.55%

8.81%

2

Silicon Precision Ind

5

33.8

1.55

21.81

5.71

0.24069

4.22%

-12.35%

-7.60%

-16.02%

2

Taiwan Semiconductor Manu

5

84.3

5.18

16.27

15.11

0.508331

3.36%

0.00%

0.00%

0.00%

3

United Microelectronics

5

14.6

0.847

17.24

2.49

0.188315

7.56%

122.20%

13.99%

22.12%

3
Dividends as Stock Screen
I firmly believe that dividends are real cash and hard to fake. They are paid out of positive cash flow and while accounting gimmicks (and even fraud) can be used to window dress earnings per share, dividends are typically honest. I use inconsistent dividend history and/or big cuts to exclude stocks. I prefer stocks with increasing dividend amounts in native currency. I do understand that the U.S. dollar amount may vary due to conversion rates but since I don't use dividends as income that does not bother me at all.
I have included a simple chart for each company that shows the dividend distributed in the last few years (in New Taiwan Dollars or NT$). I found the websites of most Taiwanese companies a bit difficult to navigate compared with 100-odd websites of European companies. Even the annual reports are structured differently. I have included a measure of "dividend pride," which measures the number of mouse clicks it takes to find dividend history for at least the last five years. I try to find dividend history for last 10 years but beyond five years I find it acceptable to look into past annual reports. The latest dividend distribution and yield is quoted in USD assuming a NT$ to dollar conversion rate of 0.0339.
Withholding Tax on Dividends
Taiwan withholds tax on dividends at the rate of 20% for non-resident investors. An individual investor can file for tax credit on Form 1040 if the shares are held in a regular brokerage account subject to certain limitations. Amounts up to $300 ($600 for joint returns) can be claimed directly on the 1040 but greater amounts or carry-forward/backward requires Form 1116. If the shares are held in a tax deferred account like IRA or 401(k) then there is no mechanism to recover the withholding foreign tax and it is lost thereby reducing the effective dividend yield. As always, consult your tax advisor on all tax-related matters since each individual case is different and I am definitely not qualified to advise.
Chunghwa Telecom (NYSE:CHT)
Chunghwa Telecom is the largest Taiwanese telecom company. It was originally a government enterprise but the government stake has progressively reduced over the last couple of decades. It provides local and long distance phone services, and data communication including Internet services. Chunghwa is one of the largest mobile phone operators in the area and the company provides information and communication technology services to corporate customers. The company is investing heavily in expanding its HSPA+ base stations and at the same time installing more WiFi access points to offload the data traffic from its cellular towers and enhance the quality of service for its customers.
Chunghwa Telecom's dividend has fluctuated over the last decade. The current dividend yield is 6.23% based on an indicated annual dividend distribution amount of US$ 1.85 per ADR. The P/E is attractive at 14.5. One big question mark is Chunghwa's decision to diversify outside the telecom industry and invest in China Airlines' secondary offering. The company has forecast a reduction in annual revenue for 2012 primarily due to tariff a reduction and broadband price cut. At the same time, the operational expenses are expected to increase so net profits may decrease substantially, which might put pressure on the dividend amount for 2012.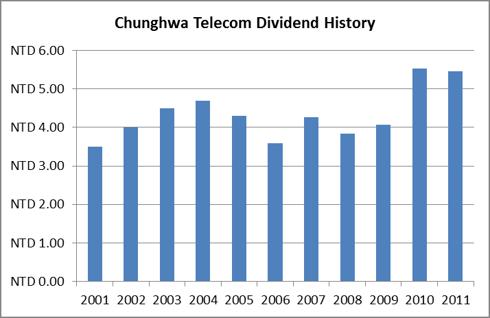 Silicon Precision Industries Company (NASDAQ:SPIL)
Silicon Precision Industries provides semiconductor assembly and test services. The company was established in 1984 and is the third-biggest company in its field. After a foundry like TSMC or UMC makes the silicon wafer with the chip dies on them, these need to be cut and then packaged and tested before the original equipment manufacturer can solder it down on the printed circuit board. SPIL provides these circuit packaging and testing services to fabless design houses. The company is an integral part of the complex IC manufacturing process. Its biggest competitors are Advanced Semiconductor Engineering (NYSE:ASX) and Amkor Technology (NASDAQ:AMKR).
Silicon Precision's dividend has declined substantially from 2007 when it peaked. The current yield is 4.2% based on an indicated dividend distribution amount of $0.24 per ADR. The dividend growth is not attractive but I have had personal experience using SPIL services in device packaging and testing and they are top-notch. The company may continue to report low single-digit revenue and profit growth in the coming years.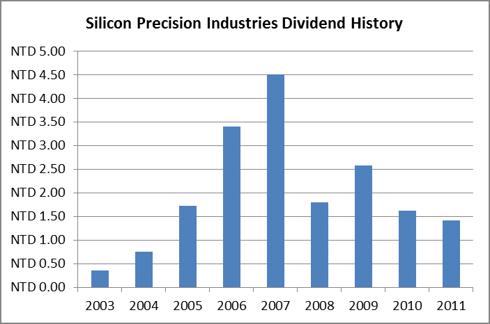 Taiwan Semiconductor Manufacturing Company (NYSE:TSM)
TSMC is the world's largest independent semiconductor foundry. It was founded in 1987 and has quickly grown much bigger than the rivals. Its 2011 annual revenue of US $14.5 billion is almost four times that of its nearest competitor - UMC. TSMC makes digital logic chips for all the well-known fabless semiconductor companies like AMCC, Qualcomm (NASDAQ:QCOM), Broadcom (BRCM), Marvell and NVidia (NASDAQ:NVDA). Recently, TSMC announced that it would start manufacturing A5 and A6 chips for Apple (NASDAQ:AAPL) products. TSMC operates its fabs in Taiwan, the United States and China. TSMC can do better than some of its competitor as 40nm process node is now main stream and has revenue numbers similar to that from 65nm. Going into the future there are fewer fabs that can compete with TSMC at 28nm and beyond. TSMC offers design services as well along with the traditional foundry manufacturing. The latest quarterly results show that the demand remains strong.
TSMC has paid a consistent dividend for the last several years along with occasional stock dividends. The current yield is 3.5% based on an indicated annual distribution amount of $0.509 per ADR. I am a bit disappointed that the financial numbers are not any better given the extremely high-tech nature of TSMC's business and its number-one position in its field. Profits haven't risen as fast as they have for some customers. This is partially due to margin compression and partially due to the capital intensive nature of the business. It takes billions of dollars to set up a new foundry especially at deep sub-micron levels. I was a long-time investor but sold my holding in March, taking advantage of the recent price run up. The dividend history has been consistent in the last few years, which is encouraging but not enough for me. I am typically looking for growth in dividend. However, it may be a solid investment for those looking for current yield.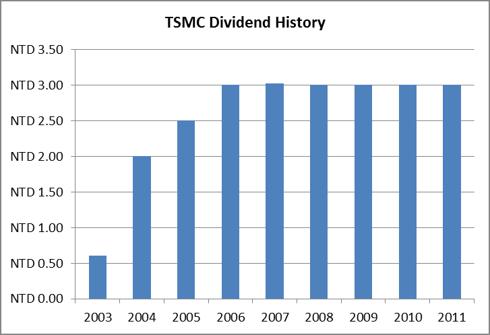 United Microelectronics Corporation (NYSE:UMC)
UMC is world's second largest independent semiconductor foundry (fab) by revenue. It was founded in 1980 and most recently had revenue of close to US $4 billion. It has 10 wafer manufacturing facilities including two 300 mm fabs (one each in Taiwan and Singapore). IC manufacturing is capital intensive and rate of obsolescence is quick. However, UMC has been able to keep up with the technological advances and has provided customers with 28mm manufacturing capabilities. It serves all the major fabless semiconductor companies, like Qualcomm and Broadcom. It gets its biggest share of revenue from 65 nm process chips. The company is trying to increase revenue from 40 nm designs, which is where the industry is headed due to power saving and costs savings due to reduced chip area.
There are very few fabs that operate at the level of TSMC and UMC and all their customers are reporting increased revenue. However, the revenue for UMC hasn't grown at similar pace. The 2011 revenue was less than that for 2010 and free cash flow is negative. The current dividend yield is very attractive at 7.6% but I still remember 2009 when no dividends were paid due to net loss for the 2008 financial year. The indicated dividend distribution amount is $0.188 per ADR. I like the business and know that there are only 5-6 foundries in the world that have significant volume in 65 and 40nm - TSMC, UMC, GlobalFoundries, Samsung, SMIC and Toshiba. However, I don't feel confident that I can expect a steady consistent dividend growth with UMC so I will pass for now.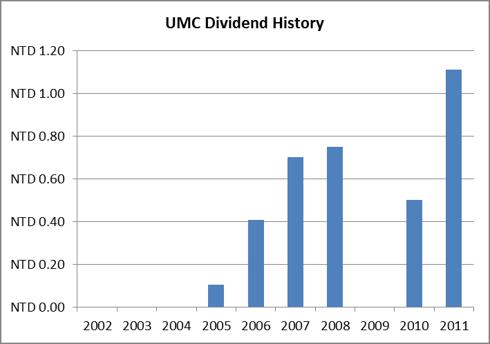 Other Stocks
I list some of the others Taiwanese stocks that can be bought on the U.S. exchanges that did not meet my requirements for consistent dividend history but may interest other investors.
Concluding Remarks
I am not sure whether the U.S. will continue to be an economic superpower in the coming five decades in the face of mounting federal debt and increasing trade imbalance. I also want to reduce geopolitical risks. Additionally, the U.S. market is at a four-year high and there are few bargains in the dividend bucket. I am slowly selling some of holdings at multi-year highs and investing sale proceeds along with any new savings into foreign dividend-paying companies. I was hoping to find more attractive Taiwanese stocks since they are in rapidly expanding high technology area. There are a few high-dividend yield stocks but I am probably not going to buy any in the near future.
Disclosure: I was an investor in TSM for years but recently sold my holding. I may buy TSM again if the price comes down below $13.