It's almost here. Finally. After what feels like an eternity of anticipation, social media darling Facebook is just days away from an initial public offering that is easily the most anticipated since Google's (NASDAQ:GOOG) in 2004. Facebook, which will trade on the Nasdaq under the ticker "FB," plans to raise about $10.6 billion in its IPO, a number that is far larger than what Google raised eight years ago.
Facebook's (NASDAQ:FB) IPO could be priced between $28 and $35 a share and at the high end of that range, the company would immediately have a market value of $96 billion, which is not all that far below Amazon's (NASDAQ:AMZN) market cap of $103.3 million at the close Thursday. With a market value of $100 billion, Facebook would be larger than currently public social media companies Groupon (NASDAQ:GRPN), LinkedIn (NYSE:LNKD) Yelp (NYSE:YELP) and Zynga (NASDAQ:ZNGA) combined. In fact it would take adding the market caps of that quartet and multiplying the result by four to get to about $100 billion.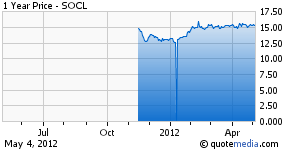 The impact Facebook will have on other social media stocks still remains to be seen. In the past month, as speculation about the IPO has gained steam, the Global X Social Media Index ETF (NASDAQ:SOCL) is up just a third of a percent. Then again, it should be noted that SOCL is up almost 17% year-to-date and much of that has to do with the fact that Facebook merely announced it would come public sometime this year.
In the case of Groupon, that company is so controversial and embattled at the moment that the Facebook IPO probably won't do much for that stock beyond a short-term pop. Ensconced in accounting woes and investors' concerns about competition and profitability, Groupon has woes of its own to address that only it can fix. Facebook just won't mean much to the Groupon cause.
Zynga, the already profitable company that makes the Farm Ville and Mob Wars games among others for Facebook, would be a more logical Facebook IPO derivative play. Zynga obviously has a pre-existing relationship with Facebook and the company has been mentioned as a logical takeover target for Mark Zuckerberg's firm.
Overall, playing the Facebook with other individual stocks might prove tricky. That leaves SOCL as a valid plan. The ETF could easily be bid up in anticipation of the IPO and Global X has previously said SOCL has the flexibility to add new stocks to the ETF's lineup after the stock has completed its fifth day of trading. Even at a market value of $80 to $90 billion, its likely Facebook would be SOCL's largest holding by a fairly significant margin.
Disclosure: I have no positions in any stocks mentioned, and no plans to initiate any positions within the next 72 hours.