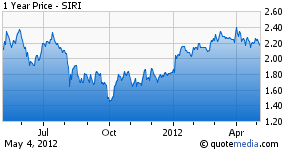 I have been away for quite a bit of time over the last month and really unable to contribute as much as I would like to. Life events do occur for all of us, and although writing for SA is not a full-time gig for me, I do write when I can because I enjoy it. I am trying to get back in the saddle, but lately I am discovering time is becoming scarce. I apologize to my followers and other readers, I am doing my best.
Today I began writing this article because frankly I am (as many longs of this stock are) 100% shocked at what is happening to the share price of our favorite stock, Sirius XM (NASDAQ:SIRI). After hearing the results on the conference call a few days ago, I firmly expected this stock to climb up to the $2.30-$2.40 level at a minimum, keeping in line with my expectation of a summer price of $2.50-plus. Instead I wake up this morning (Friday) and see the price dropping to $2.15?? Even with the Liberty (NASDAQ:LMCA) talk still brewing and the potential for a buyout (though less likely short term) still there?
What is the meaning of this? A stock has beaten analyst numbers in every major category for the quarter (as usual) and the stock takes a 6% nosedive from its $2.30 high on Monday? All this can mean is summed up in one word: opportunity. This is chance for you to either add to your position or start a new one. Sirius at $2.15 is a bargain.
Word on the Street:
Other authors will argue that this stock is retreating to a more "in line" number. We all know by the book this stock is overvalued, trading at a multiple pushing 19, and while a high teens multiple is not cause for alarm normally, other media companies are in the low teens. But this is the point, Sirius is not like other media companies. They have intangibles that others do not, including:
NOLS:
If you have been following this stock, I am quite certain you have heard the word. Simply put, tax writedowns. Sirius had so many losses a few years back, they are able to write down those debts over the coming years. Basically it is a way to avoid taxes on profits. With EBITDA and FCF increasing (once again this quarter) they become more valuable and are not calculated in the multiple many folks love to shove in pro Sirius faces. They have been mentioned multiple times as the crown jewel of this stock. If they are then why would you not lay credence to them?
Meeting and Exceeding Guidance:
Can anyone off the top of their head remember the last time Sirius missed numbers? And I do not mean the high end of an subscriber bracket (there was a quarter when there was a range of predicted new subs ranging from 350K new to 435K new, Sirius came close to the top number). This company consistently meets and exceeds expectations. And by doing so it ...
Improves the bottom line every quarter:
This is very important in the sense that if Sirius just maintained their subs, the churn rate and ARPU remains in the $11.50-$12 range, this company not only makes money BUT improves metrics. How is that? As they move forward, the debt they owe is reduced, sometimes even faster then on schedule. Although they will need a new satellite launched in the coming years, they have no other major expenses at the forefront. With the net subs increasing, this means the numbers get better. All it can mean is good things moving forward and lastly and most importantly they have a ....
Monopoly:
Definition from Wikipedia: A monopoly exists when a specific person or enterprise is the only supplier of a particular commodity. Monopolies are thus characterized by a lack of economic competition to produce the good or service and a lack of viable substitute goods.
"Enterprise is the only supplier of a particular commodity," can anyone name for me a supplier that can provide the supreme content and availability 24 hours a day no matter where in the U.S. or Canada you happen to be?
"Lack of economic competition to produce the goods or service and a lack of viable substitute goods" ... is there another company out there on the forefront? Does the Pandora (NYSE:P) model work? Though they have more listeners, they are not turning a profit and are headed downward. What makes Pandora any different than terrestrial radio? Until someone gets to where Sirius is, with the hardware in place as well as the supreme talent, what alternative (if you like any of the hundreds of channels) is available to you?
The fact is there is a monopoly in place, although it is not for everyone. Sirius does not need 45 million subs to be successful, they are doing just fine with half of that AND are improving metrics with only that. What happens if they get to 25 million? Or 30?
With over 23 million subscribers, and the churn rate staying in the 1.9-2.0% area, the future will be even brighter for Sirius longs. You need to stay the course if you believe in this stock (as I do) and look at the long term potential. There also is nothing wrong with playing the yo-yo and making some money as you hold strong and true.
Disclosure: I am long SIRI.