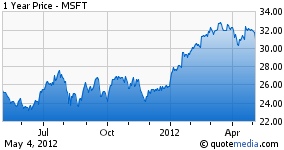 It has been an ugly start to the month and "The Sell in May and Go Away" strategy seems to be tempting given ongoing crisis in Europe, a tepid jobs report, a slowdown in retail sales as well as elections in Europe this weekend that could lead to greater turmoil on the continent in the short term. I feel an increasingly defensive tone creeping into the market. One stock that seems to be holding up well here is Microsoft (MSFT), which has come down from just over $32 in the last five trading sessions, but has fallen less than the overall market and performed much better than the tech heavy NASDAQ. The company should also have the benefit of some catalysts, a low valuation, a good dividend and an AAA credit rating.
Key recent positives for Microsoft:
Stifel Nicolaus just resumed coverage on the stock with a Buy rating and a $38 price target on the stock.
Windows 8 continues to garner positive reviews and will be out by end of year. It also plans to roll out a $99 Xbox.
Microsoft continues to expand its partnership with Facebook (FB) which includes having a stake in the social media concern, integrating Skype into Facebook's platform and recently selling some of the patents recently acquired from American Online (AOL).
Consensus estimates for FY2012 and FY2013 have gone up a few cents in the last month.
4 additional reasons MSFT is solid, safe bargain at $31:
The stock has a 2.5% dividend yield, an AAA credit rating and one of the biggest cash hoards in the S&P 500.
The company has beat earnings estimates for six straight quarters and is selling for just over 10 times forward earnings, a discount to its five year historical average (12.7).
The stock is selling at just 9 times operating cash flow and grew its OCF around 40% from FY2009 to FY2011.
The 29 analysts that have price targets on the stock have a consensus estimate of $36 a share. Credit Suisse has an "Outperform" rating and just moved its price target to $38 from $34 after Microsoft's latest earning report.
Disclosure: I am long MSFT.