The blockbuster shooter franchise, "Call of Duty," is no stranger in the minds of the Activision (NASDAQ:ATVI) faithful and has always been one of their strongest product lines. On November 13, 2012 the sequel to the chart topping "Call of Duty: Black Ops" is set to release in hopes of reaching its predecessor's $360M in sales on launch day with the title "Call of Duty: Black Ops 2." ATVI is using Treyarch Studios to develop their most recent installment of the "Call of Duty" franchise. Though the popular title will undoubtedly gain massive support by loyal fans, ATVI will be taking a risk by releasing their newest "Call of Duty" game after the Microsoft (NASDAQ:MSFT) behemoth sci-fi shooter "Halo 4."
ATVI has been launching their "Call of Duty" products against mega titles from Electronic Arts (NASDAQ:EA) such as "Battlefield 3" (Late October, 2011 vs. the ATVI title "Call of Duty: Modern Warfare 3 in November 2011) and even against a Microsoft/Bungie title: "Halo 3" (Late September, 2007 vs. Call of Duty: Modern Warfare which was released November 2007). Comparatively, in the last instance that ATVI launched a title against the Halo franchise the figures were promising. Though "Halo 3" scored higher in terms of Xbox 360 sales with $300M the first week it's Call of Duty counterpart fared better because of its cross platform availability with over $1B by the following January 2008. In a mere 2-3 month time period ATVI reached the $1B in sales, which is pretty impressive. Though ATVI has taken big risks with these strategies in the past it proved to be fruitful as the release of "Call of Duty: Modern Warfare 3" helped ATVI hit a high of $14.40 in late 2011; about 1 day before its official release the next day while also netting retail sales of $775M within the first five days.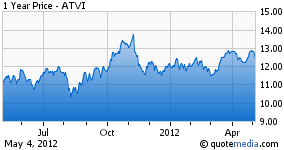 With the release of new "Call of Duty" titles also comes the release of new downloadable content for the game. "Call of Duty: Black Ops" utilized content packs which can be purchased individually mere months after the games release. We suspect, though, that ATVI will utilize their more modern approach to downloadable content. This approach was introduced by "Call of Duty: Modern Warfare 3" called "Call of Duty: Elite" where roughly 1.5M players utilize the paid service to access downloadable content. This service was made available for a $49.99 annual subscription. This stratagem from ATVI has even received praise from their Electronic Arts counterpart stating:
"Frankly, I give a compliment to one of our competitors, who have got a subscription on the back end of an FPS title. I think that's a best-in-class performance."
ATVI is still undervalued, in our opinion, and will be a good buy at anything under $12.5 based on the simple fact that "Call of Duty" titles have never failed to please and even boast a title that crossed over the $1B mark only 16 days after its release. Couple that with their "fastest growing online subscription service" -"Call of Duty: Elite" and we will have another ATVI hopeful for 2012 in "Call of Duty: Black Ops 2."
Disclosure: I am long ATVI.