"Being attractive and being credible can and do go together." - Lisa Guerrero
I've been turning more and more bullish on the Energy sector in the last few days despite the most recent decline against broader stocks. Energy has lagged the broader stock market since the sector peaked out relative to the S&P 500 in late March of 2011, with significant underperformance in March of this year. I'm turning more bullish on the sector purely because I believe the next leg up of the reflation trade likely is led by emerging markets and resource plays. I may be early in that trade, but I do think its worth paying attention to in the near-term.
The question of course is how to best play a recovery in Energy. I'm actually not a big fan of trying for Oil directly itself. Take a look below at the price ratio of the Energy Select Sector SPDR ETF (NYSEARCA:XLE) relative to the United States Oil Fund, LP (NYSEARCA:USO). As a reminder, a rising price ratio means the numerator/XLE is outperforming (up more/down less) the denominator/USO.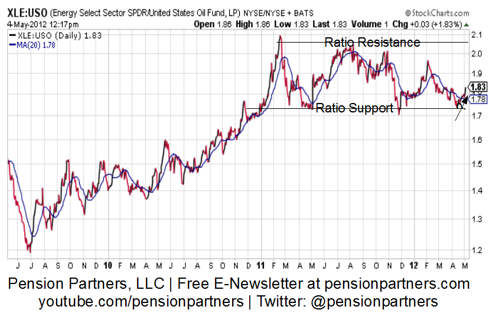 I've annotated the chart to show where the ratio support and resistance is in the relationship of XLE to USO. It is well known that one of the problems with futures based ETFs is that contango negatively impacts returns relative to spot prices. We can see on the far right of the chart that Energy stocks are leading Oil futures in the very recent period, and I suspect more leadership could come. What this means is that if you believe that Energy leads the next wave higher for markets in reflation, Oil itself may not be as potentially profitable as Energy stocks.
Disclosure: I have no positions in any stocks mentioned, and no plans to initiate any positions within the next 72 hours. Pension Partners, LLC, and/or its clients may hold positions in securities mentioned in this article at time of writing.