On May 1st, Student Transportation (NASDAQ:STB) confirmed this week the signing of an asset purchase agreement with National Express Corporation (OTC:NXPGY). The agreement opens two additional states for STB to provide transportation services. As a requirement to resolve antitrust concerns in connection with its purchase of Petermann Partners, Inc. announced last year, NEX will divest of eight school transportation contracts in the states of Texas and Washington to STB.
According to Student Transportation's CEO Denis Gallagher, seven of the eight local school boards involved have overwhelmingly approved the transfer agreements with the remaining one expected shortly. Many of the affected school boards had members visit STB's locations in other states to meet current customers and employees to see firsthand the quality service STB provide in those communities.
The Texas school districts STB will be serving are Bastrop, Boyd, Eagle Mountain-Saginaw, Leander, Manor and Terrell, while the Washington State districts are Battle Ground and Hockinson, which are both in Clark County.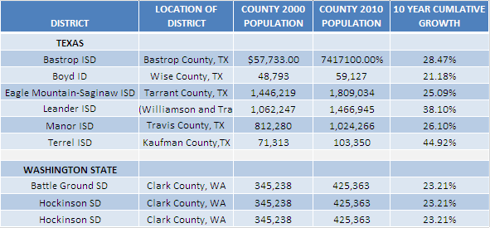 Source:US Census Population Data.
The transfer and asset purchase agreement is anticipated to be completed shortly. STB said the contracts will add annualized revenues of over $19.0 million. STB will use availability under its senior credit facility to fund the $6.4 million purchase price, which was bolstered by $80M raised under a share issuance by the company back in March.
We would prefer the company throttle back on its capital expenditure and acquisition program to where capital expenditures, new operating lease agreements and cash or stock paid for acquisitions combine for no more than 100% of the company's operating cash flow for a fiscal year, especially because STB is also paying 70% of its trailing twelve month operating cash flows out to shareholders in the form of dividends, which doesn't include the impact of dividends reinvested in additional shares.
However, this is the type acquisition that we would like to see STB make, due to the strong population growth in the surrounding areas of these school districts. All the school districts are located in counties with 10 year cumulative population growth exceeding 20%, which is double the U.S. population growth during this time period. We liked this recent acquisition better than the STS acquisition back in October, especially since it added more annualized revenues than the STS acquisition, because it was at a lower price to sales ratio and because these school districts are growing much faster than STS's Passaic County, NJ, service area.
In conclusion, though we believe that the company is overvalued relative to its intrinsic value, we continue to follow the company and the private mass transit sector because of the high current yields associated with the companies in the sector, as well as the potential for consolidation, as there are over 4,000 private school bus operators in North America competing over 30% of the industry's revenues and that the government controls 70% of the remaining revenues.
Disclosure: I have no positions in any stocks mentioned, and no plans to initiate any positions within the next 72 hours.
Disclaimer: Saibus Research has not received compensation directly or indirectly for expressing the recommendation in this report. Under no circumstances must this report be considered an offer to buy, sell, subscribe for or trade securities or other instruments.