In a thoughtful contribution, Martin Lowy lies much of the blame for the financial crisis on the doorsteps of the banks. Well, tell me something new, you might wonder, but hang on, Lowy did say something new. He wasn't talking about just any bank, he was specifically blaming European banks, and the regulatory framework in Europe:
The "original sin" was the European countries implicitly guaranteeing all of the debts of their flagship banks. With that guarantee, the European banks were able to borrow money freely both in and outside of Europe-and both in euros and in dollars. [Martin Lowy]
And expand they did. They bloated their balance sheets to rather absurd levels (60x leverage wasn't at all uncommon). Lowy argues that the authorities were able to restrain banks but they did the exact opposite instead by adopting Basel II (which has a more lenient capital regime than Basel I).
With the implicit guarantees and lenient capital rules, expansion was the name of the game fueling housing bubbles left, right, and center. Even the U.S. housing bubble was to a considerable extent the result of the European banks:
the SEC played a key role in enabling the dollar funding to flow from America to Europe. And it was that dollar funding that, on the return trip, funded the U.S. housing bubble. [Martin Lowy]
Although it's difficult to assess exactly the magnitude of European bank involvement in the US financial crisis, that they played a significant role seems pretty clear. European banks are enormously bloated, even at present, European banks are 'blessed'
with loan-to-deposit ratios of 1.3 - the same as Japan at top of the Nikkei bubble. (America is a sober 0.7). [The Telegraph]
Where do they get the remainder of the funding?
This gap has been traditionally plugged by borrowing in the wholesale markets, mostly in the form of what is called 'senior unsecured bonds'. These bonds are not secured against any particular assets on the bank's balance sheet. [Sony Kapoor]
Now, there are several problems with that. First, governments provided guarantees so that the banks could issue almost a trillion euro in these unsecured bonds just after the financial crisis. But these government guarantees, especially the peripheral ones, don't mean a whole lot to investors anymore, the result is that this market has almost completely dried up, especially for the banks most in need.
Capital flows out of the periphery as depositors and investors alike can put their money in banks in Germany without incurring any currency risk or cost, creating a bit of a vicious cycle.
The ECB has helped, with the LTRO, the three year 1% bank funding, but this isn't exactly risk free either. One problem is that banks pledged so many good quality assets as collateral that they have even less for private investors should things go wrong, further reducing appetite of private investors.
Also, banks in the periphery especially have used the funds to buy sovereign debt. While this has been very helpful in stabilizing some of these bond markets (Spain and Italy in particular), but should things deteriorate banks and sovereigns might go down together.
A European recession and a further fall in the Spanish housing market (which seems all but inevitable) are likely to dent banks profits and balance sheets further. And what's more:
The biggest drivers of profits in an otherwise overbanked European market were excessive leverage and maturity mis-matches. Regulatory reforms underway now, so much as a four-fold increase in effective Tier I capital requirements as well as increasing regulatory intolerance for funding mismatches means that EU banks will no longer enjoy the profitability they did in the run up to the crisis. [Sony Kapoor]
This is rather ominous. The IMF said last week that Europe's banks would slash their balance sheets by €2 trillion - or 7pc - by next year. That is quite a possible credit crunch.
Bankers as 'extractive elites?'
In a rather disturbing article, renowned economist Daron Acemoglu and Simon Johnson (the latter an ex chief economist of the IMF) argue that it is banks who have prevented most debt restructuring, sovereign debt restructuring, that is. Simply because it would cost them (because they have much sovereign debt on their books, and also issued insurance against their default).
We were not enthusiastic about the first debt restructuring (of Greek debt). We thought it set a precedent which woke investors up to default risk, the result of which was rising interest rates wherever such default risk could remotely be smelled. The graph below sums that up nicely. At the beginning of the euro, yields converged as a result of the elimination of currency risk, only to widen recently as a result of the re-emergence of default risk.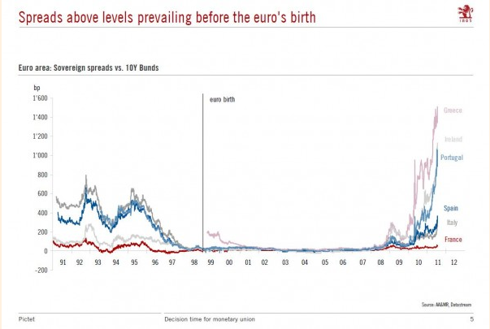 (Click to enlarge)
But now that this genie is well and truly out of the bottle (we just had a second Greek restructuring), we might as well get on with it. Of course banks will suffer, and since their balance sheets are already quite precarious (as explained above), this could very well have repercussions for credit supply and the economy.
But if the upside is more sustainable public finances (which, by lowering long-term interest rates, could turn into something of a virtuous cycle) and less drastic growth sapping austerity, then we would go with the upside. There is so much economic destruction and suffering going on in the euro periphery, they really are in the midst of a depression.
What's more, the rescue funds (EFSF and ESM) could be used to restructure banks and put them on a sounder footing, as long as they stick to the much higher new capital requirements which will help prevent the excesses of the past.
Acemoglu and Johnson go further, they argue that unlike the dire predictions of banks, no grave consequences followed the Greek debt restructurings:
Did all hell break loose? No. Banks have not failed, and there is no sign of tumbling dominoes. But that is not because banks prepared themselves by raising more capital. On the contrary, compared to their likely future losses, European banks have raised relatively little capital recently - and much of this has been creative accounting, rather than truly loss-absorbing shareholder equity. Perhaps the risk that a Greek debt restructuring would cause a financial meltdown was always minimal, and quiescent markets were to be expected. But, in that case, why all the fuss? [Acemoglu and Johnson]
They answer the latter question with "interest-group politics and policy elites' worldview." Although we just argued that there were consequences (widening bond spreads, see graph above), but not the dire ones that were doing the rounds. According to Acemoglu and Johnson, the Greek default turned out to be the proverbial dog that didn't bark and the lesson is that we should stop listen to bankers. Perhaps they have a point.
Acemoglu is also the author of a cracking book "Why Nations Fail: The Origins of Power, Prosperity and Poverty." By Daron Acemoglu and James Robinson (see review by The Economist or another one by Thomas Friedman). In it, he describes two kind of elites, inclusive ones and extractive ones. The latter concentrate power and opportunity in the hands of a few. That does ring a bell, doesn't it?
If you still have doubts, Simon Johnson has written what we still consider the gold standard of essays on the financial crisis called "The Quiet Coup." It's required reading.
If the IMF's staff could speak freely about the U.S., it would tell us what it tells all countries in this situation: recovery will fail unless we break the financial oligarchy that is blocking essential reform. [Simon Johnson]
In that respect, the US and Europe aren't that different. The difference is, that banks are even more important for financial intermediation in Europe than they are for the U.S. (where companies rely more on capital markets).
Disclosure: I have no positions in any stocks mentioned, and no plans to initiate any positions within the next 72 hours.