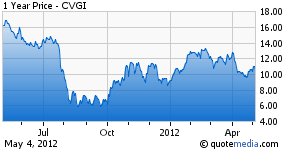 The great thing about turnaround and greenfield growth stories is that they can both succeed even if their core addressed markets are facing some challenges. Take the case of trucks and off-road vehicles. While Caterpillar (NYSE:CAT), Cummins (NYSE:CMI), and Eaton (NYSE:ETN) have all worried investors to some extent about the health of their respective markets (particularly in China and Brazil), parts and components companies like Titan (NYSE:TWI) and Commercial Vehicle Group (NASDAQ:CVGI) continue to out-execute their plans.
Another Good Quarter At CVGI
A strong North American truck market continues to underpin CVGI's recovery. Revenue rose 30% this quarter (once again beating estimates), as truck revenue grew 57%. Construction revenue was up a much more sedate 3%.
CVGI also continues to leverage that top-line growth into better profitability. Gross margin improved two points from last year and almost a point from the fourth quarter. Operating margin improvement broadly tracked this, with three point year-on-year improvement and about 70bp of sequential improvement, as operating income more than doubled from the year-ago level.
What's CVGI Doing Differently?
There aren't really very many good publicly-traded comparables for CVGI, so investors are left with benchmarking this company against others like Cummins, Eaton, Accuride (NYSE:ACW), and so on. To that end, CVGI seemed to outperform these companies.
One the keys to the CVGI growth story is that the company is benefiting from new deals and competitive share gains - taking business either from competing external suppliers or handling business that OEMs like Caterpillar, Daimler, and Volvo (OTCPK:VOLVY) used to do internally. CVGI is also expanding its business in emerging markets like China; while China has weakened noticeably for established suppliers like Cummins, a company like CVGI has a much different starting point for its comparisons.
Some Expansion Plans Make Sense, Others Not So Much...
CVGI is now arguably past the point where its very survival was something of a touch-and-go proposition, and management is now talking about getting back into the M&A game. To a certain extent, controlled M&A would be a good thing. The company will be supplying trucks built by Volvo in Thailand and India and there could be some local businesses worth tucking in, but management needs to be careful - torrid North American growth isn't going to last forever, and no CVGI long wants a repeat of the severe stresses seen in the last recession.
I'm also not entirely sold on the company's venture outside of trucking. CVGI will be supplying seats and other components for the HealthSpot Care4 Station - a hard-to-describe telemedicine booth that could go into pharmacies and clinics and improve/augment healthcare services.
Admittedly, supplying seats sounds like a pretty logical and low-risk move for CVGI. But why not focus instead on increasing its truck market penetration or diversifying into passenger vehicles, smaller trucks, or agricultural vehicles? Ag has been a great market for companies like Deere (NYSE:DE) and Titan, and it's not like the seat demands there are so radically different.
The Bottom Line
I found it interesting that CVGI sounded more optimistic about improving activity in Chinese truck and construction markets than companies like Caterpillar and Cummins. Granted, this could be an issue of perspective or timing, but I found it encouraging all the same.
When it comes down to valuation and relative value, I still like CVGI. The company has been delivering very encouraging earnings growth and steadily beating estimates (granted, only two analysts follow the company). Along with Titan, this is a company seemingly with the wind at its back while better-known names seem to be off their stride.
Right now I still think CVGI is significantly undervalued, based on the premise that the company will enjoy solid revenue growth (from market growth and share gain) and margin improvement to a level more on par with other quality parts/components makers. I see fair value in the mid-teens today.
Relative to Cummins and Titan, I think CVGI is the more undervalued play. That said, Cummins is a top-notch company that seldom trades at much of a discount, while Titan is a growth story that still may well be largely overlooked or underestimated by the Street.
Disclosure: I am long CVGI.