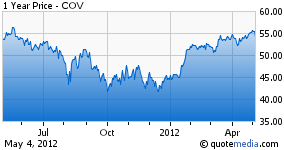 You would think that a company posting roughly double the industry average revenue growth rate and solid margins should be one of the more highly-valued companies in the sector. Alas, that's not the case with Covidien (COV). While I don't want to leave readers with the impression that Covidien's stock has been completely ignored or trades at an insultingly cheap multiple, I'm nevertheless surprised that investors haven't shown more love for one of the more durable growth stories in med-tech.
Making Good Quarters Routine
Continuing a run of good quarters, Covidien reported 6% constant currency revenue growth for its second quarter. Device revenue rose 7%, while the pharmaceuticals business grew 5%. As a reminder, Covidien will be spinning off that pharmaceutical business into an independent company.
Margins were solid in the quarter, despite increased spending on R&D. Gross margin ticked up about 80 basis points from last year. Operating income rose 5%, leading to a very small compression in operating margin.
Vascular And Energy Leading The Way Forward
There's not much question where the growth is coming from at Covidien. Although all of the business segments were up, vascular and energy were clearly the biggest growers at 17% and 14%, respectively. Vascular continues to gain share on rivals like Johnson & Johnson (NYSE:JNJ), Boston Scientific (NYSE:BSX), Stryker (NYSE:SYK) and Bard (NYSE:BCR) both in peripheral care and in neurovascular. The story really is much the same in Energy, where the company has successfully broken JNJ's hold on products like ultrasonic scalpels.
Importantly, Covidien is growing in part because they have high exposure to consumables/disposables and surgical markets with relatively lower exposure to elective procedures. While patients may put off procedures like a knee replacement, the core surgical business at Covidien is much less optional (and also less tied to particular procedures).
What Can Still Go Wrong
Outside of Intuitive Surgical (NASDAQ:ISRG) and Edwards Lifesciences (NYSE:EW), you have to go pretty far down the market cap list to find faster growers than Covidien. That's all well and good today, but can Covidien keep this up?
Covidien has seen a good initial launch for its Solitaire revascularization device, but I wouldn't be surprised to see this hit a near-term plateau before additional training efforts spur re-acceleration. Elsewhere in vascular, there's a good chance that Cook's upcoming drug-coated peripheral stent will get some attention, and there's an outside chance that a large rival could acquire Cardiovascular Systems (NASDAQ:CSII) and put some marketing muscle behind devices that have shown better clinical success than commercial success.
In the Energy business, I do believe that new and renewed efforts from JNJ, Conmed (NASDAQ:CNMD), Olympus, and Medtronic (NYSE:MDT) will slow Covidien's progress. Likewise, if Becton Dickinson (NYSE:BDX) focuses a little more attention on its lagging sharps and scalpels businesses, there could be some risk here.
The bigger long-term worry just may be Intuitive Surgical. Covidien has built very good businesses in energy and endomechanical devices like staplers and cutters, but if Intuitive can successfully port its daVinci robot from urology and gynecology (where it has been very successful) to general surgery, that could put some of Covidien's share at risk over the long term.
But Plenty More Likely To Go Right
I don't want to sound alarmist on Covidien, nor give the impression that I'm bagging on the company. I actually like Covidien - it's one of my favorite companies that I don't own. I'm mostly just interested in trying to figure out why the Street doesn't love it more.
After all, there's plenty left to go right for Covidien. The company has spent about $1 billion relatively recently on deals that will, among other things, fill some holes in its oximetry/monitoring and ventilation lines. This, coupled with internal product development, should only up the pressure on rivals like CareFusion (NYSE:CFN) and Philips (NYSE:PHG), the latter of which scarcely needs more trouble.
Perhaps these deals create some near-term pressures or worries with some investors. There's always integration risk and the threat that management will be so focused on bringing the new businesses into the fold that they drop the ball on what has been a pretty excellent run of internal development and new product launches. There's also going to be a near-term cost in terms of amortization and integration expense.
The Bottom Line
I doubt the company is done dealing; management has mentioned an interest in markets like abdominal aortic aneurysm and renal denervation. While entering those markets would mean going straight up against Medtronic, St. Jude (NYSE:STJ), and JNJ in markets they see as key to future growth, the opportunity would be worth it. My concern, though, would be that most of the available companies are further back in development and the Street likely won't like seeing Covidien spend more of today's dollars on tomorrow's growth.
I do worry that I'm too bullish on Covidien and that the company won't be able to reach my 7-8% cash flow growth target - a target predicated almost equally on revenue growth and cash flow conversion improvement. If that growth is manageable, these shares are still cheap enough to buy today, though I'd suggest investors consider the likes of St. Jude, Stryker, CareFusion, and JNJ as part of their due diligence.
Disclosure: I have no positions in any stocks mentioned, and no plans to initiate any positions within the next 72 hours.