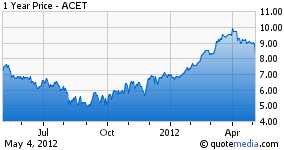 It has been a tough week and Friday in the market. On the bright side, for those investors who have dry powder, there some better bargains out there than just a few trading sessions ago. One stock has caught my eye has been hit hard this week, but looks like a long term bargain.
Aceto Corporation (NASDAQ:ACET)
8 reasons Aceto is undervalued at $8 a share:
Insiders have been significant net buyers of the stock so far in 2012.
The five year projected PEG (.71) indicates investors are undervaluing its growth prospects.
The stock yields a solid 2.2%.
ACET sells at under 9.5 times forward earnings, a solid discount to its five year historical average (13.5).
Only two analysts follow the stock, but both have higher price targets than the current price. One has a price target of $10 a share on ACET, the other is at $12 a share.
The stock is selling off even as its earnings report on Thursday was pretty solid. Net sales increased 3% to an all-time record, but was slightly under estimates and net income increased to 20 cents a share versus 14 cents in same period last year.
Both its Health Sciences and Specialty Chemicals showed 9% to 10% sales growth, it launched two new generics and it has a strong pipeline of new products.
Earnings are projected to grow from 47 cents a share in FY2011, to 58 cents in FY2012 and 87 cents in FY2013.
Disclosure: I have no positions in any stocks mentioned, but may initiate a long position in ACET over the next 72 hours.