For me "Big Data" is only big if the data sources can be used to discover new knowledge. That new knowledge contains useful actionable information about your business obtained with a high ROI.
Recent IPO Splunk, Inc. (NASDAQ:SPLK) focuses on what they call big data. Their software helps monitor user traffic data on applications, websites, or corporate networks. Companies can use this data to monitor things such as downtime or general system awareness. They call this real time activity machine data. This can be very useful to an online company monitoring customer click streams, transactions or just general network activity. But what about the other over 90% of big or just data that drives the success of companies. Splunk has a market value of 3.3 billion and trades at 25 times unprofitable sales of 120 million for the TTM.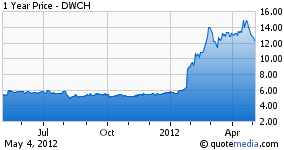 This leads to an investment idea Datawatch (NASDAQ:DWCH). Datawatch trades for a 77 million market capitalization with profitable double digit sales growth. Datawatch gives access to much of the other ~ 90% of data needed to uncover new knowledge to improve the business. Their report analytics software won't allow you to uncover real time sentiment on twitter, click activity of a marketing campaign or monitor network traffic. But it will empower virtually all members of the corporation to leverage their expertise to solve real problems, offer solutions or uncover new approaches. How .. by creating live data for analysis using reports that have been reviewed, audited and distributed in all functional areas of the company. Their report analytic software pulls this clean static data locked in reports, generated from multiple large/big data sources and makes it available for further analysis in Excel, Access, BI software or countless other applications. Then that data if needed can be join to other sources in databases, spreadsheets, reports or anything that can be saved as a report like any web page on the internet. Virtually any application can be used if wanted to perform further analysis or the data can remain to be furthered analyzed within the functional rich Datawatch report analytic environment. What makes their report analytics software unique is the ability to mine and join static report data from countless sources not just corporate applications buy sources such as PDF, HTML, text,databases,XPS, spreadsheets, and other sources to discover new knowledge.
Datawatch as an investment is a transformation play that has been quickly unfolding since the new CEO was hired a bit over a year ago.CEO Michael Morrison was the former COO of BI player Applix and saw the company's valuation increase 17 fold in 3 years to eventually be taken over by Cognos. Shortly after that Cognos was then taken over by IBM (NYSE:IBM) for 5.4 billion in cash.BTW the CEO of Applix Dave Mahoney a turnaround specialist saw Applix from 2003 to 2007 increase in value over 20 fold. Dave Mahoney came to work on the Datawatch board several months before Morrison was hired as the new DWCH CEO. Michael Morrison last position was with IBM /Cognos. Dave Mahoney is the executive chairman of the board at Datawatch and previously was a serial CEO. Before being CEO at Applix, Dave Mahoney was the CEO of LeadingSide, Verbind, Sovereign Hill Software and ePresence. From 1973 through 1983, Mahoney was the director of communication product development at Data General.
CEO Morrison turned over the 95% of the sales and marketing team with his deep contacts in the BI industry with proven software talent from Cognos, IBM and Applix. The average time for new hires to gain traction is about 9 months so this new fire power should begin kicking in with force. BTW, both Michael Morrison and Dave Mahoney have been investing their own money in DWCH stock. Morrison owns 423,970 shares or 6.83% and Mahoney acquired 184,163 or 2.98% of the share outstanding. This is a huge vote of confidence from veteran BI leaders in Datawatch's future potential.
The shortest and most direct method to demonstrate how the company has turned the corner is to talk about a few accomplishments over the past 2 quarters.
Q2 reported 04/27/12 was outstanding. Since they are at the beginning of their transformation full financial benefits will not immediately be realized for the following reasons. New sale's team hires, purchased intellectual property for the report analytic engine, integrating new development team, one time severance charges, new messaging of product fit, one time marketing costs for cancellation and changes of convention strategy to be more international.
But having said all that, many if not all aspects of the Q2 accomplishments were spectacular! Total Q2 Revenue was up 47% and license revenue up 67% over second quarter of 2011. This on top of a Q1 revenue increase of 50%. The real value creation was in the continued momentum with new partnerships and "blue chip" large enterprise customer wins that were also outstanding during Q1.
Specific comments made during the Q2 conference call should give all long term stakeholders optimism for the future. During Q2 they gained 10 new Enterprise customers compared to seven in Q2 of 2011. New Enterprise customers include American Express. Lowe's and Northern Federal Credit Union. Q2, there average deal size was $70,000 as compared to $24,000 in Q2 of 2011. They had four six-figured deals in Q2 this year compared to no six-figure deals in Q2 of FY'11. The pipeline at the end of the quarter, or at the beginning of this quarter was the highest it's been since CEO Morrison has been with the company over past year. CEO stated "they have been hiring beyond their current plan, opportunistically as we - and a lot of it is people coming to us, they're starting to get a buzz around what we're doing. You might have seen the Splunk IPO last week, and they play in a small part of the space that we're in - got a lot of visibility on our space. So, people are starting to take notice, and we're taking advantage of that, we're being disciplined about it. So, there's no specific number, but I think there's a big opportunity that when the right people come along we're going to take advantage of that." They see several important OEM and reselling relationships on the short-term horizon and expect even more to emerge as they move into FY'13.
CEO Morrison spoke about the secondary area of growth opportunity, the cloud. The European based Logica win realized last quarter is a cloud deploying their Monarch Report Mining Server Solution. "Just last week, Logica began rolling this offering out to additional customers." In the coming months Datawatch promised to be updating on new initiatives with other potential partners and customers that take advantage of their ease of use in the cloud.
Another area of growth that has become an additional focus are industry specific solutions. Last week's announced 835 Industry Link Report Analytics for use in Health care will be beneficial and could potentially be purchased by some of their 1,200 healthcare organizations that rely on the Monarch Report Analytics platform. They are "actively working on other opportunities to develop repeatable solutions that address common industry-specific or application specific, semi-structured and machine data reporting challenges. These industry solutions allow us to efficiently bring real-world use cases into the market more quickly with demonstrable out-of-the-box value."
The pieces continue to quickly come together for all Datawatch stakeholders.
Datawatch ... the other Big Data stock trading at a tiny valuation.
Disclosure: I am long DWCH.