Riverbed Technologies (RVBD), a leader of WAN optimization products saw its shares marched to the woodshed last week, falling 28% on the heels of a Q1 revenue miss and weaker than expected Q2 guidance.
The network device and communication company has disappointed for several quarters now, cited by concerns of new product transitions, soft demand and declining gross margins.
On the issue of margins, it should be noted that RVBD's extensive software model affords margins northward of 77%. A few hundred basis points contraction in margins is by no means a death-knell for RVBD, especially when compared to peers.
That said, the company is expecting new product and refresh cycles to be more accretive to forward earnings. We believe management has been quite frank and candid with their assessment and remain hopeful that demand cycles will "absorb" any lingering concerns regarding weakness in their multi-product offerings.
While some might argue that growth in WAN Optimization has matured, product traction is dependent on the budgets and purse-strings of customer (CAPEX) spending habits. And, as Seeking Alpha contributor Chris Lau points out in his recent article, WAN optimization remains a high priority for CIO's.
Cost-of-Goods-Sold at RVBD have averaged 23.8% during the previous five quarters, considerably lower than competitors Cisco's (CSCO) 38.95% and Juniper Networks (JNPR) 35.1% in the similar periods.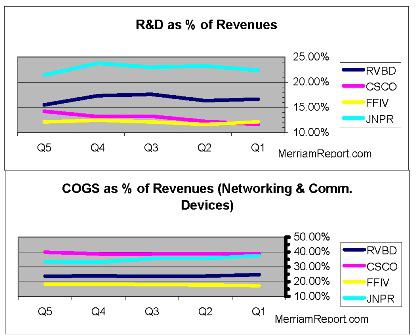 Research & Development investments are critical to future earnings and profit growth for technology companies. RVBD's R&D outlays as a percent of revenues averaged 16.7% in the last five periods, slighter higher than that of Cisco or F5 Systems (FFIV).
RVBD has no debt and sizable cash/cash equivalents to buttress its solid balance sheet. The management team led by CEO Jerry Kennelly and Chief Technology Officer Steve McCanne, have been at the helm of RVBD for more than a decade.
Therefore, we view the rash of analyst downgrades blasted at RVBD post-earnings, as a needed reality check to tighten up the vast spreads in "consensus" expectations. Despite its lofty multiple of 55 X earnings, the shares are in oversold territory and back to entry level targets we suggested previously.
Somebody has to help corral the virtual application delivery controller market. And, as smartphones get smarter, a company like RVBD will help connect the dots.