Green Mountain Coffee Roasters (NASDAQ:GMCR) was yesterday's market fallen angel. Previously a high-flyer, high-multiple momo growth stock, it took several hits until, yesterday, it got cut in half. This latest reaction came as the company missed revenue expectations and guided down both for revenue and earnings. In the face of it, it would seem unlikely that the revenue and earnings revisions, by themselves, would provoke such a deep reaction from the market.
In the table below, there's a summary of the revenue miss and related earnings guidance misses. As we can see, although in some instances the miss was large, it was probably far from justifying the slashing of the stock in half.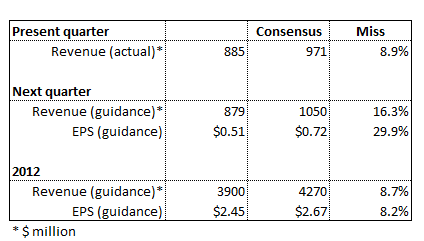 So what else is there? To understand the main issue surrounding GMCR today, one first needs to consult the short thesis bible on the subject: David Einhorn's short thesis (pdf).
The short thesis is long, it touches many important points, from valuation - which has certainly changed drastically since the thesis was published - to a number of threats, from erosion of margins due to partnerships, to the loss of patent protection on the k-cups come September 2012. These are all well known by now.
The main problem
But there's something else that's also put forward in that thesis - the chance that there's severe wrongdoing, fraud even, going on at GMCR. Fraud to meet the numbers, to keep on showing strong growth in revenues/earnings and to pad the margins. This part of the thesis is based on several observations:

A SEC inquiry into past practices regarding revenue recognition and a relationship with one vendor;
Deeply negative free cash flow, getting worse as time goes by;
Capex that's unjustifiably high, giving rise to the chance that there might be capitalization of costs going on;
Acquisitions with elevated operating costs that somehow when consolidated, do not elevate the overall operating costs;
Unexplained jump in attachment rates (number of k-cups used per brewer per day) in one quarter;
Inventory management that's either very sloppy or fraudulent;
Auditors distancing themselves from the company.

Besides, it's not just Einhorn who's suspicious of GMCR. Even here at Seeking Alpha, contributor Sam E. Antar has been systematically raising suspicions about GMCR's handling of inventories. And he's … ahhh … uniquely qualified to know what he's talking about, something we should never dismiss when weighting opinions.
So there are a great many reasons to believe that the worst might be happening at GMCR. And that brings with it a powerful consequence. If, indeed, wrongdoing is taking place then:

Valuation becomes rather irrelevant. The wrongdoing is not yet entirely exposed and its impact on earnings is not in the estimates either. So the 10.6 P/E on forward 2012 earnings becomes somewhat meaningless.
One can't expect $4 billion (GMCR's market capitalization) to want to be parked on a possibly fraudulent enterprise. With valuation becoming irrelevant due to these concerns, the stock can easily trade much lower, even at prices that would imply less than $1 billion in market cap.

But is it all bad?
No. For once, much of what seems like fraud could well be gross mismanagement. Especially the points regarding excessive capex and the inventory troubles. It could be the result of massive growth on a company not prepared to handle such growth. This does have a consequence - management should be substituted as fast as possible. Were this to happen, even with large subsequent charges, the stock would probably turn into an investing opportunity.
Also, there should be no doubt that the economics of the underlying business - if well managed - should be excellent. GMCR's business is similar to Nestle's (OTCPK:NSRGY) Nespresso, and Nespresso is reputedly a very high growth, now very large (> CHF3.6 billion in revenues, so > $4 billion), very high margin business. A former Nestle executive, in a Time magazine article, put Nespresso's gross margin at around 85%.
So coffee is not going away, the underlying business has a brand, it's growing strongly and has the potential to produce large margins. It's perhaps the poster child of the type of business that actually gets bought out by the large consumer brands such as Kraft (KFT) or Coca-Cola (NYSE:KO).
Conclusion
GMCR's main problem is that there might be massive wrongdoing going on at the company. This means the present earnings and revenue might not be representative of the company's fundamentals, and its valuation might thus be irrelevant as a guide toward investing in the shares.
That said, at the very least there's massive mismanagement going on. The company would be well-served by substituting management. The underlying business seems real, in an attractive market segment, and if doubts regarding the company clear it might easily turn into an investment opportunity or even get bought out.
Still, at the current time the doubts regarding wrongdoing are strong enough that one can't discount the company trading at a fraction of its current quote. I actually bought for a slight bounce but, overcome by these doubts, dropped the position. The company needs a management change to restore any kind of credibility.
Disclosure: I have no positions in any stocks mentioned, and no plans to initiate any positions within the next 72 hours.