Parker Drilling (NYSE:PKD) reported strong Q1 results May 2nd, earning 22 cents per share, and could be ready to create returns for investors.
Business Overview
The 3 key business lines for Parker Drilling are Gulf of Mexico barge drilling, international drilling, and its US tool rental business (Quail Tools). International drilling is the largest part of the business making up about 43% of 2011 revenue for the company. The international business is split into the Latin American and Eastern Hemisphere regions with strength coming from Latin America. This is followed by the tool rental business, at 34.5% of revenue last year. Barge drilling is 13.7% of revenue, with the rest being made up of small technical services and construction businesses.
Growth
The two areas I see for growth are continued improvement in utilization and day rates in the Gulf, and improvement in utilization in the Eastern Hemisphere. Utilization in the Gulf is up from 57% in Q1 of 2011 to 75% in Q1 of 2012, and the average day rate is up 34.5% y/y. And all 11 available rigs where working by the beginning of March 2012. The Eastern Hemisphere has not seen as much success with utilization rates under 40% in all of 2011. However in Q1 of 2012 two rigs in Algeria starting working bring utilization up to 42%. Five rigs in Kazakhstan have not working in over a year, and management is looking at the possibility to redeploy or sell these rigs.
Risks
The Arctic Alaska Drilling Units (AADU) project has been a disappointment and a drag on the stock. It resulted in a $170 million impairment charge in 2011. The company has guided that completion of the project should require about $35 million in 2012, $26.9 million occurred in Q1 2012, and the rigs should be completed by Q3 of this year.
The other area of concern is the tool rental business, as utilization rates have slowly been moving down for that past 5 months. I believe this is a result of companies moving from dry gas basins to liquid basins because of the low prices of natural gas not the result of a slowdown in drilling in North America. Footage drilled in North America continues to grow, and further increased use of longer lateral drilling in shale plays leaves me constructive on this segment. Parker added $25 million to its tool rental inventory in Q1 2012.
Price Target
A continued ramp up in day rates and utilization in the gulf, improvements internationally, and strong demand for tool rental in North America should lead to Parker earnings of $.80 per share this year and with a p/e of 10x, less than it 5 year average of 15.7x, this stock could reach $8.00.
Click to enlarge.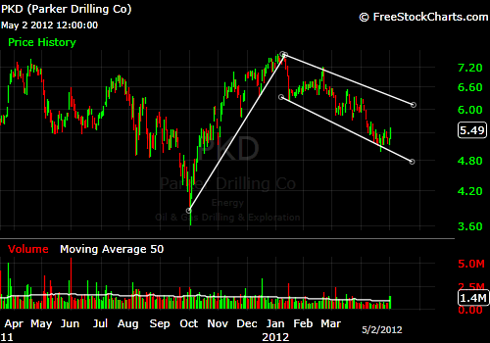 Entry
Parker Drilling broke an uptrend after the first of the year that had been in place since the October 4th low. Currently it is near the support line of a down channel that PKD has been stuck in all year. Continue to monitor Parker Drilling for a possible entry should it break out of this channel. The stock did respond well to some support in the $5 to $5.10 range, and the strong Q1 results could be the catalyst the stock needs.
Disclosure: I have no positions in any stocks mentioned, and no plans to initiate any positions within the next 72 hours.