We'll skip the intro. If you have been reading my articles for more than a week, you know that I do this type of column often. You also know why I do it. To cut through the confusing and unnecessary lingo and make options useful and accessible to long-term investors seeking growth, income, a hedge and some speculation on the side.
Pandora (NYSE:P) and Madison Square Garden (NASDAQ:MSG). Two of the few stocks that knocked out meaningful gains Friday help answer an options question I receive with some frequency.
Have a look at P January 2014 and MSG January 2013 options, courtesy of Yahoo Finance:
(Click to enlarge)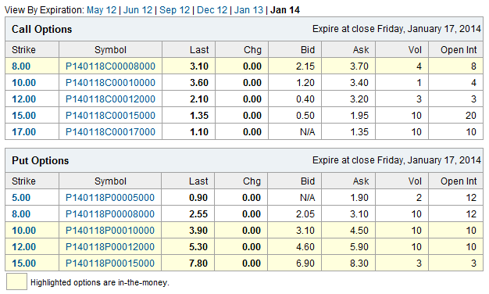 (Click to enlarge)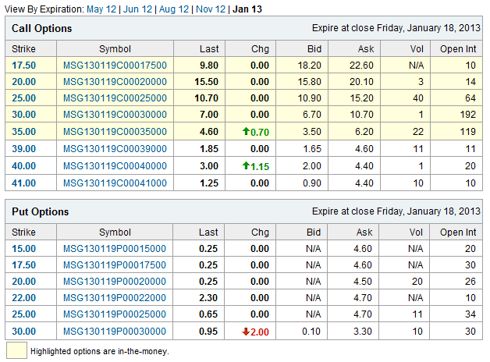 Usually when an optionable stock bucks the trend on a rough day for the broader market (P was up 1.5%, MSG popped 3.9%), you see elevated volume in options, particularly calls. Clearly, this was not the case with P and MSG.
For Pandora, it's likely because the stock only became optionable a couple months or so ago. MSG options have never really attracted much interest for one reason or another. That's neither here nor there; the bigger issue involves how you should play thinly-traded options, if at all.
Liquidity, particularly in P, does not bother me. As expiration nears, the volume will pick up and there will be sufficient open interest and consistent activity to get most orders filled. The spreads serve as a source of concern.
While spreads often get wide on long-dated options, we see pretty extreme cases in P and MSG. I am inclined not to mess with them. However, I might put in a "stink bid" on some P January 2014 $8.00 calls. It's likely not going to get hit, but it's better to do that and never end up opening a position than it is to ratchet up your bid and get ripped off.
A quick note on MSG. I am long the stock in my kid's custodial account. What timing. I think it has hit three or four 52-week highs since we got in.
While I am not a fan of taking shots at other media outlets (at least not usually), I have to point out the complete inanity The Wall Street Journal published today about MSG's blowout quarter. First, consider the title:

Granted the story qualifies the impact of Jeremy Lin on MSG's numbers, using verbs such as "helped" and "aided," but, frankly he should not even receive a mention. It's absolutely absurd that he ended up the focal point of the piece.
For as bullish as I am on this stock, I live in reality. And I do my best to portray things as they are. If I write a catchy and provocative headline, I feel like I tend to deliver in the story. The WSJ author, writing in one of the best and most well-respected publications on Earth, did nothing of the sort.
From MSG's press release on earnings. Here's why the company nailed it this past quarter.
The increase in revenues was primarily attributable to the financial benefits of the first phase of the Arena Transformation project and, to a lesser extent, a higher percentage of New York Knicks-related revenues being recognized during the quarter versus the prior year period as a result of the delayed start to the NBA season and the compressed New York Knicks regular season schedule. The overall revenue increase included higher professional sports team ticket-related revenue, league distributions, food, beverage and merchandise sales, suite rental fee revenue, event-related revenues from other live sporting events and sponsorship and signage revenues.
The NBA had a lockout, MSG lost considerable revenue. The resolution of the work stoppage triggered a "compressed" regular season, which loaded Knicks-related revenue into the quarter. While Lin did not hurt, he deserves about *this* much of the credit.
Research In Motion (RIMM). Do you believe that RIMM bulls still exist? It's stunning. I received the following comment today on an article I wrote over at TheStreet.com:
Oh, and BTW - go look at the comments on the independent blog sites, regarding, what they think of BB 10... The kids of America look to be willing to give BlackBerry a second look...not so hot for AAPL and Droid....which the kids appear to be boring with and they don't like to be told what is "cool," especially, by old guys making $340 mil pretending to be "hip" in their jeans and strange shirts, but I digress...
Incredible. That comment reads a bit like one I received on Seeking Alpha in April 2011: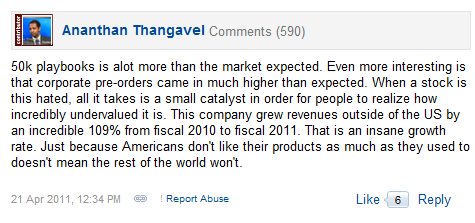 And a couple from May 2011:
(Click to enlarge)

(Click to enlarge)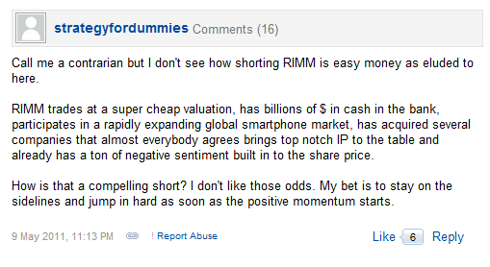 I really could go on all day, but I digress because you get the point. If you do not, at the very least, acknowledge history or you are doomed to repeat it. RIMM "value" and even a small catalyst will send it higher arguments are as bad today as they were a year ago.
In his Friday option column on Seeking Alpha, Frederic Ruffy highlighted bearish activity in RIMM puts:
73,000 puts and 17,000 calls traded on the Blackberry-maker, including a Jun 13 - Jul 12 put spread at 16 cents, 20720X on CBOE. The spread was probably bought and rolls a position out one month, down one strike. If so, it might exit a position in June 13 puts (at $1.65 today) bought for 95 cents per contract on 4/20. Shares are down 11% since that time and today's spread trader appears to be bracing for additional losses through mid-July. RIM was up 7.1% on 3/30 after earnings were last reported, but has given up the gain (and an additional 13%) since that time.
Traders are still making money with bearish bets on RIMM.
There's no reason for that to change. However, if you share my sentiment use long-dated, deep ITM puts to follow your conviction. You buy yourself both time and cushion against the dead-cat bounces RIMM will likely experience.
That's bound to happen on more M&A speculation or word that former CEO Jim Balsillie will be named the Toronto Maple Leafs' starting goaltender over the summer. The stock could also pop when the company's CEO (with a name you don't know and have no reason to remember) unveils the new BB 10s. Wait. He did. And the stock tanked to new 52-week lows.
Apple (NASDAQ:AAPL). Last week on Seeking Alpha, I used an options trade gone bad to illustrate two things:
The danger of playing a stock directionally with near-dated options, particularly OTM contracts, ahead of earnings.
Rampant denial buy AAPL bulls, evidenced by their refusal to consider the stock's inability to even come close to challenging its April 9/10 highs.
Courtesy of BigCharts.com, here's how the chart on the AAPL May $695 call looked on April 26:
(Click to enlarge)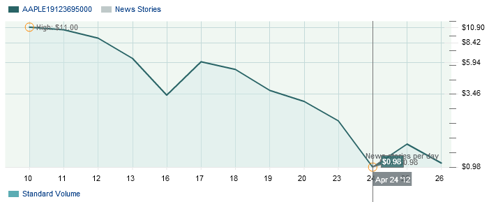 Here's how it looks as of the close on Friday, May 4:
(Click to enlarge)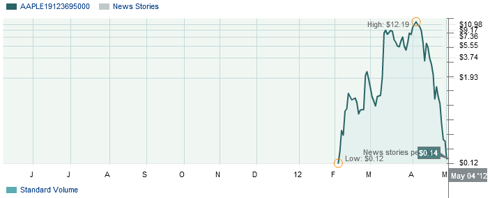 It closed the session at $0.14. Down from about $1.00 just a week or so ago.
Don't let your friends buy OTM options unless they're writing covered calls or selling cash-secured puts. And, if they do it, make sure it's a long-dated contract on a momentum stock or some other type of powerhouse.
Plenty of AAPL bulls who bought this top and that top over the last few weeks are in plenty of pain, but, as has happened in the past, things can turn around on a dime. If history repeats itself and AAPL moves higher, long-term investors ought to be just fine.
If, however, you followed the most rabid splinter groups of AAPL bulls and bought $650 and $700 calls, you're in for a world of hurt, barring something incredibly extraordinary.
Additional disclosure: I hold the MSG position in a custodial account set up for my minor child.