Sirius XM (NASDAQ:SIRI) just finished what could be considered an interesting week by some, or a boring week by others. It all depends on how you look at it.
Me? Anyone who has read my articles will know I am bullish on the prospects for Sirius XM this year. I see limited downside due to Liberty's (NASDAQ:LMCA) ability to increase its stake, and I see a fair value upside of $2.75 currently. In reading comments and articles here and there on Seeking Alpha, and also the mumblings and grumblings across the web, I get the impression that some individuals share my sentiment.
But some do not.
And that's an important thing to consider. The price of Sirius XM, just like any stock at any given moment, is a measure of numerous factors. "Duh!" That might be the response from many readers here, but I think it's important to hammer this point home from time to time. Beyond the company's performance are a myriad of other factors such as the overall market, investor expectations, activity like insider sales, "smart money" buys and sales, and simple market maker supply and demand filling, shorting, and covering.
Click to enlarge image.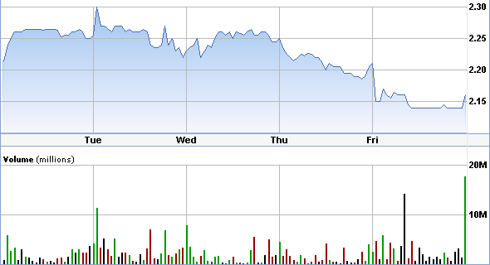 Click to enlarge
Because of this, a company such as Sirius XM can deliver or even exceed expectations on certain metrics, and still fall in share price in the ensuing days after these numbers are released. My immediate reaction to the call was positive. I fully expected churn to come in around 1.9%, and was pleasantly surprised that it met my expectations and beat Street estimates and company guidance. I also expected subscriber additions to be greater than the 1.3 million yearly rate as guided, and was again happy to see this number was beaten. It came in over 400,000, followed by the company raising full-year guidance -- as I expected it would -- to 1.5 million for the year. I expect this number to be raised again as the year progresses.
I bought a quantity of shares before the conference call at $2.24. As I write this, the stock is trading around $2.14. I'm quite happy with my trade, at which point some may ask the question, "Why?"
What Has Changed?
To those people I would ask, "What has changed for the worse with Sirius XM?" Think about it, really think about it. Consider the conference call and the meets and beats on numbers and upward revisions for the year. Should this mark a "sell"? To me, it simply makes a prices like $2.14 all the more attractive for a buy level. With the overall market in a bit of rough shape this week, and some option exercises and sales by insiders, I am not surprised at all by the drop in share price.
But this does not change my view of where Sirius XM is headed, and that mark still remains $2.75. It's much easier to relax over the weekend, even if the share price is not behaving "as it should" or as many would expect. In my humble opinion? Many many people are getting cut out of their shares in a panic today, and all I have to say here is, "please, relax." The company is doing well, and if anything the view should be skewed at least a bit more positive. Keep the target in your sights, digest the news, and look down the road ahead. The share price will wax and wane on your journey from now to the point you decide to sell (and eventually, we all have that point).
Look at these dips, if you share my bullish sentiment, as buying opportunities. Be thankful for them that they are here. I think those who maintain a level head will be well rewarded for doing so.
Disclosure: I am long SIRI, LMCA. I am also long SIRI June $2 calls.