Foreign stocks returned to their winning ways in the first 10 weeks of 2012. By mid-March, however, economic data out of China started to demonstrate sluggishness. A rapid rise in Spanish bond yields began threatening the country's ability to manage its own finances. And European interbank lending ground to a halt.
Nevertheless, as recently as Tuesday (May 1), many commentators were giddy about U.S. stock gains. After all, the Dow had just hit a peak not seen since December of 2007.
Perhaps ironically, U.S. stocks finished the first week of May with its worst showing of the year. The Dow Industrials Trust (NYSEARCA:DIA) gave up -1.5%, the S&P 500 SPDR Trust (NYSEARCA:SPY) slid -2.4% and the Apple-powered PowerShares Nasdaq 100 (NASDAQ:QQQ) plummeted -3.8%.
Most of the news outlets are blaming weak U.S. employment data for April. Yet unemployment claims had fallen to a one-year low just a day earlier. Should the media really blame deceleration in U.S hiring alone? What about the "sell in May and go away" phenomenon? Or could it be the basic desire to realize profits after a spectacular seven-month run?
In truth, it may simply be too far-fetched to think that U.S. stocks can completely decouple from the rest of the world's markets. The idea that the iShares MSCI Spain (NYSEARCA:EWP) Fund could notch a 52-week low at the same time that the Dow Industrials Trust (DIA) could register a 52-week high flies in the face of previous risk rallies. The same can be said for the simultaneous success of the iShares 7-10 Year Treasury Bond Fund (NYSEARCA:IEF).
So what should you do next? Cut-n-run? Hold-n-hope?
The good news is ... your decisions do not need to come from a place of raw emotion. For example, my colleague Rob Charette recently brought a lesser-known technical trading term to my attention. Specifically, an investor can quantify the direction of a trend by determining its slope. A positive slope expresses an uptrend whereas a negative slope describes a downtrend.
If we apply the mathematical construct of slope to Vanguard Total U.S. Market (NYSEARCA:VTI) for a 50-day period, we see that the uptrend remains intact. (See the chart below.) Of course, a positive reading of .02 isn't exactly a ringing endorsement, but it is a near-term uptrend nonetheless.
Click to enlarge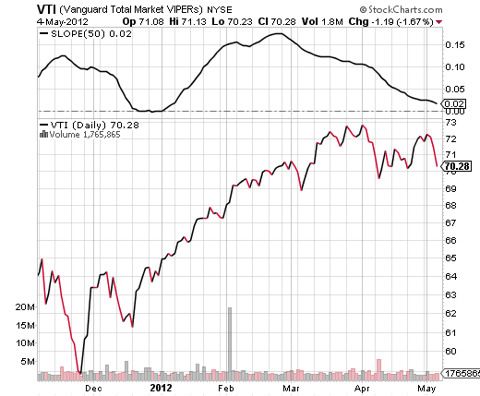 In contrast, all-world ETFs from Vanguard All World excl U.S. (NYSEARCA:VEU) to iShares MSCI All World excl U.S. (NASDAQ:ACWX) paint a different picture. The negative slope reading of -.04 over the 50-day time frame defines a near-term downtrend for foreign stocks. What's more, the current price of VEU is well below a 50-day moving average.
Click to enlarge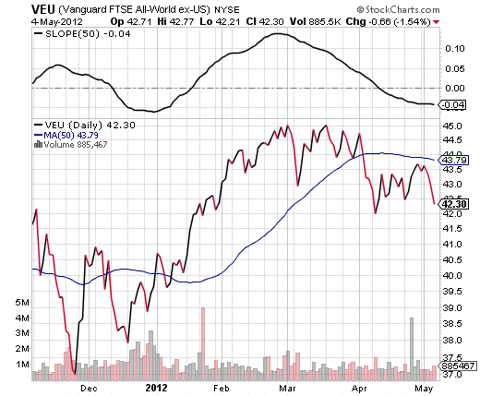 For our clients, we've had negligible exposure to developed world equities outside the U.S. since 2010. Yet we've used stop-limit loss orders and trend identification to reduce our exposure to emerging (developing world) stock ETFs here in 2012.
Indeed, U.S. equities are the premiere "hold" at this moment. We still maintain our positions in Vanguard High Dividend Yield (NYSEARCA:VYM), Vanguard REIT ETF (NYSEARCA:VNQ) and Vanguard Dividend Appreciation (NYSEARCA:VIG).
Yet the best investments ... and I've been saying this for more than a month now ... may be those ETFs with historically wide yield spreads with comparable treasury bonds. SPDR Barclays Corporate High Yield (NYSEARCA:JNK), JPMorgan Alerian MLP (NYSEARCA:AMJ), Claymore Multi-Asset Income (NYSEARCA:CVY) and iShares Intermediate Corporate Credit (NYSEARCA:CIU) continue to produce income with less price volatility.
Disclosure: Gary Gordon, MS, CFP is the president of Pacific Park Financial, Inc., a Registered Investment Adviser with the SEC. Gary Gordon, Pacific Park Financial, Inc, and/or its clients may hold positions in the ETFs, mutual funds, and/or any investment asset mentioned above. The commentary does not constitute individualized investment advice. The opinions offered herein are not personalized recommendations to buy, sell or hold securities. At times, issuers of exchange-traded products compensate Pacific Park Financial, Inc. or its subsidiaries for advertising at the ETF Expert web site. ETF Expert content is created independently of any advertising relationships.