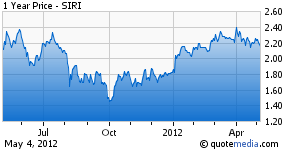 Well if this isn't a nice surprise after a tumultuous week, I am not sure what is.
Liberty Media's (LMCA) petition for "de facto" control of Sirius XM (NASDAQ:SIRI) was dismissed by the FCC.
The FCC's response in entirety may be found here along with the historical petitions and responses between Liberty and Sirius XM.
Much of the reason for denial surrounds procedural or technical issues:
"Liberty Media filed the referenced IBFS application using the form for a request for special temporary authority, rather than for a transfer of control, and did not request a waiver of section 25.112(a)(1) of the Commission's rules, which states that an application is unacceptable for filing if 'the application is defective with respect to completeness of answers to questions, informational showings, internal inconsistencies, execution, or other matters of a formal character.'. The Experimental Radio Service also has a rule which states that 'applications that are defective with respect to completeness of answers to required questions, execution or other matters of a purely formal character may … be returned to the applicant with a brief statement as to the omissions.' Liberty Media requested a waiver of this rule in its Experimental License transfer of control applications."
It is clear here that the FCC has found the application to be "defective" as Sirius XM has claimed. Because of this, the FCC's response is as follows:
"We find Liberty Media's applications to be unacceptable for filing because they are defective with respect to 'execution' and 'other matters of a formal character.' Specifically, Liberty Media was unable to obtain the passwords, signatures and other necessary information from Sirius to properly file an electronic transfer of control application. Furthermore, we conclude that a waiver of basic filing requirements is not warranted, as the facts disclosed in the referenced applications are not sufficient to establish that Liberty Media intends to take actions, such as conversion of preferred to common stock and installation of a board majority, that would constitute exercise of de facto or de jure control. We therefore dismiss Liberty Media's applications."
Plain and simple, the FCC has responded swiftly and with clarity that Liberty Media does not have "de facto" control of Sirius XM. It appears that Liberty will now have to consider if they wish to purchase enough shares of Sirius XM to drive its stake from 40% to 51% to gain control and not simply de facto control.
Could Liberty re-file this petition? Of course, but in order to receive consideration the FCC has made it clear that Liberty will need to obtain the passwords and signatures required for acceptable application. While it may be too early to simply say that Liberty is going to just give up, I believe that the response is clear, and that Liberty will have a difficult time until or unless it decides to purchase a controlling stake in Sirius XM.
This is sure to be a hot topic for the coming week. Whether it will serve as a benefit to Sirius XM's share price or a detriment remains to be seen. Personally, I'd bank on the side of this being a benefit going forward if Liberty must seek to purchase shares for control. The law of supply and demand tends to rule the day eventually, and with a large possibly buy waiting in the wings, it should provide a bit more lift now that the FCC has responded, and the question of how they would answer has been laid to rest.
Disclosure: I am long SIRI, LMCA.
Additional disclosure: I am long SIRI June $2 Calls.