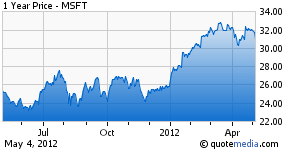 Microsoft (NASDAQ:MSFT) provided a helping hand to another recently, with its $300 million investment into Barnes & Noble (NYSE:BKE). The book retailer's stock jumped over 50% in one day with the news that the tech giant would be reaching out into the bookselling industry. The surge was Barnes & Noble's largest increase since its IPO back in 1993.
The investment is not into Barnes & Noble, but rather a new subsidiary that the book seller will create. The new company will focus entirely on the company's Nook digital reader and its college bookstore business. With the investment, Microsoft will control about 18% of the new subsidiary.
The news comes on the heels of Microsoft's other dealings, most notably a huge patent sale and partnership with Facebook. That deal comes only months before Facebook (NASDAQ:FB) will offer its IPO, and as news leaked out of rumors that Microsoft has been trying to sell its Bing search engine to Zuckerberg and his Facebook company.
Microsoft's move suggests a larger trend for the company. It seems to be rallying some friends around it as it prepares to take on the rapid growth of competitors Apple (NASDAQ:AAPL) and Google (NASDAQ:GOOG). The alliances with Facebook and the new strategic partnership with Barnes & Noble helps Microsoft diversify its tech portfolio enough to weather any storm that its competitors can brew up.
Of course, both deals started with Microsoft's enormous purchase of AOL's patents for $1 billion. The Facebook deal dealt with the patents directly, as Microsoft sold a handful of them to the social network site, along with a mutual deal to never take the other to court over the specifics of the patents. The Barnes & Noble deal worked a little bit differently. Instead of offering the bookstore a chance to buy some patents, Microsoft flexed some of its muscles and may, indeed, have bullied Barnes & Noble into the deal.
Last year, in fact, Microsoft sued its new partner over patent details involving Barnes & Noble's e-reader for Android. Microsoft alleged that the reader violated some of its patents and was prepared to take the bookstore to court. As Barnes & Noble continues to lose money, it could not afford to go to court with the cash-rich Microsoft. The deal, an offer which Barnes & Nobel really could not refuse, offers it protection from legal troubles with Microsoft and a new partnership to boot.
Of course, the deal helps out Microsoft, too. The tech giant is eyeing potential growth in the e-book market and Barnes & Noble's Nook gives it a chance to get more than its foot in the door. As Microsoft prepares to release its new tablet, the deal with Barnes & Noble will allow Microsoft to include Nook capabilities on the tablet, an opportunity that Apple's iPad could not obtain.
The partnership will also help Microsoft rebrand. Barnes & Noble is the nation's top bookseller, a status confirmed further when rival Borders went bankrupt last year. However, the company's Nook product falls far behind Amazon.com's (NASDAQ:AMZN) Kindle Fire. The Nook controls only about 25% of the e-reader market, with the Kindle Fire taking over 60%.
But that's just e-readers. The Nook also works as a tablet, albeit a weaker one. Even so, it ranked as the fourth most popular tablet behind Amazon's product, again. Of course, its 5% share of the international table market is a far cry from the vastly popular iPad. Regardless, Microsoft has put both of its competitor's tablets in its crosshairs, as it attempts to break further into the tablet market.
Microsoft seeks to align itself with this portion of e-reader consumers. It also sees growth in the department, as e-books continue to eat up a portion of book sales every year. Perhaps more pertinently, the new partnership, combined with the Facebook deal, seeks to align Microsoft with a newer generation of tech buyers.
A new ad by Microsoft is more explicit in this desire, as the company attempts to shed its "aging" image in favor of a sleeker design and younger appeal. The alignment with Barnes & Noble, specifically in the education department, will help it attract the attention of new tech users.
The new spin-off company that Microsoft and Barnes & Noble have agreed upon is still nameless. The companies are sure to put a lot of strength behind the new subsidiary, especially as Barnes & Noble continues to struggle and Microsoft continues to look for new ways to make money.
Investors for both companies will be waiting anxiously for more news of the subsidiary, as news of growth will be welcomed. The initial spurt of Barnes & Noble stock will help keep the investors enticed, but how long will that last? And as far as Microsoft investors are concerned, they must be tired of seeing Apple and Google climb higher, especially as iPhones and Android phones continue to sell well. Microsoft's Windows Phone, needless to say, has not fared as well. Even its new developments, like the addition of Skype, have not received positive attention enough for Microsoft to expect any big gains in the phone department.
However, the new deal may also change things for the smart phone. A Nook-based App could be a huge selling point, though expect it to be aimed more at any new tablets Microsoft puts out. The new tablet will certainly have its share of competition, as Amazon tablet sales continue to rise and Google's tablet release remains on the horizon. The Barnes & Noble help will boost attention for Microsoft's tablet, but there's no telling if it will be enough.
Microsoft probably bought itself a huge arsenal with the AOL patent deal. As its competitors, like Apple, deal with patent cases in court more and more, Microsoft secured both protection and weapons to take to court. The profitability of the patents will come, hopefully, in the Barnes & Noble and Facebook deals, but the question of "how" remains to be answered. Look for movement in the partnerships and watch Microsoft's moves closely. It's certainly making a move to catch its ballooning competitors and it's about time. We will have to wait to see if it can work.
Disclosure: I have no positions in any stocks mentioned, and no plans to initiate any positions within the next 72 hours.