Cepheid (NASDAQ:CPHD) develops and markets a diagnostic testing system called the GeneXpert that's a hardware platform for genetic tests of diseases that can be identified by their genetic code. There are several specific tests for this platform including MRSA, the killer staph infection that is typically found in hospitals, but is also spreading to other venues.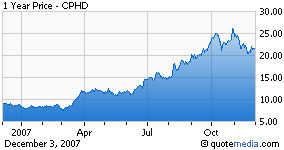 After a very good quarterly revenue report and a positive conference call I am putting buy rating on Cepheid.
In its latest quarter, Cepheid reported that revenues were up 53% to $36.3 million, from the 3rd quarter 2006. Total product sales were up 50% to $34 million, and clinical product sales were up 258% to $20.7 million.
The GeneXpert system sales greatly increased last quarter. At the end of the quarter 1,376 GeneXpert System modules were installed in hospitals in the United States, including 77 in VA hospitals, up by 51 modules in the 3rd quarter and representing a 79% share of the VA market.
Cepheid razor and blades business model is growing also. Sales of the one-time test cartridges were about $18 million with $16 million in hardware sales, increasing gross margins to 43%. Take note that currently large double digit royalties paid on the GeneXpert to a third party will be reduced greatly by 2010, thus increasing Cepheid's bottom line earnings per share.
In a news announcement November 29, Cepheid and Broadlane Signed a Group Purchasing Contract for GeneXpert Systems and Xpert Molecular Diagnostic Tests, along with the Xpert MRSA. Broadlane is a leading supply chain services company serving more than 20,000 acute care hospitals, ambulatory care facilities, physicians practices and other healthcare providers throughout the United States. Under the terms of the contract, Broadlane customers can take advantage of Cepheid's molecular diagnostic instruments, reagents and services for its GeneXpert® System and Xpert line of tests, including Xpert MRSA. Broadlane Members Include Hospital Systems Such as Tenet and Kaiser.
Cepheid has also announced the development of a simpler GeneXpert system called CLIA exempt, which means it can be used in smaller health care facilities such as nursing homes, and managed health care for senior citizens, opening up the potential of a very large new market.
Cepheid did lose money in the last quarter. $4.7 million GAAP, $1.5 million non-GAAP. It stated it would be profitable on a pro forma basis non-GAAP in 2008. Lastly, Cepheid raised revenue guidance for all of 2007 to $124 million-$127 million.