In this article, via an analysis based on the latest available institutional 13-F filings, we identify the computer hardware companies that legendary or guru fund managers favor the most based on their buying, and also the number of gurus that have a position and/or bought the stock during the quarter. In an earlier article, we looked at the picks of the world's largest money managers or mega funds in the computer hardware group, that can be accessed by clicking on the above hyperlink.
The legendary or guru fund managers included, such as Warren Buffett, George Soros, Carl Icahn, Steven Cohen and Mario Gabelli, are well-known for their savvy in picking winning stocks year after year. Taken together, these guru fund managers are bullish on the software group, adding a net $335 million in Q4 from their $20.93 billion prior quarter holdings in the group (for more general information on these guru funds, please look at the end of the article).
The following are the high growth computer hardware companies that these guru fund managers are most bullish about, that also trade undervalued relative to their peers in the group (see Table):
OCZ Technology Group (NASDAQ:OCZ): OCZ provides solid state drives (SSDs) used in high-performance storage and server systems. In addition, OCZ provides other high performance components for computing devices and systems, including thermal management solutions, AC/DC switching PSUs and computer gaming solutions. A total of four guru funds hold 4.9% of the outstanding shares, with three funds buying and one selling during the quarter. Also, together guru funds added a net $10 million in Q4 to their $8 million prior quarter position in the company. The top buyers were SAC Capital Advisors ($6 million) and famed investment guru Martin Zweig's hedge fund Zweig-DiMenna Fund ($5 million), and the top holders were SAC Capital ($6 million), San Francisco, CA-based mutual fund company RS Investment Management ($6 million) and Zweig-DiMenna Fund ($5 million).
OCZ just reported a mixed Q4 (February) report, in which it missed analyst earnings estimates (11c Loss v/s 8c profit), but guided Q1 (NYSE:MAY) quarter revenues significantly higher to $110-$120 million v/s $104 million estimate, and it also guided FY 2013 (ending February) revenues to $630-$700 million v/s $513 million estimate. Probably even more importantly, it guided that non-GAAP gross margins in Q4 that rose 250 basis points quarter-over-quarter, and 840 basis points year-over-year, to 25%, would continue rising at a blistering pace of 100 to 250 basis points per quarter to exit the year at 30%.
Combining that with the company's projections for relatively moderate increases in operating expenses, it is estimated that OCZ could earn well over 50c-60c in annual earnings in FY 2013, with much of that being back-loaded to the second half when quarterly earnings could exceed 20c. Given the projected growth and strong outlook for its products, we believe that its shares are currently undervalued in the $5-$6 range. Also, Wall street analysts are generally bullish on the company, with eight of the ten analysts that cover it rating it at buy/strong buy, and the remaining two rating it at hold, and with a mean price target of $12-$13, well above current prices in the $5-$6 range.
Apple Inc. (NASDAQ:AAPL): Probably among the most innovative companies the world has ever known, this maker of the iPhone, iPod and iPad, founded by the late Steve Jobs, is one of the world's largest manufacturers of personal computers, mobile communication devices and portable digital music players. A total of 37 guru funds hold 1.9% of the outstanding shares, with nineteen funds buying and eleven selling during the quarter. Also, together guru funds added a net $624 million in Q4 to their $9.24 billion prior quarter position in the company. The top buyers were billionaire star fund manager Stephen Cohen's hedge fund SAC Capital Advisors (462 million), legendary billionaire investor Ken Griffin's Chicago-based hedge fund Citadel ($207 million), and Tiger Cub and Star Manager Lee Ainslie's hedge fund Maverick Capital ($123 million), and the top holders are Citadel ($1.60 billion), hedge fund guru and Tiger cub Stephen Mandel's Lone Pine Capital ($1.23 billion) and Tiger cub Chase Coleman's New York-based hedge fund Tiger Global Management ($927 million).
We have written about our bullish outlook on AAPL several times before, and continue to be impressed by the company's ability to post strong revenue and earnings growth, and beat analyst expectations, even at these elevated market-cap levels. The stock, one of the strongest long-term performers in the market, is up a massive almost forty-fold in the past decade and currently trades near all-time highs. Barron's recently speculated that AAPL and Google Inc. (NASDAQ:GOOG) could be added to the Dow to keep it relevant in the 21st century market (will it still be called the Dow Jones Industrial average, though?), a move that would add to the cadre of funds that would have to own AAPL and GOOG stock.
Surprisingly, this gem of a company can still be bought for 10-11 forward P/E compared with 9.6 average for its peers in the micro-computer group, while earnings are projected to increase at a compound 39.6% annualized rate from $27.68 in 2011 to $53.93 in 2013, compared with the average 5%-10% growth rates for many of its peers in the group. Furthermore, forward FY 2013 annual earnings estimates have gone up steadily from $38.98 at the end of 2011 to $53.93, as have broker upgrades and price targets that have kept pouring in since the blockbuster Q1 (December) and Q2 results. While all investing 'love affairs' eventually end, this one shows no sign of abating, at least for the time being.
The following are some additional computer hardware companies that guru fund managers accumulated in Q4 (see Table):
Besides these, guru fund managers based on their Q4 trading activity indicated that they are bearish on the following computing hardware companies:
Table
(click to enlarge)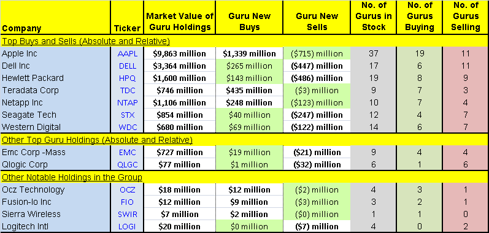 Click to enlarge
General Methodology and Background Information: The latest available institutional 13-F filings of over 85+ legendary or guru hedge fund and mutual fund managers, such as Warren Buffet, George Soros, Carl Icahn, Steven Cohen and Mario Gabelli, were analyzed to determine their capital allocation from among different industry groupings, and to determine their favorite picks and pans in each group. The hedge fund and mutual fund managers included in this select group include only high profile names who by virtue of their long-term market-beating returns have earned their standing in the investment community and are worthy of our attention. They include well-known names such as those mentioned above, as well as perhaps relatively lesser-known names that also have a stellar long-term history of beating the markets, such as Seth Klarman, John Griffin, Prem Watsa, Robert Karr and Lee Ainslie. Each guru has been carefully selected based on their long-term performance and standing in the investment community. Furthermore, the credentials of most of the 85-odd guru funds that justify their inclusion in this elite group were detailed in our previous articles that can be accessed from our author page
These legendary or guru fund managers number less than one percent of all funds and yet they control over ten percent of the U.S. equity discretionary fund assets. The argument is that institutional investors have the resources and the access to information, knowledge and expertise to conduct extensive due diligence in informing their investment decisions. When high alpha generating or guru Institutional Investors by virtue of their fund performance, low volatility and elite reputation in the investment community, invest and maybe even converge on a specific investment idea, the idea deserves consideration for further investigation. The savvy investor may then leverage this information either as a starting point to conduct his own due diligence or even go as far as constructing a model diversified portfolio based on the guru funds best picks.
This article is part of a series on institutional holdings in various industry groups and sectors, and other articles in the series for this and prior quarters can be accessed from our author page.
Credit: Fundamental data in this article were based on SEC filings, Zacks Investment Research, Thomson Reuters and Briefing.com. The information and data is believed to be accurate, but no guarantees or representations are made.
Disclosure: I am long OCZ, SWIR.
Disclaimer: Material presented here is for informational purposes only. Nothing in this article should be taken as a solicitation to purchase or sell securities. Before buying or selling any stock you should do your own research and reach your own conclusion. Further, these are our 'opinions' and we may be wrong. We may have positions in securities mentioned in this article. You should take this into consideration before acting on any advice given in this article. If this makes you uncomfortable, then do not listen to our thoughts and opinions. The contents of this article do not take into consideration your individual investment objectives so consult with your own financial adviser before making an investment decision. Investing includes certain risks including loss of principal.