Since the Chinese government relaxed restrictions and allowed foreign financial institutions to enter China's retail banking market in December 2006, a world of opportunities has opened up for banks, both international and domestic.
China's increasingly liberalized financial services sector has attracted investment from global powerhouses such as Bank of America Corporation (NYSE:BAC), Citigroup Inc. (NYSE:C), HSBC Holdings (HBC), Royal Bank of Scotland Group (NYSE:RBS) and Standard Chartered plc. Some have set up shop under their own banners, while others have purchased stakes in successful Chinese banks.
Stepped-up competition from international banking rivals in a fast-growing market has left Chinese banks with no choice but to upgrade. Home-grown banks are now expanding their financial offerings and beefing up their IT infrastructure to keep up with highly-experienced foreign competitors vying for a piece of the more than $4 trillion in deposits held in China (and the growing demand for bank accounts, credit cards, mortgages and wealth management services among more affluent Chinese consumers).
One company that sees its future fortunes in the Chinese banking industry is Yucheng Technologies Limited (NASDAQ:YTEC), a leading information technology and outsourcing solutions provider. Yucheng provides services including IT consulting, system integration, financial software development, telephone and Internet banking, call center installation and support and risk management solutions to some of the largest banks, insurance companies and securities firms in China.
Banking technology spending, which has become a priority, is increasing at a record pace. In the face of the massive overhaul, a number of local IT firms have entered the market, as have foreign info-tech specialists like IBM Global Service (NYSE:IBM), Accenture Ltd. (NYSE:ACN), BearingPoint, Inc. (BE) and SunGard. But the fierce competition from a slew of players has not slowed down Yucheng.
Boosted by three key acquisitions in China — Sunrisk Information Technology in January 2007, Easycon in July 2007, and Recent Technology in October 2007 — Yucheng continues to show steady growth and penetrate small and medium-sized banks that make up the majority of financial institutions in the country. (The company has already won contracts with smaller outfits like the Bank of Beijing, Hangzhou City Commercial Bank and Huishang Bank).
For the third quarter ended Sept. 30, the company reported a 51% year-over-year gain in net income, and revenue of $15 million, a 44% quarterly increase and 20% rise over the same period in 2006. Gross profits were $5.8 million, up 56% compared to the previous three month period, and up 69% compared to a year earlier. About 61% of total revenue was derived from IT solutions and services while the remaining 39% came from system integration.
"We see Chinese banks continuing to invest in IT infrastructure in order to further improve their operational efficiency and profitability, especially in our core service areas such as electronic customer service channels like web-banking and call centers, and risk management and performance solutions. We also see that small to medium-sized banks are becoming more aggressive in IT investment as they prepare for public listing and increase their competitiveness in the industry," the company said in a statement issued with earnings.
In addition to its standard financial software and services offerings, Yucheng continues to make inroads in the areas of risk management and point of sale [POS] merchant acquisition. On the POS front, Yucheng partnered with China Merchants Bank, the nation's leading dual-currency card issuer, in April 2007. Since then, Yucheng has already signed over 5,000 merchants, and expects to reach a total of 7,000 merchants by the end of the year. If the firm meets its goal of bringing some 50,000 merchants onto their network by the end of 2009, Yucheng could gain as much as $50 million in recurring transaction revenues.
The company has formed strategic partnerships with some household names such as software giants Microsoft Corporation (NASDAQ:MSFT) and Oracle Corporation (NASDAQ:ORCL); IBM (IBM), Intel Corporation (NASDAQ:INTC), Hewlett-Packard Company (NYSE:HPQ) and Sun Microsystems, Inc. (JAVA), all of whom provide the company with servers; and Nortel Networks Corporation (NT) and Cisco Systems, Inc. (NASDAQ:CSCO), who supply Yucheng with network equipment.
On Nov. 26, Yucheng announced it entered into a major contract with Bank of Shanghai to provide ongoing ancillary solutions to the bank's online banking system, which it began building in 2004. While financial details were not disclosed, the deal is yet another testament to the company's ability to win follow-on contracts with existing clients.
It's difficult to argue against Avondale Partners analyst P. Sean Jackson, who rates Yucheng a "market outperform" and says the IT company has ample scope to grow margins going forward. With over 40,000 financial institutions in China (most of which lag well behind their Western counterparts in the tech department) and an ever-growing private banking sector, the company is likely to be busy for some time to come.
Yucheng's (YTEC) stock closed at $14.36 on Monday. The 52-week range has been between $6.47 and $18.01. Wall Street's one-year target estimate is $20.95.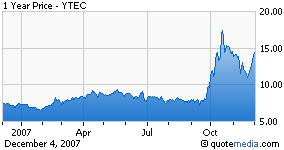 Disclosure: none.