A stock that deserves your attention is Church & Dwight (NYSE:CHD), which seems to grow and grow every year just under the radar of most investors. With brands like Arm & Hammer, Brillo, First Response and Trojan, the products are more of a household name than the company's own.
Recently the market is noticing, and in the past month the stock has steadily risen over 4%, as this hourly trading graph provided by Barchart shows: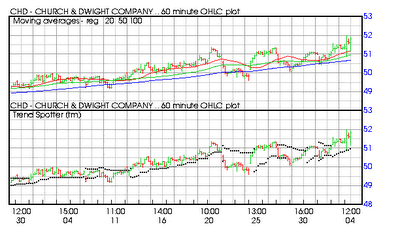 In the past 6 months the stock has also outpaced the stock market as measured by the Value Line Index. Over the past 6 month the stock was up 17% while the market was up 15%: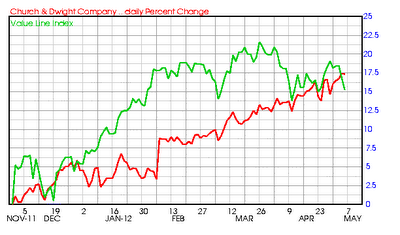 Church & Dwight Co., Inc., together with its subsidiaries, develops, manufactures, and markets a range of household, personal care, and specialty products under various brand names in the United States and internationally. The company operates in three segments: Consumer Domestic, Consumer International, and Specialty Products Division -SPD.

The Consumer Domestic segment offers household products, such as pure baking soda, powder and liquid laundry detergents, carpet and room deodorizers, cat litter deodorizer, cat litters, fabric softeners, dryer cloths, washing soda, bathroom cleaners, daily shower cleaner, aluminum and stainless steel cleaner, toilet bowl cleaner, fabric wash, and detergents and cleaning solutions; and personal care products, including toothpastes, toothbrushes, battery-operated toothbrushes, denture adhesive, deodorants and antiperspirants, condoms, home pregnancy and ovulation test kits, depilatories, lotions, creams, waxes, oral analgesics, nasal saline moisturizer, and laxatives.

The Consumer International segment markets and sells various personal care, over-the-counter, and household products in international markets, including Canada, France, Australia, the United Kingdom, Mexico, Brazil, and China.

The SPD segment offers specialty chemicals, such as performance grade sodium bicarbonate, potassium carbonate, and potassium bicarbonate; animal nutrition products, including feed grade sodium bicarbonate, rumen bypass fat and lysine, sodium sesquicarbonate, rumen fermentation enhancers, feed grade potassium carbonate, and essential fatty acids; and specialty cleaners for a range of industrial, institutional, medical, and food applications. The company sells its products primarily through supermarkets, mass merchandisers, wholesale clubs, drugstores, convenience stores, pet specialty stores, and dollar stores. Church & Dwight Co., Inc. was founded in 1846 and is headquartered in Princeton, New Jersey. (Yahoo Finance profile)
Factors to consider:
Barchart technical indicators:
100% Barchart technical buy signal
Trend Spotter buy signal
Above its 20, 50 and 100 day moving average
10 new highs and up 4.07% in the last month
Relative Strength Index 65.21%
Barchart computes a technical support level at 50.88
Recently traded at 51.62 with a 50 day moving average of 49.42
Fundamental factors:
Followed on Wall Street by 13 brokerage firms that have assigned 17 analysts to run the numbers
Analysts predict sales will increase by 3.60% this year and another 4.00% next year
Earnings are estimated to grow 8.60% this year, an additional 10.40% next year and continue to increase by an annual rate of 10.66% for at least 5 years
These consensus numbers resulted in firms issuing 2 strong buy, 2 buy 10 hold and 3 under perform recommendations to clients
The P/E ratio of 23.07% is slightly higher than the market P/E ratio of 15.00
The dividend rate of 1.88% is lower than the market dividend rate of 2.30% but only 35% of estimated earnings
These numbers should result in a 7% total annual rate of return over the next 5 years to investors getting in at today's price
This is a world wide consumer products company with products available in most major markets.
A+ financial strength rating
Solid price stability and earning predictability
Recognized brands in Brillo, Arm and Hammer, First Response and Trojan
General investor interest:
With 15 Wall Street analysts following the stock it is surprising that only 371 readers of Motley Fool offer an opinion on this stock
Of those voting 98% thought the stock would beat the market
The more experienced and Savvy All Stars voted 96% for the same result
Fool noted that 91% of the recent articles about the stock were positive
Positive comments by WM Blair, Goldman Sachs, RBC Capital Markets, Oppenheimer and even Jim Cramer were noted
The market has the final say on all stocks, and over the past year CHD has outperformed its competition. CHD was up 27%, Proctor and Gamble (NYSE:PG) down 2%, Colgate-Palmolive (NYSE:CL) up 18% and Kimberly-Clark (NYSE:KMB) up also 18%
Summary: An A+ financial strength, with a well known world wide consumer products line, is a plus but the steady share price growth is the icing on the cake. Observe the rising lower turtle channel and move your stop losses to protect your gains: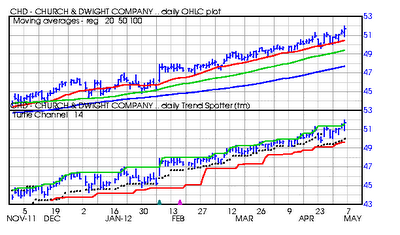 Disclosure: I have no positions in any stocks mentioned, and no plans to initiate any positions within the next 72 hours.