Disclosure: Author is short RMDX.OB
It is the opinion of Citron Research that RemoteMDX is nothing more than a brazen stock promotion. There are too many red flags to be uncovered in one report, so we will do our best to deliver a "Readers Digest" version of a modern day promotion.
RemoteMDX is a Utah-based remote offender monitoring company. To understand RemoteMDX, you have to understand Biomune. RemoteMDX was once a division of Biomune. Most of the senior management at RMDX came from Biomune, including CEO and Chairman David Derrick.
Biomune was a small cap public company that at one time claimed it had a unique technology that granted people the immune system of a cow. After a brief run up, the company was exposed in Barron's (.pdf) for what it was.
Biomume was then the subject of a fraud lawsuit that made the following 3 claims, among others:
"... action arises from a fraud of massive proportions," generally consisting of a "scheme to obtain Biomune's listing on NASDAQ, manipulate Biomune's finances and inflate the price of Biomune stock in order to dump thousands of Biommune shares on the market and earn million[s] of dollars in profits."
The Plaintiff alleges that a "fraud network," consisting of relatives and friends of Solomon and Derrick, effectuated a "cleanup" of Biomune's balance sheet.
Plaintiff further alleges that during 1993 and 1994, Defendants made false and misleading statements regarding the financial stability and commercial success of Biommune.
After a quick 1 for 5 split, the company was delisted from the Nasdaq, leaving shareholders without immunity from losing their investments.
Enter RemoteMDX. Before we even go into the business of RemoteMDX, let us first look at the capital structure: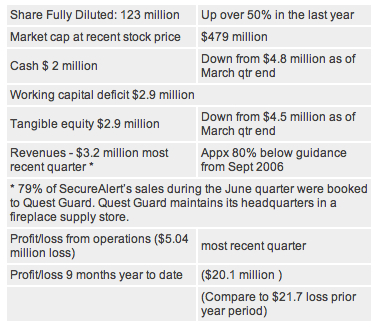 The only thing this company has earned is a "going concern" warning from its auditors.
SG&A, which includes the direct expense of sales, exceeded net revenues by over 50% during the last quarter. This is not a promising statistic on the path to earning a profit.
Comparable valuation points
Isecuretrack (OTCBB: ISEC): 10MM mkt cap, $2.2MM revenues last quarter
Pro Tech (a subsidiary of Dmatek (LSE: DTK): mkt cap ~$50MM, sales ~$20MM; Pro Tech was acquired in January for $12.5 million
Let's give RemoteMDX the benefit of the doubt and and value it 100% higher than these comparables. At a generous $25 million enterprise value, the stock would be worth 20 cents.
Management's Unfounded Bold Claims
As seen in the Barron's article above, CEO Derrick is not shy about making claims that he cannot live up to. In a press release dated 9/19/06:
By the end of 2006, it is anticipated that 20,000 parolees will be monitored by SecureAlert, which represents approximately $58 million in annualized revenues.
The company stated in letter from the Chairman in Jan '07 that it is manufacturing 400 units/day, six days a week with 38,000 units in the sales pipeline: "…as of December 12th [we] have deployed over 10,000 units to customers, with that number growing at the rate of 500 per day, 5 days per week…"
Yet 3rd quarter 2007 revenue was $3.1 million. Boy, was he off the mark.
It's interesting to note that Biomune was not the only time Derrick was sued for stock fraud. He was also sued for Bioxide Corp. With this company, he was going to sterilize airplane cabins.
Questionable Sales
Aside from the poor sales of RemoteMDX, Citron questions the quality and validity of their largest customers.
Security Investment Holdings, LLC accounted for 48% of RemoteMDX's sales in the 3 months ending Dec 31, 2006. Yet the Utah Dept. of Commerce indicates that Security Investment was not registered as a corporation until Dec 12, 2006.
For that matter, Security Investment Holdings was registered to a man named C Eugene Gronning. Mr. Gronning happens to be a shareholder of RemoteMDX and Mr. Gronning owns a public "shell company" in which his bio never states anything about Security Investment Holdings.
This raises questions regarding RemoteMDX's transactions with Security Investment Holdings.
Most recently, Quest Guard has become the largest customer, accounting for 79% of the Secure Alert sales. (No other customer reached even 10%. ) Quest Guard is a local Utah based company that does not seem to have much of a detailed history. Because they serve as a distributor and not an end user, we will never know if this transaction is "real". The only thing we know about Quest Guard is that they share offices with a fireplace distributor.
Financial Health of RemoteMDX
The only thing keeping the company's EPS loss to a single digit is the ballooning share count, up over 50% from a year ago. Lest there be any worry the supply of shares runs out anytime soon, the company has an overhang of warrants and convertible commitments totaling almost another 20 million shares.
It has a $5,000,000 related party line of credit, bearing interest at a whopping 11%. Then 6 million restricted shares were sold to an "investor at less than the current fair market value of the common stock" in order to "induce the investor to enlarge their commitment to the Company, and to further develop a concentrated active investor base." Sounds like stock promotion to us. The price of that sale was $1.30 per share. The counterparty - ADP Management - is owned by officers of the company.
Offshore Shareholders
It is the experience of Citron Research that whenever we see unknown entities in the Bahamas with stock, it is a red flag that should never go unnoticed.
Coval Investment of Nassau – an entity unknown in any other public filing, appears within the last 6 weeks with a stake going from 8 million to an eye-popping 12.7 m shares, and then down to just 682,465 shares (see EDGAR filings). What could possibly explain this transaction? Citron observes that it would be very convenient for Coval to have transferred 12.1 million shares to nominees now, so subsequent transactions won't trigger filings. Not just any nominees, but "IIU Nominees LTD", as we see in a recent filing.
And yet the company was moved to issue another 2.71 million shares via a blank check S-8 in September.
Conclusion
We do not believe RemoteMDX stock is worth the paper they are printed on. The related party transactions, along with management with a history of dubious stock deals surrounded by offshore shareholders create an investing environment that all investors/shareholders should be conscious of.
Disclosure: Author is short RMDX.OB