What price would you put on a stock with $7 trailing EPS in and industry with an average P/E of 18.4? Applying the industry P/E to the trailing EPS would give you a stock price of approximately $128. Applying a 15 P/E would give you a stock price of approximately $105. Even a very conservative P/E of 10 would give you a stock around $70.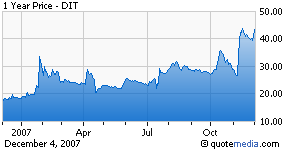 Let me introduce you to AMCON (NYSEMKT:DIT), currently trading in the low $40's. DIT recently sold off unprofitable operations and settled lawsuits that were, in my opinion, the reason for the drag on the stock. Now it should be discovered as an undervalued, ultra-low float stock with EPS that would have been $7 last year.
DIT has approximately a 300k float and approximately 500k shares outstanding (approximately 800k fully diluted). The Company recently reported $5.13 in EPS for the year. However that amount included legal fees of $2 million dollars ($1 million in the second and third quarters) that are no longer costs going forward as they have settled the lawsuits. EPS from continuing operations for the most recent year ended was $4.89. The $2 million in legal expenses for cases that have now been settled would have made EPS for the year over $7 (2 million divided by approximately 800k outstanding shares). The Company reported $1.90 EPS for the fourth quarter from continuing operations representing the first partial quarter with legal expenses gone. With this kind of EPS and low float and outstanding structure, DIT is a stock to keep on the radar.
Disclosure: Author is long DIT.