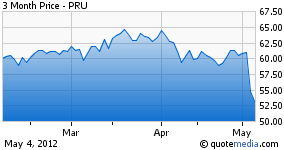 Shares of Prudential Financial (NYSE:PRU) were hammered after the company reported on Wednesday Q1 2012 earnings that fell 15 cents short of expectations, declining 10.1% on the following day. An unexpected loss in Group Insurance, the company's smallest segment, seems to have been the catalyst. Murky accounting for currency hedges and the adoption of revised guidance for DAC (deferred acquisition costs) were contributing factors. I think the market over-reacted, and added to my position during the day.
Group Insurance Loss
A loss of $38 million in Group Insurance, compared to a profit of $39 in Q1 2011, was responsible for the miss, as it represented a 16 cent swing. Group Insurance includes life and disability.
The group life benefits ratio has averaged 89% for the past five years. The current quarter at 95.4% was the most unfavorable of the period, compared to 86% for the previous quarter, which was the most favorable. The company had actuaries look at it, and they are satisfied it was a one-off.
Group disability had been deteriorating for a number of years, and the benefits ratio jumped to 95% in 2010. By June 2011 they brought in a consultant and rates are being increased. Contracts run 2 or 3 years so it takes a while for rates to work their way through to the bottom line.
It's normal for disability claims to increase during recessions. However, management concedes that this explanation is getting a little long in the tooth. In addition to raising rates, an experienced executive has been brought and instructed to leave no stone unturned.
Currency Hedges
Prudential has a large international business, to include Japan, and appropriately hedges the resulting foreign exchange risks. Under GAAP, the actual currency gains and losses are reported in earnings, but the offsetting hedge results are tucked away in AOCI (accumulated other comprehensive income).
The analyst community is well aware of this phenomenon, and looks past it. GAAP earnings for the quarter were a loss of $2.09 per share, which may have panicked individual investors, particularly when combined with the precipitous drop in share prices.
DAC Accounting
Many investors, myself included, use P/B ratios in their analysis of financials. PRU adopted revised guidance from FASB retrospectively as of January 1st, reducing year end book value by $5.97 per share. Shares dropped $6.13 on the day: possibly the similarity of the amounts is not a coincidence.
Policy acquisition costs, such as agent's commissions, are capitalized and amortized over the life of the contracts. The revised guidance limited the costs that can be deferred, a change that makes life insurance accounting more conservative and should result in more stable reported earnings, as DAC unlocks should be less volatile. In any event, the change is one of timing, and does not change the economic facts and values. Some analysts regarded the DAC asset as questionable. As a practical matter, expected profits on in force business are increased, as future amortization expense is reduced.
The company issued supplemental financial information, revising earnings and book values going back to 2008. In the process, they reduced the number of reported book values from 3 to 2, citing industry practice. Because both earnings and book values are reduced, historical P/E and P/B are increased proportionately. As such, valuations based on historical metrics are unchanged.
Positives
A chronic sore point for life insurers has been the risk associated with guarantees on variable annuity products. Prudential has been addressing this by shifting some of the risk management burden onto the customer through product design. During the presentation, progress was reported as follows:
While several other companies have recently began to embrace product-based, risk management strategies, our highest daily protected value feature, coupled with auto-rebalancing tailored to each customer's account, has a proven track record of more than 5 years with clients and their advisors. The popularity of our HD products has driven a continuing improvement in our risk profile. At the end of the first quarter, about 83% of our account values with living benefits add the auto-rebalancing feature. This compares to 78% a year ago and just under 70% 2 years ago. The auto-rebalancing feature performed very well over the most recent market cycle.
In addition, Individual Life new business was up 22% from a year ago, and International Insurance new business was up 24%.
Don't Forget the Fed
The Fed has been keeping long term interest rates artificially low, and anticipates that conditions will warrant that policy stance well into 2014. While PRU does not invest heavily in US treasuries, and has many options to achieve better yields, a study of their fixed income yield over the past 3 years suggests a decline of about 30 bps per year until the Fed changes direction.
Also, it is widely expected that the Fed will regulate Prudential as a SIFI (Systemically Important Financial Institution). I don't know whether that is pronounced Sci-Fi or Siffy. After reviewing the Fed's treatment of MetLife (NYSE:MET), and the comments of that company, as well as PRU and the American Council of Life Insurers, with regard to the Fed's proposed rules for Enhanced Prudential Standards and Early Remediation Requirements, there is room for concern.
Briefly, the Fed doesn't seem to understand the life insurance business, and I have been unable to locate evidence of appropriate lines of communication to well-informed counterparts at the Fed. The issues are complex.
Life insurance companies, when engaged in conventional insurance activities, do not pose any systemic risk. As heavy users of derivatives, they are exposed to systemic risk created by their counter-parties, whether that be big banks or a clearing house. They are capably and effectively regulated by the states, who have the resources and experience to wind them down if that becomes necessary.
The Fed will eventually be governed by the facts, although there will likely be some tensions in the process. Clarity on the issues involved should remove pressure on the share prices of both MET and PRU, in due course.
Valuation
In recent years, low interest rates have given insurers large unrealized gains on fixed maturity investments, which inflate GAAP book values. With GAAP BV at $70.80 and BV ex AOCI at $55.85, it would normally be preferable to use the BV ex AOCI, since insurance companies generally hold their fixed income investments to maturity. However, BV ex AOCI is an unstable metric as temporary gains or losses from hedging activities are included.
In the interest of simplicity, $55.85 X 1.2 = $67, well in excess of the current share price.
In my November 2011 article on PRU's 2012 outlook, I applied management's goal for ROE, together with a historical P/E, to develop a target price. Using the 2013 midpoint for ROE: $55.85 BV ex ACOCI X 13.5% ROE goal = $7.53 EPS X 11.26 P/E = $85.
Strategy and Tactics
I cut my position in half on 2/29/2012, not because I had reservations about the company, but as a matter of cash management in consideration of market level. I elected to add back the same amount of exposure yesterday, on the grounds that the market had over-reacted and there would be a tradeable bounce. Each investor has to decide for himself if he wants to indulge in short-term directional guesses of this kind.
From a long term point of view, PRU is unlikely to make strong gains until interest rates start to rise, and the Fed demonstrates an adequate understanding of the critical differences between insurance and banking. Also, results are influenced by equity market levels: PRU, with a beta of 2.4, correlates strongly with the S&P 500. Investors should consider these issues when selecting an entry point.
Shares are optionable, to include LEAPS. Open interest is adequate, spreads are relatively narrow, and the options trade in penny increments. Implied volatility checks in at 37.37%, down from a 52 week high of 75.19% in September 2011.
I've been playing this situation with diagonal spreads: long deep in the money LEAPS and short out of the money calls. My current trade dates back to August 2010, and is showing a 7% IRR, although the stock is down 1% over the time period involved. The combination of leverage and high beta leads to disconcerting swings in position value. On the other hand, the episodes of high implied volatility create profit opportunities, if properly handled. Overall, my experience with diagonal spreads suggests that the strategy is more suitable for low beta cases.