Renren (NYSE:RENN) is expected to report 1Q12 results on May 14th. The Street expects:
Revenue: $30 million
EPS: $0.04 per share loss
Q2 revenue guide: $46 million
Heading into the earnings, investors should focus on monthly active user growth.
Despite reporting a solid Q4 result, Renren's monthly-active-user growth was nil, which was disappointing given the fact that the company has been expanding its social networking verticals that attract users who are interested in other forms of social networking that involves fashion and travelogues.
click to enlarge images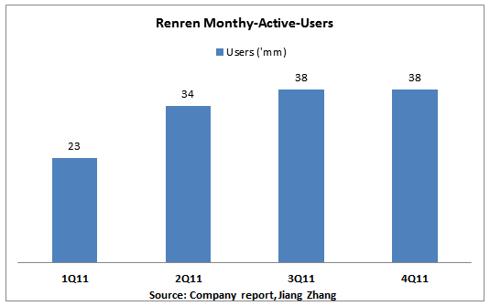 Click to enlarge
To address the weakness in MAU growth, Renren will likely to follow Facebook's footstep in enhancing its picture sharing function to attract users. According to company data, over 8 million photos are uploaded on Renren daily, and picture-related activities account for 40% of the platform's total user visits, making photo-sharing function a major component of creating superior user experience.
Finally, investors can expect continued pain from Renren's group-buy unit, Nuomi. Last quarter, we saw significant margin deterioration, possibly due to lower commission rate.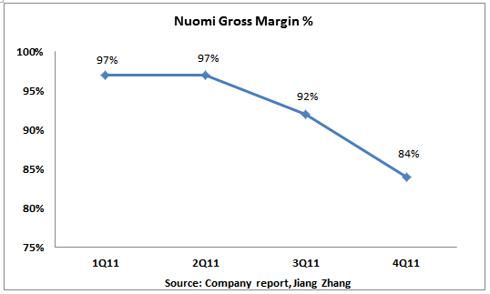 Click to enlarge
Renren will standby its group-buy unit amid industry consolidation because it is an essential component of its mobile strategy.
While I am positive on Renren's long-term prospect, I would like to caution investors that weakness in its core SNS segment and group-buy will weigh on its stock price. I maintain my $6 price target on Renren's shares and see the recent run-up due to Facebook's imminent IPO has made the share price to deviate from its fundamentals. To see my initiation report, please see my February 2nd note titled "Renren: Social Networking Top Pick; Initiating With $6 Target"
Disclosure: I have no positions in any stocks mentioned, and no plans to initiate any positions within the next 72 hours.