Paul Versus Paul
On Tuesday, May 1st, Bloomberg TV hosted a debate between Texas Congressman Ron Paul and Princeton economist Paul Krugman. Dr. Krugman advocated stoking higher inflation to stimulate the economy, and Dr. Paul vigorously objected. A few days later, on Friday, May 4th, on Bloomberg TV's Street Smart program, Bloomberg ETF Analyst Eric Balchunas presented two portfolios of three ETFs each -- one inspired by Ron Paul's views, and the other inspired by Paul Krugman's views. Of these six ETFs, five had options traded on them. The table below lists all six ETFs, and the costs, as of Friday's close, of hedging the five optionable ones against greater-than-20% declines over the next several months, using optimal puts.
A Comparison
For comparison purposes, I've also added the costs of hedging the SPDR S&P 500 Trust ETF (NYSEARCA:SPY). First, a reminder about what optimal puts are, plus an explanation about decline thresholds. Then, a screen capture showing the current optimal put to hedge one of the ETFs inspired by Ron Paul, the PowerShares US Dollar Bearish (NYSEARCA:UDN).
About Optimal Puts
Optimal puts are the ones that will give you the level of protection you want at the lowest possible cost. Portfolio Armor uses an algorithm developed by a finance Ph.D. to sort through and analyze all of the available puts for your position, scanning for the optimal ones.
Decline Thresholds
In this context, "threshold" is the maximum decline you are willing to risk. You can enter any percentage you like for a decline threshold when scanning for optimal puts (the higher the percentage though, the greater the chance you will find optimal puts for your position). I have used 20% decline thresholds for each of the names below.
The Optimal Puts For UDN
Below is a screen capture showing the optimal put option contract to buy to hedge 100 shares of UDN against a greater-than-20% drop between now and December 21st. A note about this optimal contract and its cost: To be conservative, Portfolio Armor calculated the cost based on the ask price of the optimal put. In practice, an investor can often purchase puts for a lower price, i.e., some price between the bid and the ask (the same is true for the other names in the table below).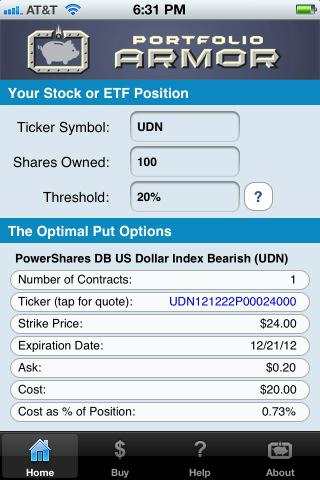 Hedging Costs As Of Friday's Close
The hedging data below is as of Friday's close, and is presented as percentages of position values. As we alluded above, there are no options traded on the Global X FTSE ETF (NYSEARCA:GREK), so it can't be hedged directly.
| | | |
| --- | --- | --- |
| Symbol | Name | Hedging Cost |
| | Ron Paul Portfolio | |
| | Marked Vectors Gold Miners | 4.70%*** |
| | ProShares Short S&P | 0.82%** |
| UDN | PowerShares US Dollar Bearish | 0.73%*** |
| | Paul Krugman Portfolio | |
| | iShares Barclays TIP Bond | 0.50%*** |
| | Vanguard Total Stock Market | 2.70%*** |
| | Global X FTSE Greece | NA |
| | Comparison ETF | |
| SPY | SPDR S&P 500 Trust | 2.23% |
**Based on optimal puts expiring in November
***Based on optimal puts expiring in December
Disclosure: I have no positions in any stocks mentioned, and no plans to initiate any positions within the next 72 hours.