Sina (NASDAQ:SINA) is expected to report earnings on May 15th. The Street expects:
Revenue: $103 million
EPS: $0.23 per share loss
Q2 revenue guide: $131 million
Heading into earnings, investors can expect weaker brand advertising revenue growth but should look for additional color on Sina's Weibo monetization strategy.
According to iResearch, China's online advertising market is expected to decline by 13.8% Q/Q. The weakness in online advertising should come as no surprise given the early Chinese New Year and weak results reported by peers Baidu (NASDAQ:BIDU) and Sohu (NASDAQ:SOHU).
image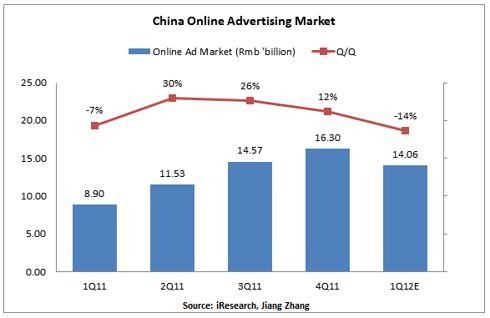 Aside from the expected weaker ad environment, investors should look for additional color from the management on Weibo monetization strategy amid increasing competition.
In my April 6th note titled "Sina Weibo: Enterprise Accounts To Drive Monetization," I pointed out that enterprises will account for an increasing portion of Weibo's revenue as they look to incorporate social ad in their market strategy and leverage sponsored stories and fan pages to create better social relationship with their customers. I note that as of February there are over 130,000 enterprise accounts on Weibo, and that number is expected to reach 1 million by year-end according to CEO Charles Chao. Top five enterprise clients are restaurants, auto, business services, ecommerce and IT.
Currently, there are over 140 million users on Weibo following at least one enterprise account, which serves as an ideal platform for companies to promote their products via sponsored Tweets that are similar to the ones on Twitter.
However, competition is heating up from Tencent, which could put pressure on Weibo's development. Last month, Tencent began to integrate some of its social networking and messaging platforms, such as QQ Zone, QQ Friends and QQ Circle, to create a comprehensive platform to rival Weibo. The integrated platform could deliver superior user experience that result in increased user stickiness, and could attract users away from Sina Weibo.
Disclosure: I have no positions in any stocks mentioned, and no plans to initiate any positions within the next 72 hours.