It is difficult not to be wooed by Exxon Mobil (NYSE:XOM). Even with the punches it has received, Exxon is still the big kid on the street that can take it and come back for more. With lower North American natural gas prices, an occasional pipeline temporarily out of service, and slower production, this company takes it on the chin and keeps on trucking. For a company just a wee bit smaller in size than Apple (NASDAQ:AAPL), some investors may find it out of reach to get in on, but I suggest otherwise. I see Exxon as a company with a lot of steam left in its engine that is ready to continue growing for years to come and for a few simple reasons: great management, an endless market, and continual diversification of products and services.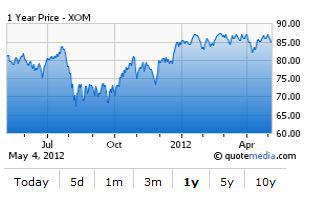 Exxon, still one of the longest running companies of the Dow Jones Industrial Average (DJIA), is the largest U.S. oil firm by market value, with a market cap of $405 billion, way ahead of Chevron (NYSE:CVX) and Royal Dutch Shell (NYSE:RDS.A). The company is making smart moves to counter the falling prices of natural gas. Last year, Exxon's production was 51% oil and 49% gas last year. However, the company is cutting incremental exposure to dry gas wells and cutting down the number of rigs drilling unconventional gas fields in the U.S. from 72 last year to around 61 in 2012. The company is currently moving rigs to the Bakken Shale and Permian Basin, projects focused on petroleum liquids, and plans on increasing spending by 29% over previous five years putting about $185 billion into capital projects. Much of this increase will be for exploration of more oil with hopes of growing production 3% annually.
With current U.S. wells striving to produce more and some completely tapped out, Exxon is in a constant "search and produce" mode both in North America and internationally. The company has diversified operations across the world with several new projects coming online through 2013 including success with key wells in the Gulf of Mexico, the Black Sea, Tanzania and Argentina, and new projects coming on line in Canada, Kazakhstan, Nigeria, Australia, Russia, Angola and Iraq.
Some drilling operations that began in late 2011 in deep waters of the Romanian Black Sea, about 9,600 feet below sea level, was successful in discovering natural gas. Exxon's Domino-1 is the first exploration well in these waters since an agreement with OMV Petrom in 2008, where Exxon acquired 50% of the Neptune Block where the well is located. This opens the gates for Exxon to invest more in the region since it said it would invest $3 billion to $10 billion on the project upon major discovery.
Going forward, Exxon is banking on future successes with its new partnership with Rosneft (ROSN.RS), the Russian state oil company, to drill for oil and gas in the Arctic and the Black Sea. This is a win-win deal in that Exxon gets to go after untapped reserves that should yield success and Rosneft gets an opportunity to expand to North America. This new venture will seek to develop three fields in the Arctic with recoverable hydrocarbon reserves estimated at 85 billion barrels in oil-equivalent terms.
Another agreement with YPF (NYSE:YPF), an Argentinean energy company, was reached in March to jointly develop unconventional oil and gas deposits in Argentina. Research has shown a presence of an additional one billion barrels of unconventional oil resources and 60 million barrels of conventional oil resources in the province of Mendoza.
The company is using technology and marketing skills to diversify products and services, providing more for consumers. At the Offshore Technology Conference last week, Exxon showcased its comprehensive line of Mobil SHC-branded synthetic industrial lubricants, including the latest addition to its Mobil SHC family of high-performance synthetic lubricants, the Mobil SHC Pegasus, touted to be natural gas engine oil offering to help reduce fuel consumption by up to 1.5% compared to standard gas engine oils. Also at the show were a wide range of oils and greases from its Mobil SHC family of synthetic lubricants.
Exxon continues with impressive and ambitious growth plans. In a statement regarding first quarter results, CEO and Chairman, Rex W. Tillerson said, "First quarter results reflect our ongoing focus on developing and delivering energy needed to support job creation and economic growth. Despite continuing economic uncertainty, we are progressing our robust investment plans to meet the energy demands of the future. Capital and exploration expenditures were $8.8 billion as we continue with plans to invest about $37 billion per year over the next five years. "We continued to generate strong cash flow from operations and asset sales with $21.8 billion in the quarter."
For the first quarter of 2012, overall downstream earnings for the company increased by $487 million to $1.586 billion partly due to an asset sale that contributed $320 million to this quarter's earnings. Chemicals earnings fell by more than half from $1.516 billion in the first quarter of 2011 to $701 million in the last quarter. Exxon posted a profit of $9.45 billion, or $2 per share, on the quarter, compared with $10.7 billion, or $2.14, a year earlier, and revenue rose 8.8% to $124.1 billion.
The company also announced that it has declared a cash dividend increase of an astounding 21% to $0.57 per share on the Common Stock, payable on June 11, 2012. This second quarter dividend compares with $0.47 per share paid in the first quarter of 2012. The increase brings the company's annual payout to shareholders to $2.28 a share, or $10.7 billion. Sales for Exxon rose 8.8% to $124 billion and shares have risen 1.6% so far this year.
Because Exxon has such a great history and strong presence worldwide, its shares will surely experience a positive impact once natural gas prices begin to reveal its true colors. This coupled with the company's investment in new territories of exploration and products makes the company one to buy now and hold onto.
Disclosure: I have no positions in any stocks mentioned, and no plans to initiate any positions within the next 72 hours.