Berkshire Invests In Ownership
When the stock market fell to its knees 3 years ago, Berkshire Hathaway (BRK.A) hit a low around 73,000 dollars a share in March 2009. During this period of time Berkshire aided and invested in Goldman Sachs (GS) and General Electric (GE). Berkshire Hathaway did not need to be rescued; on the contrary, Berkshire was the knight who saved others.
Now Mr. Buffett is talking about buying another company for $22B. He invests in valuable and efficiently run companies that produce income. Then Berkshire generates shareholder value by investing the income into itself (through share buybacks) and more businesses' equity and debt.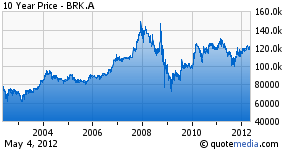 Twenty years ago Berkshire was 9,100 dollars a share; today it is around 120,000 dollars a share. The stock is up 50 percent in the past ten years.
Some businesses simply are unable to make money, let alone make money for shareholders. Some pay their CEOs over 12 million dollars while shareholders are losing money. So call Warren Buffett old fashioned if you wish, but there is one thing he has been doing for nearly a half century - making money for shareholders.
Financials
Let's look at the past three years' gross profit:

Source: Yahoo! Finance Income Sheet
That is 111.86 billion dollars in gross profit in 2011. The result of a controlled and effective philosophy of managing and earning money.
Let's compare Berkshire's gross profit to Wal-Mart's (WMT):

Source: Yahoo! Finance Income Sheet
Again, that is 111.82 billion dollars in gross profit. Keep in mind that Berkshire owns 39 million shares of Wal-Mart.
Journey to the Center of the Financial Universe
You may not be able to add Berkshire's Class A shares to your portfolio because they cost 120,000 dollars a share. However you can add a few shares of Berkshire (BRK.B) Class B shares, priced around 81 dollars a share.
For one strategy check out my article, Strategic Investing In Equity And Debt: Target 2042. Now let's look at a nearer term strategy centered around Berkshire Class B (this strategy is for value not income.) Let's add ConAgra (CAG) and the new Facebook (FB) stock to the portfolio.
| | | | | | |
| --- | --- | --- | --- | --- | --- |
| Stocks | Shares | Price | Dividend/Yr | Years | Total Income |
| Berkshire Hathaway | 10 | 81 | 0 | 9 | |
| ConAgra | 10 | 25.75 | 0.96 | 9 | 86 |
| Facebook | $500 worth | X | 0 | 9 | |
| Gold | | | | | |
| Sprott Physical Gold Trust (PHYS) | 10 | 14.14 | 0 | 9 | |
| Income Fund | | | | | |
| Wells Fargo Advantage Utilities and High Income Fund (ERH) | 25 | 11.53 | 0.90 | 9 | 202 |
| Bonds | | | | | |
| Berkshire Hathaway 3.25% 8/15/2021 (CUSIP: 084670BC1) | 2 | 106.62 | 2.928% | 9 | 585 |
This totals 4,128 dollars (and 40 dollars in commission). If you set your dividends from ConAgra and Wells Fargo's Income Fund to reinvest, they should begin to yield more. Once the Income Fund has grown some, set the dividends to pay cash.
Currently yields are low, quality stocks are expensive, and advisors are taking on more risk in an effort to make money. Several advisors overlook Berkshire, though, even while the company makes and invests billions.
This strategy involves building a safety net around your Berkshire stock. Here's a description of the securities:
A Different Point of View
The article Waiting On Warren: Berkshire Hathaway No Longer Shows The Way contends that Berkshire is not guiding the world of investors. However, the Berkshire portfolio does seem to do just that and appears focused on building value for shareholders.
A poker player will not show everyone their hand, and neither should the CEO of one of the largest companies in the world. That is not the way it works. If instead you want to understand one way to succeed in business, look to Berkshire Hathaway and to the generation of value for shareholders.
Additional disclosure: I have no position in ERH however may initiate a long investment.