In a previous article related to Gilead Sciences (NASDAQ:GILD) posted on April 13, 2012, a protected covered call was considered. In the interim, the price of Gilead Sciences stock has increased 12% as shown below: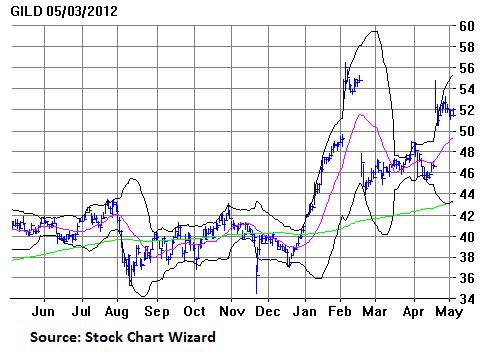 The protected call position considered in the previous article has increased in value by 3%, which represents a large part of the 3.6% potential return for the protective covered call. Therefore, the protected covered call position should either be closed for a profit or rolled in order to realize additional potential return.
In Gilead's most recent Q1 2012 earnings call held on April 26, 2012, the company reported 19% year-over-year growth and 4% sequential growth. Sales in the U.S. were strong with 25% growth over the same quarter in the prior year and European sales came in at 7%. The company noted that pending a successful FDA advisory panel review for Quad in May, launch for the four-in-one treatment for HIV appears good to go. On a negative note, the company indicated it had to write down some Greek bonds due to Greek government restructuring, and as a result has totally liquidated the company's position in Greek bonds in order to prevent further write-downs.
With the prospects for Quad looking positive, a continued position in Gilead is worth considering, but a protected one, just in case issues arise with respect to Quad or any of the company's other products.
Using PowerOptions, a protected covered call was found for Gilead which can be rolled from the previous position. The new position has a potential return of 7.5% (43% annualized) and a maximum loss of 7.8%. The potential return and the maximum loss include the previous profit from the initial protected covered call position. A profit / loss graph for one contract of the new protected covered call is shown below: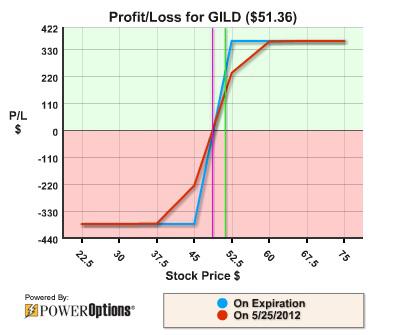 The 2012 May 46 call option and the 2012 May 41 put option considered in the previous article can be closed for $5.65 and $0.06, respectively. For the new position, the specific call option to sell is the 2012 Jun 52.50 at $1.45 and the put option to purchase is the 2012 Jun 45 at $0.46. For a stock price below the $45 strike price of the put option, the value of the protected covered call remains unchanged (at expiration), even if the price of the stock drops to zero. If the price of the stock increases to around $57.50, the position can most likely be rolled again.
Disclosure: I have no positions in any stocks mentioned, and no plans to initiate any positions within the next 72 hours.