Gilead (GILD) is garnering a huge amount of attention from investors owing to the hepatitis C virus (HCV) pipeline it got from the Pharmasset acquisition. As the market is occupied with the company's HCV programs, investors seem to ignore additional promising assets in Gilead's pipeline. GS-1101, which started phase III in leukemia last week, is a good example. I have no intention to downplay Gilead's HCV pipeline, however, the minimal attention given to GS-1101, one of the promising hematology agents in development, seems unjustified.
Another multi-billion opportunity
Gilead got GS-1101 through the $600M ($375M in cash+ $225M in milestone payments) acquisition of Calistoga last year. At the time, the drug generated preliminary but exciting results in various blood cancers, positioning it as one of the big promises in the industry. The medical community was taken by GS-1101 as a highly effective, safe oral drug. It is viewed as the main competitor to Pharmacyclics' (PCYC) closely watched Ibrutinib (formerly PCI-32765).
From a market potential perspective, GS-1101 is targeting a market which is at least as big as the HCV market (the best benchmark is Rituxan with $6B in sales last year) but with some advantages. The business case for GS-7977 in HCV will heavily depend on diagnosing patients who do not even know they are sick and convincing them to get treatment. In contrast, leukemia or lymphoma patients are well aware of their condition and most importantly, do not need to be convinced to get treated.
GS-1101's main disadvantage is the lack of meaningful clinical data for over a year in bright contrast to Pharmacyclics that is constantly releasing more promising results. This, combined with a slightly inferior safety profile, makes Pharmacyclics' ibrutinib the more preferred drug. Still, as both drugs are still at an early stage, it is hard to tell how they perform when they reach the market.
Immuno-kinase inhibitors as a strategic area
Just as Gilead identified the focal point in HCV with the Pharmasset acquisition, it identified one of the most promising areas in the hematology and autoimmune diseases. GS-1101 inhibits a specific subtype of PI3 kinase (delta isoform). This target belongs to a group of kinases that are pivotal in the function of immune cells, referred to as "immune-kinases".
There are currently 4 hot immune-kinase targets: Jak, Syk, Btk and PI3K-gamma/delta. Drugs for each of the 4 targets have already demonstrated remarkable activity across many indications, usually with a superb safety profile and convenient oral dosing. As a result, these drugs are expected to become central players in indications representing tens of billions of dollars in commercial opportunity.
The initial markets for Jak inhibitors are myelo-proliferative diseases such as myelofibrosis (MF) and rheumatoid arthritis (RA), the initial market for Syk inhibitors is RA. The initial markets for Btk and PI3K-delta inhibitors are chronic lymphocytic leukemia (CLL) and various subtypes of lymphoma.
Immuno-kinase programs in development
Jak inhibitors are the furthest along in development, with Incyte's (INCY) and Novartis' (NVS) ruxolitinib (brand name, Jakafi), already approved for MF, and Pfizer's (PFE) tofacitinib, which is expected to be approved for RA later this year. Several other programs are in mid- and late stage development, with different selectivity profiles towards the three Jak subtypes (Jak1, Jak2, Jak3). This could affect efficacy but also safety profile, which might end up as the key differentiator. 2 notable programs are Galapagos' selective Jak1 inhibitor, hailed as potentially the safest treatment in RA and YM Biosciences' (YMI) CYT378 with a controversial, unexplained anemia resolution effect in MF.
Syk inhibitors are next on the list, led by Rigel (RIGL) and AstraZeneca's (AZN) fostamatinib also in RA. Biogen-Idec (BIIB) has high hopes for the Syk inhibitor it recently licensed from Portola. Rigel has additional Syk programs for inhibitors given by inhalation or administered directly on the skin for asthma and lupus, respectively.
Btk and PI3K-delta inhibitors are 1-2 years behind, led by Pharmacyclics/J&J and Gilead, respectively. As discussed, they appear more effective as single agents in blood cancers and are yet to be rigorously evaluated in autoimmune diseases. Celgene (CELG), which acquired Avila in 2012 has the only other Btk inhibitor in clinical testing.
It is not surprising that all targets are aggressively pursued by multiple companies in various blood cancers and autoimmune diseases. It is also not surprising to see many acquisition and licensing deals around immune-kinase assets. 2 recent huge deals are Galapagos' deal with Abbott (ABT) and Pharmacycls' deal with J&J.
click to enlarge images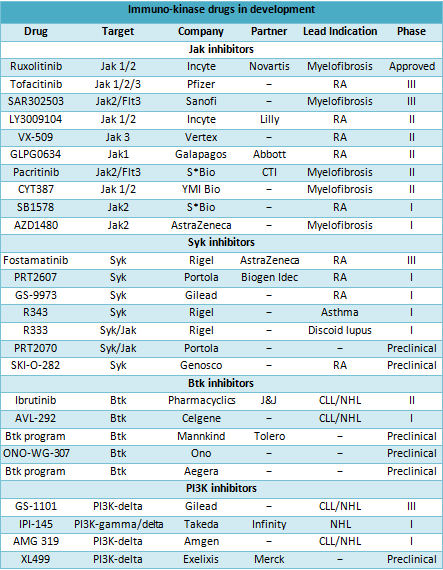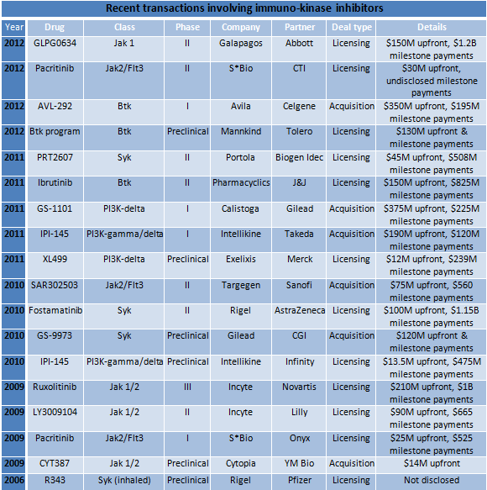 Click to enlarge
Gilead beats Pharmacyclics to phase III
Gilead and Pharmacyclics (with its partner J&J), are running neck and neck towards FDA approval in CLL. Gilead beat Pharmacyclics by a month or two in starting a phase III CLL trial, but the two drugs are expected to reach the market in the same time frame.
CLL is considered an ideal bridge head for GS-1101 and ibrutinib given the impressive effect in the vast majority of patients tested to date and the high bar in terms of safety (many patients are elderly and cannot tolerate chemotherapy). In addition, CLL is not as crowded as other blood cancers and as an indolent disease it is more suitable for chemo-free regimens.
Whereas the patient population targeted by the two companies and the primary endpoint (progression free survival) are similar, the clinical protocols have several differences. Gilead's trial is a double blind trial evaluating GS-1101 in combination with Rituxan vs. Rituxan + placebo. Pharmacyclics will evaluate Ibrutinib as a single agent versus Arzerra (similar mechanism to that of Rituxan). Notably, this trial will be an open label study, so patients and physicians will know what each patient gets. Theoretically, this could confound PFS assessment. Another potential issue is the potential of patients dropping out of the study if they are randomized to the control arm.
From a registration and marketing perspective, both approaches have pros and cons. Gilead is pursuing approval in combination with Rituxan. This regimen is likely to be more active than single agent GS-1101 but it involves an injectable agent and cost could also be an issue. Pharmacyclics uses Arzerra as a control treatment and compares Ibrutinib against it. Ibrutinib has a good chance of showing superiority and could be well positioned as an oral treatment for CLL, however, its efficacy could be inferior to Gilead's combination regimen.
Building two franchises in parallel
Gilead is branching out of the HIV segment, establishing leadership in HCV and hematology simultaneously. It is interesting to see the same strategy employed by Gilead in both cases. In both cases, Gilead acquired companies with a single lead asset that had already undergone clinical proof of concept with the potential of revolutionizing their respective fields. Importantly, Gilead chose assets that can reach the market ahead of the competition.
With GS-7977, the goal is creating an effective interferon-free all-oral regimen whereas with GS-1101 it is having an effective chemo-free regimen. There is a lot of competition in both segments, which is why Gilead is very aggressive with both programs. One difference between the drugs is that GS-7977 is considered the best drug in its field while GS-1101 is viewed as less promising than Pharmacyclics' ibrutinib. Another difference is the high price Gilead paid for Pharmasset ($11B) vs. $375M for Calistoga. Pharmasset had additional clinical stage assets, including the all-important NS5a inhibitor, yet it is hard to justify the 30-fold difference between the two acquisitions.
Portfolio updates
Since inception, our portfolio generated a return of 135%, which compares favorably with general and healthcare indices or ETFs (see table below). I intend to provide a detailed portfolio update later this month prior to ASCO, which I plan to attend next month.
Portfolio holdings as of May 6th 2012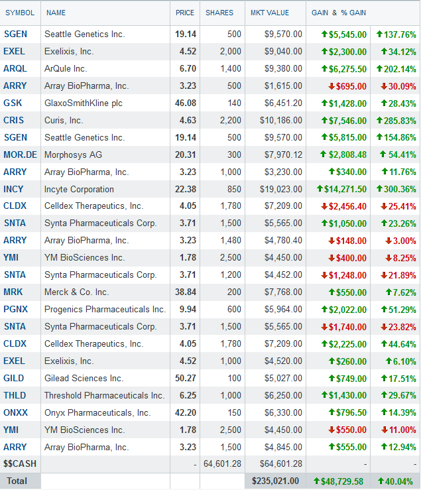 Click to enlarge

Click to enlarge