The first quarter of 2012 proved to be a strong one for Suncor Energy (NYSE:SU) although it was marred by unplanned downtime of one of the company's upgrader units in March. The company's oil sands business experienced record production in January and February. This contributed greatly to the company's strong cash flows in the quarter. The outage of Upgrader 2 did cause the company's oil sands production to fall from an average of 322,100 boe per day in the first quarter of 2011 to 305,700 boe per day in the first quarter of 2012. If it was not for this unplanned outage, Suncor's oil sands production almost certainly would have broken records. The upgrader was repaired and returned to normal operations in mid-April. The company thus looks to be on track to increase its oil sands production during the second quarter. It will be interesting to see those results in a few months.
The company's quarterly results and results presentation can be found on Suncor's website. Here are the highlights from the quarter:
Suncor reported first quarter net income of $1.457 billion. This works out to $0.93 per share and represents an increase of 41.7% over the $1.028 billion that was earned in the prior year quarter.
Operating earnings fell from the prior year quarter. Suncor's operating earnings for the quarter came in at $1.329 billion compared to $1.478 billion in the prior year quarter. The company attributes this 10.1% decline to lower upstream production volumes, higher royalties, and higher depreciation from the oil sands business.
Cash flow from operations was $2.426 billion, representing a 1.38% increase over the $2.393 billion reported in the prior year quarter.
Total upstream production was an average of 562,300 boe per day compared with 601,300 boe per day in the prior year quarter.
Suncor raised its dividend by 18% to $0.13 per share per quarter.
Suncor's first quarter results were largely positive, beating the prior year quarter in both net income and operating cash flow. The company failed to beat some of the numbers that it achieved in recent quarters though.
click to enlarge images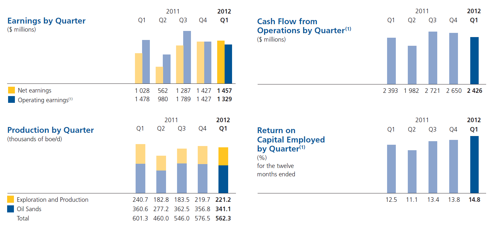 Click to enlarge
Source: Suncor Q1 2012 Report
As this chart shows, Suncor had higher operating cash flow in the third and fourth quarters of last year. The company also had higher operating earnings in the first, third, and fourth quarters of last year. The company's net income surpassed that of any recent quarter though. Suncor also returned the best return on capital employed (ROCE) that it has had since the merger with PetroCanada. This could have proven to be the best quarter that the company has ever had were it not for the upgrader downtime that reduced production during the month of March.
In the article that I wrote to accompany the interview with Suncor's CFO Bart Demosky on April 24, I stated that Suncor's inland refineries offer the company an advantage over competitors. This is because of the differential between Canadian heavy crude and Brent oil prices. For some time now, Canadian heavy crude which is priced against WTI has traded for a significant discount to global oil prices which are measured in Brent. This forces Canadian oil companies such as Suncor to sell their oil sands production at a discount. Suncor is hedged against this because of their inland refineries. These refineries buy their feedstock (crude oil) at North American prices and then sell the finished product at world (Brent) prices. This process allows Suncor to capture much of that pricing differential. This effectively acts as a hedge against Canadian oil discounts versus Brent.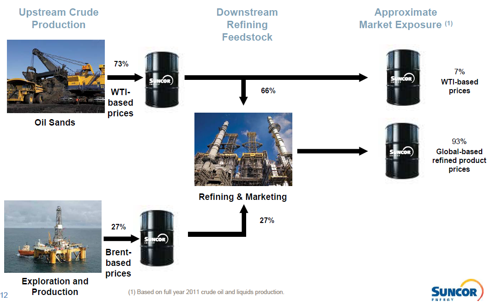 Click to enlarge
Source: Suncor Energy
Suncor has consistently restated its ambitions to grow production at an 8% compound annual growth rate from now until the end of the decade. Suncor looks to be on track to accomplish that goal. Suncor has a strong portfolio of growth projects led by Firebag and McKay River.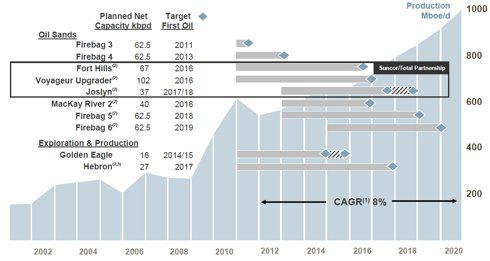 Click to enlarge
Source: Suncor Energy
A look at the company's project portfolio reveals that the vast majority of Suncor's expected growth will come from the ramp up of in situ and mining operations in Canada's oil sands. The company reports that Firebag 3 and 4 are proceeding as planned. Firebag 3 is already producing at record levels. This project produced 96,000 barrels per day in the first quarter, representing a 20% increase over the production at the end of 2012. Firebag 4 should begin its first production in the first quarter of 2013. Production will then increase from there. This should prove to be another source of growth going forward.
I mentioned earlier in this article that Suncor has increased its quarterly dividend by 18% to $0.13 per share per quarter. The company is thus beginning to show signs of becoming a dividend growth stock.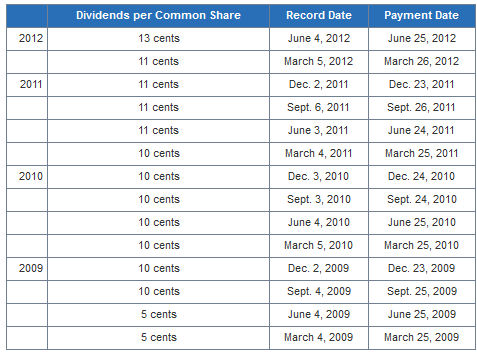 Source: Suncor Dividend Information
As the chart shows, since 2009, Suncor has increased its dividend in every year except in 2010. With this latest increase, Suncor has grown its dividend at a compound annual growth rate of 21% for the last five years. The company is dedicated to returning money to shareholders and so it seems likely that the company will continue to grow its dividend going forward.
Disclosure: I am long SU.