Shares of Hasbro Inc (NASDAQ:HAS) are down 23% over the past year. However, there are three reasons why HAS is now a compelling long idea.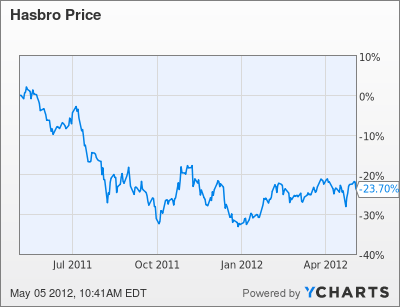 Options Activity
Option Monster reported on the high level of bullish options activity recently; 2,000 June 37.50 calls were purchased against open interest of just 737 contracts. This trade was part of a roll up where a trader sold 2,000 June 35 calls which were previously purchased. Overall, call volume outnumbered put volume by 19-1. The large block trade likely represents institutional money. Institutional money is usually smarter, thus worth following. In summary, the recent options activity points to more upside ahead for HAS over the short term.
Movie Releases
From the HAS Q1 conference call:
As 2012 was a non-movie year, it's not surprising that Transformers was down in the Boys category. However, although early in the year, the brand is flat with last year on an overall brand revenue standpoint with new initiatives including Transformers Rescue Bots and Bot Shots contributing to the Preschool and Games categories. Additionally, licensing revenue for Transformers grew year-over-year. Point-of-sale trends for Transformers were up in many countries, including the U.S., Canada, U.K., France, Germany and Mexico. We're also seeing good early success with Transformers Prime as television is now airing in more than 160 countries.

The Boys category will benefit from the launch of 4 major motion pictures in the coming months to global audiences. In partnership with Universal, Battleship is off to a great early start. The film recently launched in more than 50 international territories, and while we're still awaiting final numbers, we are very pleased that in just 12 days, the film has grossed more than $100 million in international box office revenue.

Marvel has 2 tremendous films this year: The Avengers from Marvel opens May 4, and The Amazing Spider-Man from Marvel and Sony opens July 3. Both brands are being supported with television animation, and we have strong lines for both properties. Finally, in partnership with Paramount, we're excited for the return of G.I. Joe to the big screen in G.I. Joe: Retaliation, coming to theaters on June 29.
The release of these movies should help Hasbro increase sales this year. The lack of movies also helps to explain the weakness in the stock over the past year.
Dividend
Hasbro currently pays a dividend of 4% or $1.44 per share. The company recently announced an increase of 6 cents per share in the quarterly divided, which is now 36 cents per share up from 30 cents per share previously. Hasbro has had a history of increasing the dividend. If history is any indication, Hasbro will continue to raise its dividend going forward.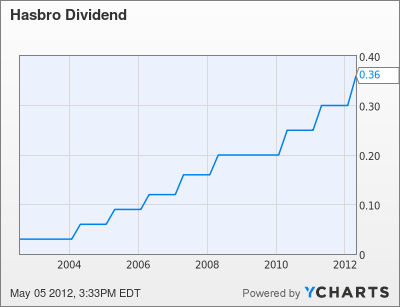 Conclusion
While Hasbro has not been a good stock over the past year, the bullish options activity, new movie releases, and dividend are all reasons to consider Hasbro.
Disclosure: I have no positions in any stocks mentioned, and no plans to initiate any positions within the next 72 hours.