Using momentum on a list of pre-selected good stocks is an idea that can enhance returns while reducing risk.
In this article, a momentum strategy is used to select top two stocks from a list of candidate stocks. These candidate stocks are the top 10 high dividend stocks Warren Buffett's Berkshire Hathaway (NYSE:BRK.A) holds. These stocks were mentioned by MyPlanIQ in a previous article Warren Buffett's 10 Best Yielding Stock Holdings. They are:
| | | |
| --- | --- | --- |
| Company | Market Cap ($B) | Yield (as of 3/1/2012) |
| GlaxoSmithKline plc (NYSE:GSK): Discovery, development, manufacture, and marketing of pharmaceutical products. | $113.32 | 5.02% |
| Sanofi (NYSE:SNY): Discovery, development, and distribution of therapeutic solutions. | $100.81 | 4.68% |
| General Electric Company (NYSE:GE): Operates as a technology, service, and finance company. | $202.28 | 3.55% |
| Johnson & Johnson (NYSE:JNJ): Research and development, manufacture, and sale of health care products. | $178.92 | 3.50% |
| M&T Bank Corporation (NYSE:MTB): provide commercial and retail banking. | $10.35 | 3.42% |
| ConocoPhillips (NYSE:COP): Operates as an integrated energy company. | $98.88 | 3.42% |
| Procter & Gamble Co. (NYSE:PG): Provides consumer packaged goods. | $185.62 | 3.12% |
| Intel Corporation (NASDAQ:INTC): design, manufacture, and sale of integrated circuits | $136.09 | 3.08% |
| Kraft Foods Inc. (KFT): Manufactures and markets packaged food products. | $67.14 | 3.05% |
| United Parcel Service, Inc. (NYSE:UPS): Provides transportation, logistics, and financial services. | $74.17 | 2.97% |
A momentum strategy is used to score the above stocks every month and whenever a stock's momentum score is ranked below cash, its portion is replaced with cash for the next month.
The following shows the performance (as of 5/3/2012):
Annualized Return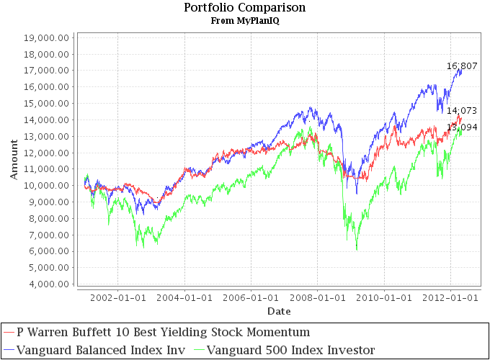 See more detailed performance.
Currently, the portfolio does not hold COP and PG, both of them fell below cash's momentum ranking due to their price weakness: Procter & Gamble recently announced bad earnings; ConocoPhillips has been weak due to general energy stock sector (NYSEARCA:XLE) weakness. It holds the other 8 stocks.
Conclusions: picking winners among a list of solid candidate stocks such as Warren Buffett's stocks to invest is an interesting idea worth exploring. Next step is to work on more such candidate stocks and also explore various ways (such as picking top winners).
The author uses MyPlanIQ's tool for the above study.
Disclosure: I have no positions in any stocks mentioned, and no plans to initiate any positions within the next 72 hours.