Youku (NYSE:YOKU) reports earnings this month. The Street expects:
Revenue: $41 million
EPS: $0.19 per share loss
Q2 revenue guide: $61 million
Heading into the earnings, investors can expect continued topline momentum and possible signs of margin improvement. In addition, investors should focus on Youku's strategy of defending its market share from the growing threat of online video alliance between Sohu (NASDAQ:SOHU), Baidu (NASDAQ:BIDU), and Tencent.
Robust Topline Growth
Youku should continue to exhibit robust topline growth as the leading online video platform in China.
click to enlarge image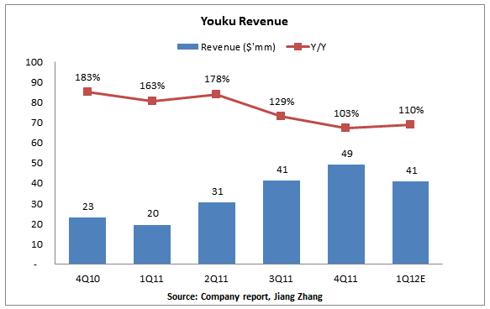 Youku's recent acquisition of its main rival, Tudou (NASDAQ:TUDO), further strengthens its industry standing. The combined company will account for 36% of China's online video advertising market and will likely attract additional advertising dollar for advertisers generally have a preference of allocating budget to the platform that attracts large user traffic and contains wide selection of content. For a deeper analysis of the merger, please see my March 12 notes titled, "Youku-Tudou: A Potent Force In China's Online Video Market."
Margin improvement on the horizon?
According to Youku's Senior VP Xiangyang Zhu, online drama cost has dropped by 50% from its peak and the trend is likely to continue as the industry consolidates. Continued decline in content cost will bode well for Youku's margins on the long-run. However, it is important to note that high content cost will not completely go away and will likely to continue to exist among a handful of exclusive content as bidders look to attract new users or retain existing users.
Consolidation Breeds New Kind of Rivalry
Before the Youku-Tudou merger, China's competitive online video space only gives room for a handful of players to survive on the long-run while the rest will either be marginalized or bankrupt as companies fight against one another for content and users. After the Youku-Tudou merger, companies turned to cooperation and strategic alliances to lower content acquisition cost. Most notably, Sohu, Baidu and Tencent have recently formed an alliance to directly compete against Youku-Tudou.
Heading forward, I expect consolidation to continue as smaller players look to create their own alliance to avoid marginalization, which could result increased competition for Youku-Tudou.
Disclosure: I have no positions in any stocks mentioned, and no plans to initiate any positions within the next 72 hours.