After the market closed on Friday, the U.S. Treasury Department announced that it plans to sell more of its American International Group (NYSE:AIG) stock. Following the news, in after hours trading, AIG shares fell by nearly 5%. There are three reasons why investors should take advantage of the dip and buy AIG.
Not A Surprise
Investors have known for quite a long time now that the U.S. Treasury would be coming to market with its AIG shares. For this reasons, many investors have been unwilling to consider the valuation story at AIG. As fellow Seeking Alpha contributors argued here and here, based on valuation, AIG has major upside. The fact that the U.S. Treasury is selling some of its stock comes as a surprise to very few well informed investors. Considering this, any dip because of the offering should be considered a buying opportunity.
AIG To Buy $2 Billion
AIG has said that it intends to buy up to $2 billion worth of the offering. This is good news because it shows that AIG is truly committed to what it has said about share repurchases. Also, AIG's purchase of stock will limit the dilution effect of the offering.
Last Offering Was A Success
The U.S. Treasury's most recent sale of AIG stock occurred in early March. The Treasury sold 206.7 million shares at $29 per share. In total, the deal was worth $3 billion. Since the March offering, as shown below, AIG shares have rallied more than 15%. I believe that a rally of similar magnitude can follow the new offering.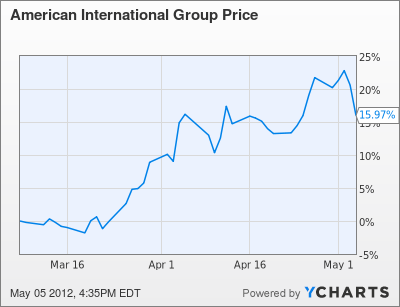 Conclusion
The dip in AIG shares following news that the U.S. Treasury will sell more of its stock is a buying opportunity.
Disclosure: I have no positions in any stocks mentioned, but may initiate a long position in AIG over the next 72 hours.