"All cruelty springs from weakness." - Lucius Annaeus Seneca
On March 29th I wrote an article titled "Gold Miners Again Set to Lead, and the Spring Switch" addressing the breakdown in Gold Miners relative to the broader stock market. The title was not actually what I originally had for the article and was modified. Given the breakdown below price ratio support, I ended the writing by saying that "at this point, I think its important to wait on a definitive change in trend and leadership before jumping in too aggressively."
Over a month has passed since then, and I thought it might be worth updating how Gold Miners are behaving in the most recent period of stock market performance. Take a look below at the price ratio of the Market Vectors Gold Miners ETF (NYSEARCA:GDX) relative to the SPDR Dow Jones Industrial Average (NYSEARCA:DIA). As a reminder, a rising price ratio means the numerator/GDX is outperforming (up more/down less) the denominator/DIA.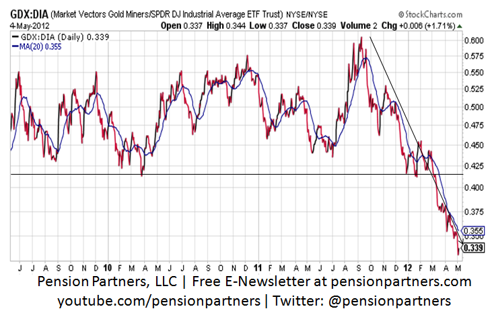 Click to enlarge
I noted in the March 29th article that the horizontal "ratio support" line was breached and that the trend was still headed lower. The weakness in Gold Miners has been stunning even though Gold (NYSEARCA:GLD) itself appears to be bottoming out relative to stocks. We may be nearing a crescendo in Gold Miners underperforming, but a definitive trend up needs to occur first before getting fully comfortable in the industry group.
Disclosure: I have no positions in any stocks mentioned, and no plans to initiate any positions within the next 72 hours.
Additional disclosure: Pension Partners, LLC, and/or its clients may hold positions in securities mentioned in this article at time of writing.