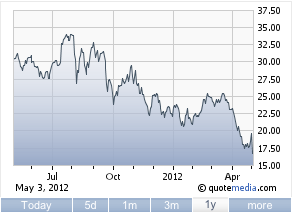 I was torn on whether to be bearish or bullish on Chesapeake Energy (NYSE:CHK). However, when I looked at the facts, I knew that I had to be bearish. The stock is too risky for my portfolio. Granted the upside can be huge since Chesapeake Energy's stock price has dropped 45.13% from May 3, 2011 to May 3, 2012. But I still believe that the risk in this case outweighs the reward.
Some of the risks:
Chesapeake Energy's earnings per share were $0.76 in Q2 2011, $0.72 in Q3 2011 and $0.58 in Q4 2011. Its earnings per share in Q1 2012 were only $0.18. As you can see, earnings per share has been falling since Q3 2011 at a very fast rate.

Natural gas prices have been falling since June 2009. In July 2011, when natural gas was approximately $4.93, Chesapeake Energy's earnings started to decline. In an environment with low natural gas prices Chesapeake Energy cannot compete.

Chesapeake Energy is not hedged in natural gas. Even though in 2013, Chesapeake Energy's oil/natural gas production is supposed to be 25%/75%, the company has not hedged any of its natural gas production.

From Q2 - Q4 2012 Chesapeake Energy has hedged only 60% of its oil production and in 2013 only 9%.

Click to enlarge
Chesapeake Energy owes $10.6 billion in senior notes with an average maturity date of 6.4 years.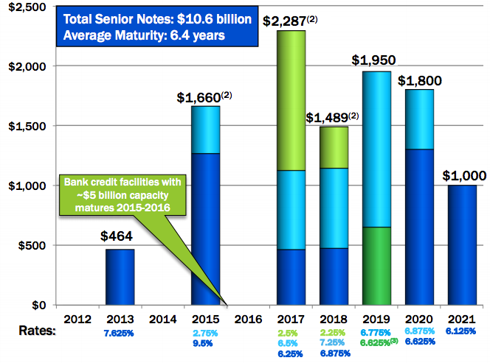 Click to enlarge
The upside of the company is:
For Q2 - Q4 2012, Chesapeake Energy is projecting $1.6 billion to $2.65 billion in "budget cash flow surplus."

Chesapeake Energy supplies 9% of the gross natural gas supply for the United States.

Chesapeake Energy pays a dividend of $0.35 (approximately 2%).

If natural gas prices rise over the next couple of years, Chesapeake Energy will be in a great position to profit.

Proven reserves of natural gas and oil have been climbing over the past 12 years.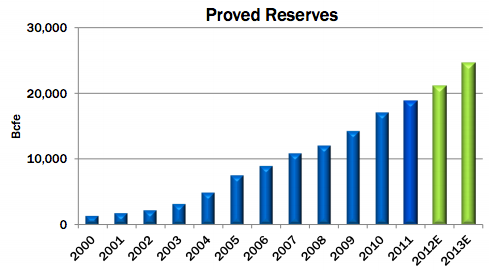 Disclosure: I have no positions in any stocks mentioned, and no plans to initiate any positions within the next 72 hours.