In the classic best seller, The Intelligent Investor, economist and professional investor Ben Graham describes the "margin-of-safety" concept as a useful way "to advantage and distinguish the differences in an investment operation and a speculative one." One way that Graham explained the "wide moat" differentiation strategy was to describe the "consistency in the products that creates consistency in a company's profits. Consistency and durability are attributes for competitive advantage."
While Benjamin Graham (1894-1976) spent a large part of his life writing and lecturing on investing, another well known philosopher and teacher, Abraham H. Maslow (1908-1970), studied and lectured on humanistic psychology and the idea of self-actualization.
One of the many interesting things Maslow noticed while he worked with monkeys early in his career, was that some needs take precedence over others. For example, if you are hungry and thirsty, you will tend to try to take care of the thirst first. After all, you can do without food for weeks, but you can only do without water for a couple of days! Thirst is a "stronger" need than hunger. Likewise, if you are very very thirsty, but someone has put a choke hold on you and you can't breath, which is more important? The need to breathe, of course. On the other hand, sex is less powerful than any of these. Let's face it, you won't die if you don't get it!
Maslow took this idea and created his now famous "hierarchy of needs". Beyond the details of air, water, food, and sex, he laid out five broader layers: the physiological needs, the needs for safety and security, the needs for love and belonging, the needs for esteem, and the need to actualize the self, in that order.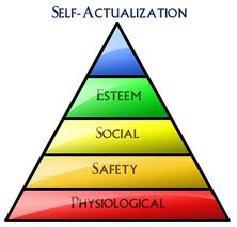 The Physiological Needs of Investing
When I think of the words, "food, clothing and shelter," I think of Maslow's hierarchy of needs. "Food, clothing and shelter" are at the bottom of the pyramid of needs for life, providing the foundation, our most essential needs. "Self-actualization" is at the very top--the icing on the cake when all other basic needs are satisfied.
Food is a core necessity and one of the most important elements for survival. Since 1929 the demand for food has grown from $15.3 billion to over $560 billion today.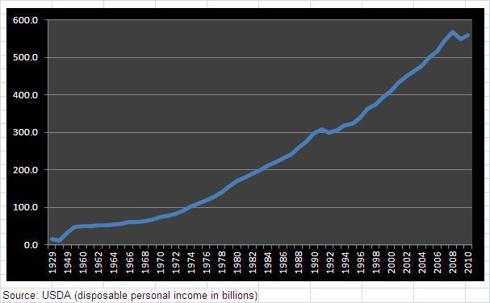 In addition, disposable income has grown from $79.4 billion (1929) to over $8,678 billion today. Because food is a basic necessity, investors have gravitated to these sources of income that provide durable repeatability. By investing in a company that promises consistency with attractive physiological characteristics, an investor is able to benefit from the power of the repeatability and the way the investment provides continued profitability.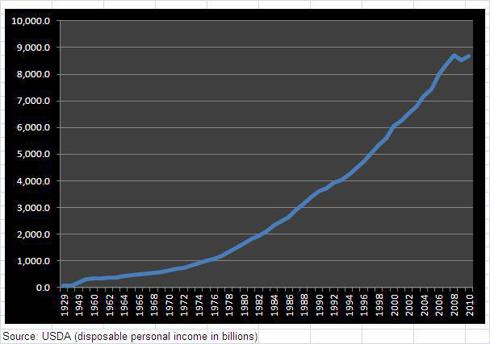 The Grocery Chains
Many of the leading grocery chains have reported sound operating results and the performance is indicative of the necessity-driven model. Whole Foods Market (NASDAQ:WFM) recently reported exceptional results as the Austin-based grocer second quarter sales soared 31 percent on a 9.5 percent increase in comparable store sales. Overall sales at Whole Foods climbed 14 percent to $2.7 billion while earnings were $117.7 million or 64 cents per share (analysts expected earnings of 59 cents).
Also Publix Super Markets recently reported that first quarter net income increased 2.8 percent behind a 4.2 percent gain in sales. The Lakeland-based company said comparable-store sales improved by 3.3percent during the quarter. Net sales totaled $7.1 billion and earnings totaled $409.4 million. The company said it would file a quarterly report with additional detail with the Securities and Exchange Commission May 10.
The Kroger Company (NYSE:KR) holds a dominant position among the nation's largest grocery retailers. The company's customer-centric business model provides a strong value proposition to consumers, and positions it well to deliver higher earnings, primarily through strong identical supermarket sales growth. Identical supermarket sales are expected to grow between 3 percent and 3.5 percent during fiscal 2012. Kroger's fourth-quarter 2011 earnings of 50 cents a share beat the Zacks Consensus Estimate by a penny, and rose 8.7pecent from 46 cents earned in the prior-year quarter. The increase in the bottom line came ahead of Kroger's long-term goal of 6 percent to 8 percent growth.
The Intersection of Monkeys and Money
So where does the world of Ben Graham intersect with the world of Abraham Maslow? The answer lies in a few select Real Estate Investment Trusts (REITs).
As Ben Graham wrote, "the defensive investor must confine himself to the shares of important companies with a long record of profitable operations and in strong financial condition." REITs by definition invest in properties that generate income and, generally, the most successful REITs are able to maintain the highest level of dividend consistency.
Due to necessity-based characteristics, the grocery-anchored REITs have been able to sustain high levels of differentiation over time (and through constant change). In addition, grocery stores usually generate considerable weekly traffic and the co-tenants (at these shopping centers) benefit from cross-shopping trends and higher sales.
REITs with Grocery Ingredients
Kimco Realty (NYSE:KIM), Federal Realty (NYSE:FRT), Equity One (NYSE:EQY), Retail Opportunity Investment Trust (NASDAQ:ROIC), Weingarten (NYSE:WRE), Regency Centers (NYSE:REG), and Excel Trust (NYSE:EXL) are all retail REITs with a large composition of high-quality grocery-based income. These seven REITs have a large percentage of grocery-anchored tenancy and they have all gained broad support for maintaining reliable and consistent revenue.

Building an intelligent REIT portfolio utilizing Maslow's "hierarchy of needs" could enable an investor to generate strong and sustainable dividend performance. Generally companies that generate income closest to the "necessity-based function" are lowest risk and generate the most consistency.
Grocery chains are considered low-risk tenants and REITs that lease to the "best in class" grocery chains provide consistency in growth and income. Also by diversifying with retail REITs (with grocery exposure), an investor can hedge against inflation while also providing sound dividend growth and capital appreciation. This combination is the mark of an "intelligent investor" and the benefits (of total return) will provide a SWAN (sleep well at night) investor with attractive well-balanced returns.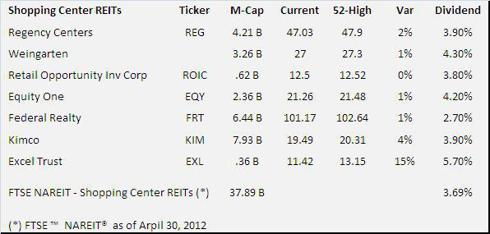 Disclosure: I have no positions in any stocks mentioned, and no plans to initiate any positions within the next 72 hours.