Rayonier (RYN) is structured as a real estate investment trust, manages timber land, sells timber and makes forest products such as such as cellulose fibers. The vast majority of its revenue - more than 70%- comes from selling fiber products.
I have looked at this stock and from an investment standpoint, and I am not particularly impressed right now with the company. This first quarter analyst earnings estimates were beaten (like most companies have done) as were revenue estimates. The company dipped from the year before but still performed better than it was forecast to.
(click to enlarge)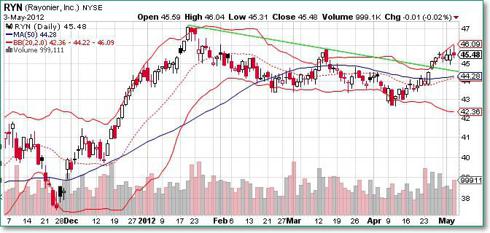 In its forest resources, revenue was up due to improved volume on recent acquisitions and a strong demand for pulpwood. But at the same time, performance fiber was flat. These fibers start as simple wood chips that are transformed into high-value cellulose specialties used in the manufacture of flat panel televisions, computer screens, impact-resistant plastics (acetate), filters, tires, paint, food, pharmaceuticals, and many other consumer products.
Real estate revenue was also flat, losing about 7%.
There is only one good reason to own this stock right now and that is dividends. The company has a 5 year average dividend yield of 4.60% and this year is expected to come in at 3.40%. One can count on this company for a good performing dividend year after year. Income investors-this one is for you!