Two Harbors Investment Corp (NYSE:TWO) is what is known as an mREIT or mortgage REIT. It primarily invests in mortgage related securities and derivatives.
Two Harbors' objective is to provide attractive risk-adjusted returns to investors over the long-term, primarily through dividends and secondarily through capital appreciation. The REIT acquires, owns and manages a portfolio of Agency and non-Agency residential mortgage-backed securities and related investments. The company's investment approach focuses on security selection and the relative value of various sectors within the mortgage market.

Sounds just like all the other mREITs - give or take agency exposure or fixed/float exposure - it is no different than Annaly (NYSE:NLY), American Capital Agency Corp (NASDAQ:AGNC), Capstead Mortgage (NYSE:CMO) or any others. But Two Harbors is crossing the Rubicon. It is one of the first to be entering the "new" housing frontier; the step from owning the debt to owning the property, from financial asset to hard asset.
Exciting times, no? Before we delve into this new frontier, let's get a grasp of the company and "what it does".
As stated earlier, Two Harbors is an mREIT, investing in mortgage securities and derivatives. The company borrows money via the repurchase market and invests that money into mortgage securities, utilizing leverage to maximize the spread between its cost of funds and its investment returns. From TWO's earnings release dated May 2, 2012: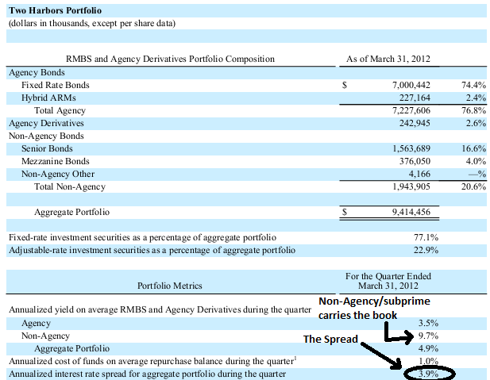 Click to enlarge
Like all mREITs, Two Harbors makes its money by leverage. TWO, however, employs lower leverage than most mREITs. A snapshot of its leverage profile is (source: company reports compiled by author):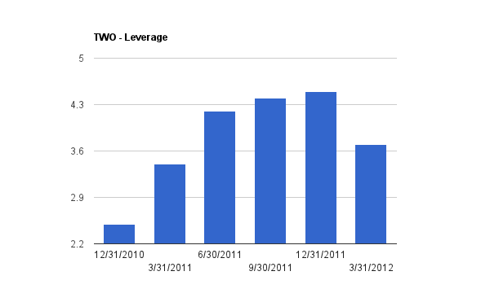 Click to enlarge
Of course, given its equity issuance during the first quarter of 2012, the leverage is artificially low. The company has stated it will work its way back to 4.5x.
More portfolio statistics from its Q1 release:

Click to enlarge
A further breakdown of TWO's portfolio: (Click to enlarge)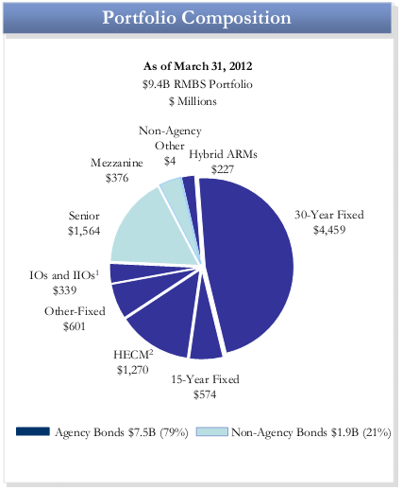 Click to enlarge
Highlights from Two Harbors' earnings release on May 2, 2012:
TWO had a net interest rate spread of 3.9%, which is a slight increase compared to 3.8% in the prior quarter.

The total value of the portfolio was $9.4 billion, of which approximately $7.5 billion was Agency RMBS and Agency Derivatives and $1.9 billion was non-Agency RMBS. As of March 31, 2012, fixed-rate securities composed 77.1% of the company's portfolio and adjustable-rate securities composed 22.9% of the company's portfolio

Comprehensive Income of $195.7 million, or $1.05/share, an annualized 44.5% ROE.

Core Earnings were $63,731 or $0.34/share an annualized 14.5% ROE. Core earnings/share were reduced from $0.40 due to share issuance.

GAAP Net Income of $51,800 or $0.28/share, an annualized 11.8% ROE.

The company declared a dividend of $0.40/share, or 15.8% annualized dividend yield, based upon March 30, 2012 closing price of $10.14.

$17.9 million in realized/unrealized swap/derivative losses.

The company raised net proceeds of $691.9 million through the issuance of 73.6 million shares of common stock during the first quarter of 2012.
Two Harbors focus remains on prepayment of protected securities in its Agency book and sub-prime securities for its non-Agency portfolio.
One thing that has to be understood is the volatility driven by recognizing unrealized gains/losses. The company records unrealized fair value gains and losses for RMBS, classified as available-for-sale, as Other Comprehensive Income in the Statement of Stockholders' Equity. The first quarter 2012 was positively impacted by an aggregate unrealized increase in fair value of $143.9 million on the company's portfolio, driven primarily by its non-Agency holdings. Conversely, the fourth quarter of 2011 was negatively impacted by a net unrealized decline in fair value of $65.6 million on the company's non-Agency portfolio, partially offset by a net unrealized increase in fair value on its Agency portfolio.
All of this leads to the following:

Click to enlarge
As the above table (from company reports and compiled by author) shows, Two Harbors has a higher yield and ROE than MFA Financial (NYSE:MFA) or Annaly, with only modestly more leverage than MFA. The reason for less leverage and higher ROE than Annaly is the introduction of non-agency securities, which have a much higher yield than agency securities due to the embedded credit risk (which is not present in agency securities).
Okay, we have established that the company has a different risk profile than the 800lb gorilla Annaly, we have established that it pays a fat dividend, we have established that it has a strong return on equity - but is that why we are here? No.
Before we understand how the company is crossing the Rubicon, we had to understand who, what and where it is.
Here is the "new frontier" statement:
Single Family Residential Properties - The company made substantial progress in the first quarter related to establishing the necessary infrastructure and commencing the acquisition of single family residential properties in certain metropolitan areas across the United States. As of March 31, 2012, the company had purchased $6.1 million in properties which are classified as investment in real estate on the consolidated balance sheet. The company intends to hold these properties for investment and rent them for income.
Two has quadrupled holdings of residential properties, subject to closing, since first quarter end. This is what I find interesting.
Recall back in February, Warren Buffett of Berkshire Hathaway (NYSE:BRK.B) spoke about single family homes:
Warren Buffett says along with equities, single-family homes are a very attractive investment right now.

Appearing live on CNBC's Squawk Box, Buffett tells Becky Quick he'd buy up "a couple hundred thousand" single family homes if it were practical to do so.

If held for a long period of time and purchased at low rates, Buffett says houses are even better than stocks. He advises buyers to take out a 30-year mortgage and refinance if rates go down.
Hold it. What does Two Harbors know that "The Oracle" doesn't? Let's recall February of this year when the FHFA announced:
Washington, DC - The Federal Housing Finance Agency (FHFA) today announced the first pilot transaction under the Real Estate-Owned (REO) Initiative, targeted to hardest-hit metropolitan areas - Atlanta, Chicago, Las Vegas, Los Angeles, Phoenix and parts of Florida. With this next step, prequalified investors will be able to submit applications to demonstrate their financial capacity, experience and specific plans for purchasing pools of Fannie Mae foreclosed properties with the requirement to rent the purchased properties for a specified number of years.
I guess Warren could do it, because Two Harbors is doing it.
As Tom Siering (President and CEO of Two Harbors) explains:
As you see from our balance sheet, we acquired $6 million in properties during the first quarter, and we more than quadrupled our holdings, subject to closing to over 300 homes since quarter end. We are targeting properties at significant discounts to replacement costs and are working to create scale in selected markets. We plan to hold these properties for investment and rent them for income, and we believe there is potential for increased rents over time.

We believe this is an attractive asset class, given its long duration, financeability, current yield and the potential for home price appreciation. We have often stated that any business diversification for Two Harbors must be logical and incremental. One of our strengths lies in data analysis, and we believe property selection will be key, similar to how we think about security selection. How big this becomes in our portfolio will depend upon two factors; available supply and its expected economic return in comparison to other available alternatives.
The opportunity in buying portfolios of single family homes (and don't forget, I am sure the bigger banks will talk to portfolio investors as well) is interesting and potentially very lucrative. Imagine buying the house, renting it for a spread to cost of funds (maybe rent to own) and then selling it after a holding period and - as my Texan friends say - toting the note (seller financing). You have now combined the mortgage and the hard assets on your balance sheet. I would expect to see REITs singularly focused on this.
Bottom line:
This is part of the upside I see in Two Harbors. This activity will allow the REIT to further diversify its risks and increase portfolio yield and stability. Two Harbors is a strong addition to an mREIT, REIT or income portfolio. If the non-agency exposure makes you nervous, or if you want to see if it can continue to scale up single family, put this REIT on your watchlist.
Disclosure: I have no positions in any stocks mentioned, and no plans to initiate any positions within the next 72 hours.