It was a tough day for Bakken oil companies today, but this had more to do with job numbers than anything else. This number not only signaled a big sell off of the DOW, but also pushed the price of oil down enough that we could have a new trend in the price of oil. The Bakken names continue to hold its value better than stocks from other plays as it has some of the highest liquids content in the United States. It is also seeing a tightening of differentials between WTI and Bakken crude. By the end of June we should see a nice move in these differentials, and this should continue as rail and pipeline capacity is added.
In Bakken Update: Q1 2012 Reported Earnings, I covered Magnum Hunter (MHR) and Kodiak Oil and Gas (NYSE:KOG). Kodiak's earnings were quite good in the first quarter, and were well received by the market on a day that experienced a pretty good sell-off. Kodiak missed on the top and bottom line, but a much larger loss was expected. It managed to decrease its water disposal costs enough to help offset the loss of revenue experienced by much lower average production for the first quarter than it had previously guided. Magnum Hunter missed on the top line but beat on the bottom. Its stock was really beaten Friday, as the company also announced it cut 35 million shares to purchase Baytex (NYSE:BTE) non-operated acreage in the Bakken. Magnum continues to dilute the value of its stock on purchases, creating worries about how it will pay for the development of all of its acreage.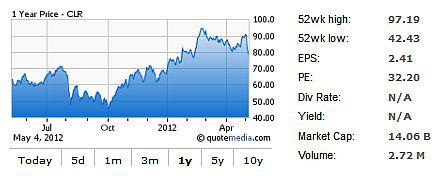 Continental (NYSE:CLR) missed estimates on both the top and bottom line for the first quarter of 2012. Continental reported $395.1 million versus the Street's estimate of $548.8 million. It reported an EPS of 76 cents versus the Street's estimates of 85 cents. These numbers get worse when accounting for mark to market derivatives losses ($129 million loss), pretax property impairment charge ($30 million loss), and pretax gains on sale of assets related to a Wyoming divestiture ($50 million gain). The derivative losses were tough this quarter, but going back to the fourth quarter of 2011, Mr. Hamm had stated Continental was hedged for $90 oil. Continental has been doing a great job of increasing production. It averaged production of 85526 Boepd in the first quarter, and is currently doing over 91000 Boepd. Some 56% of this production comes from the Bakken. Continental added 46000 net acres of Bakken core acreage, with 60% already held by production. Mr. Hamm stated he thought the outlook for oil was good, while oil service costs have softened in some areas as it is beginning to see some dry gas rigs being laid down. The market was also negative on Continental's announcement of an increased 2012 capex from $1.75 billion to $2.3 billion.
In response to these numbers, the market pushed down Continental's stock price from $90 to $82 on Thursday. Friday saw its stock fall to $77.69 at the close. This could be an excellent opportunity to buy Continental, as I believe the market may have got this wrong. The first, and most important reason has to do with its $550 million increase 2012 capex, that will be directed to the Bakken. Continental has been one of the slower Bakken producers to make changes to its completion methods. This is important, as it has been held back due to this conservative approach. On the other hand, it is allowing Continental to make better informed decisions.
Last year in the third quarter, Continental started increasing to 30 frac stages from the 24. Now Continental is starting to use 40 stage fracs, which had significantly improved well production for Brigham (NYSE:STO), and will probably do the same for Continental. Well costs have remained between $8 million and $7.2 million per well, even with the increased stages. The latter represents the cost savings of pad drilling, and 90% of its acreage can support this. To put this in perspective, the average producer will drill and complete a Bakken well for $10 to $11 million. It has decreased drilling times by 30%, which translates to a savings of $300000/well. Continental maintained its average Bakken EUR of 603 MBoe, and was developed primarily on 24 frac stages and plans to update this number next quarter. Some of the increased capex has to do with a much higher rig count in the Bakken than expected. Due to this, more wells are being drilled and this has increased some of its non-operated costs. Continental also doubled its non-operative working interest in wells by additional acquisitions. It will continue to participate in all wells drilled on its acreage, which has driven the capex upwards. Continental will add one to two rigs by year end in the Williston Basin.
Continental is currently testing three middle Bakken and three upper Three Forks per pad. There has been no interference to date with this spacing. More importantly are the benches below the upper Three Forks. It has completed two wells in the second bench of the Three Forks. These wells have modeled to an EUR of 650 MBoe, and are performing much like the first bench. It also will be testing the third bench of the Three Forks soon, and will complete 8 total second and third bench wells by year end. This is not just important to Continental, but to all companies operating in the area. As I have covered in other articles, there is a good possibility resource potential will increase significantly given the other economic pay zones. At the very least, the second bench of the Three Forks shows very good promise, but there is no certainty as to how much. At the very least, expectations seem to point to the doubling of resource potential in the Three Forks as a whole.
Differentials of Bakken crude continue to be an issue. Pipeline capacity is strained from all the extra crude running through the mid-continent. Continental reported that first quarter Bakken differentials averaged $12.27 below WTI. Full year guidance on this differential is $9 to $11 for the full year. Continental states the average cost to rail oil to end markets has averaged $20 to $22/barrel, but Brent and LLS have averaged a $17 to $23 premium to WTI. So it is still economic to rail oil to coastal markets. It will continue to rail oil production growth to coastal markets, and does not believe it will have difficulty in getting rail cars to do so.
In summary, this quarter was very hard on Continental. It remains hedged for $90 oil, and in the current environment of $100 oil it has some derivatives losses. Costs have increased, but I believe these increases are due to increased stages and other measures to increase production. I believe we will see the rewards of these changes to completions in upcoming quarters, and this should produce improvements in both the top and bottom lines. The recent sell-off should be seen as a buying opportunity.
Disclosure: I am long KOG.
Disclaimer: This is not a buy recommendation.