Shares of BlackBerry maker and technology company Research in Motion (RIMM) dropped below $12 last week, hitting a new 52-week low Friday morning before rebounding somewhat into the close. Despite unveiling the BlackBerry 10 this week, investors are not satisfied and believe the company cannot turn around anytime soon.
Bulls will tell you that RIMM has a huge cash pile and is a great takeover target, but will you be able to catch a falling knife? Research in Motion is still in huge trouble, and shares can go a lot lower. Here's why.
Revenues and earnings are still declining at a fast pace. In the fiscal year ending in February of 2011, Research in Motion did nearly $20 billion in revenues and $6.34 in earnings per share. Just two years later, this fiscal year, which ends in February of 2013, revenues are forecasted to be just $15.25 billion, and earnings per share are expected to be just $1.92. In the following fiscal year, revenues and earnings are expected to decline even further.
Oh, and all of these estimates are pure guesses. Because the company is doing so bad right now, they decided to no longer give guidance. Investors don't trust management right now, and the company has seen several executives leave in the past couple of months. There is too much chaos there right now.
Now onto the BlackBerry 10. The company expects to get it out this year, which has already been delayed for quite some time. Originally, there were hopes for the BlackBerry 10 in mid to late 2011. So basically, in the time RIMM got the BlackBerry 10 out, Apple (NASDAQ:AAPL) will have released the iPhone 4S and a newer version, perhaps the iPhone 5. Oh, and Apple is selling three times as many phones, even outselling Research in Motion in its home country, Canada.
What about the Playbook? RIMM did manage to sell 500,000 of them in the last quarter. The company sold roughly 1.35 million in the first four quarters of its existence. Well, Apple sold 11.8 million iPads in their most recent quarter alone and even more in the prior one. Amazon (NASDAQ:AMZN) sold a ton of Kindle Fires in Q4, although they haven't sold a ton in Q1 if you believe recent reports. The Playbook appears to have been a flop for RIMM.
The company probably should have just focused on the BlackBerry and not have gone into the tablet arena. Apple has a new iPad out which is selling great, and Amazon might release a new Kindle Fire this year. There are other tablets out there too. RIMM shares could get a boost if the company decides to axe this product, which I have been saying for months.
On to rumors of the buyout. We have been hearing them since RIMM first went below $30. The rumors intensified when the company traded between $20 and $25. Still, nobody had bought them. Then RIMM fell below $15, falling down to the $12 area in December, and the rumors started again, pushing shares up to $17. In fact, we heard that several companies, including Amazon, Apple, and a few others were even examining RIMM's books. Sure, they wanted a look. That way, they could pick up the pieces later on. The rumor mill stopped and the company went back to trading on fundamentals. That has sparked the latest move lower.
I wouldn't be surprised to hear the rumors start up again as this name gets closer to single digits. But the question still remains. Originally, it was why pay $30 to acquire the company. Then it was why pay $25, even $20. Now you could probably acquire the company for $15. Perhaps in another few months, you could get them for $10. The enterprise value of RIMM is still currently at $4.4 billion, so you're still talking about a decent size acquisition. For many companies, it just doesn't make sense here.
Research in Motion's current quarter ends at the end of this month, so we are probably about 6 months away from the next earnings report. It is not likely to be pretty. Current estimates call for revenues to drop 25% from last year's period, and for earnings per share to plunge from $1.33 to $0.44. Again, these are just guesses since RIMM has stopped giving guidance. Still, don't expect much.
If you believe you can, or are willing to try catching a falling knife, good luck. Research in Motion has spiked a few times in the past year, but as you can see from the chart below, the overall trend is down, down, down. Research in Motion is at a new low. Apple just announced another great quarter, and RIMM can't compete with them at the moment.
RIMM should focus on getting the BlackBerry 10 out, and soon, or the company will be gone. They should also exit the tablet business, which is too competitive right now. A turnaround or buyout may be possible, but I'm not willing to bet my money on it. Research in Motion can still go much lower, and I stand by my prediction that we will see single digits coming soon.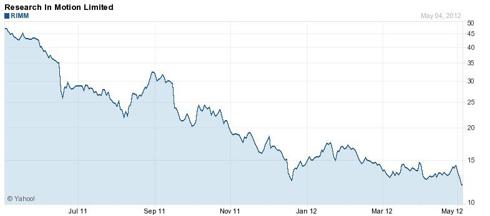 Disclosure: I am long AAPL at time of writing, but may exit position at anytime.