Aspiring fund managers/masters of the universe take note. If you're ever in the lucky position to manage enough capital, the next time a position goes against you, quickly raise your stake to file a 13D, include a quick letter suggesting you want to buy the company, and then sell into the rally for a quick profit. That's what appears to have happened with Gerald Ford-led Hilltop Holdings Inc. (NYSE:HTH) and its recent "rental" of Downey Financial Corp. (NYSE:DSL) shares.
On November 19th, 2007, HTH filed a 13D indicating that it owned 6.8% of DSL. Schedule B in that filing revealed that HTH acquired all of its DSL shares through the first two weeks in November at an average price of $33.49 per share. Under the section Purpose of Transaction, HTH stated the following (my emphasis bolded):
On November 16, 2007, Mr. Gerald J. Ford, Chairman of the Reporting Person, met with representatives of the Issuer, including Mr. Maurice L. McAlister, Chairman of the Board. During that meeting, Mr. Ford indicated that the Reporting Person had accumulated a meaningful equity investment in the Issuer. Mr. Ford also indicated that the Reporting Person contemplates seeking discussions in the near-term with the Issuer, either through oral or written communications, regarding the Issuer's long-term strategies, including a potential business combination.

The Reporting Person intends to continue to evaluate the Issuer's business, financial condition, results of operations, capital structure, management, stock market performance and other relevant factors. Depending on the price and availability of the Issuer's securities, subsequent developments affecting the Issuer, the business prospects of the Issuer, general stock market and economic conditions, tax considerations and other factors deemed relevant, the Reporting Person may consider various alternative courses of action and take any action deemed appropriate, including, but not limited to, acquiring additional securities of the Issuer or disposing of all or a portion of the Issuer's securities through open market or privately negotiated transactions or otherwise, seeking to acquire control of the Issuer through a business combination or other transaction, or making certain proposals to the Issuer or its shareholders. The Reporting Person may seek the views of, hold discussions with and respond to inquiries from representatives of the Issuer and other persons with respect to any of the foregoing.
Well, obviously HTH covered itself in the filing but what was interesting/pathetic/hilarious was that this 180% turn was made within 10 trading days of filing the 13D. For practical purposes, say he had about another 5-7 days given weekends and the time it takes to file the 13D. In either case, when HTH started buying DSL, shares were just under $35 and fell about 14% down to $30 or so before the 13D was issued on the 19th.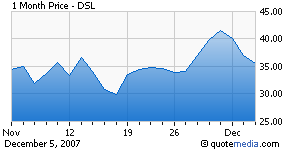 After filing the 13D, shares pushed up to trade from $32 to as high as $43 over the next 10 trading days. Looking at the amended 13D filed on December 5th (2nd amendment solely to correct for a typo for the December 4th filing) shows HTH unloaded its shares to get under the 5% reporting threshold at around prices ranging from $40-$41. Who knows what the tax and matching basis would be for HTH, but the simple math would say HTH made a 20% gain or so on this block of shares as it reduced its stake by 28%. Now that HTH is under the reporting threshold the rest of the shares will probably be dumped quickly and quietly. I'd also be surprised if HTH didn't buy puts up at higher levels as DSL stock rose to serve as insurance for when it revealed its stake was reduced. Basically, this "pump" likely helped HTH's entire position (I also think HTH would have had some level of hedges in place from the beginning).
So the main question is, what caused this quick turnaround? I have stated before that I didn't think HTH was genuine in terms of being a real buyer for DSL but I didn't think we'd see a retreat this quickly. I think there are a few scenarios to consider/speculate on:
1) McAlister told Ford to take a hike and wouldn't sell DSL for 50+% off of its high. I don't know if these two are friends or close associates, but both have long histories in the banking industry so I'm sure they must have known each other fairly well. Nonetheless, friends or not, selling a business for as deep a haircut as DSL is currently trading may have turned McAlister off from a deal, irrespective of what some skeptics think DSL is really worth.
2) HTH investors may have contacted Ford with their own view on DSL and the proposals listed in the 13D. HTH shares did not perform well when it was revealed that the firm had a 6.8% stake in DSL.
3) Ford got under the hood of DSL and bolted, which is what I think most likely happened. McAlister may have said he's open to discussions at a decent price but once Ford started to really parse the information, it may have just scared him off. HTH may make another offer but as I stated in the past, it will probably be for much much lower prices. If DSL crumbles, HTH could come in and offer to equitize it under regulatory supervision and be able to do it for a dirt cheap price compared to $30-$40 per share.
DISCLOSURE: AUTHOR MANAGES A HEDGE FUND THAT OWNS DSL PUTS.