Actionable Items:
Highest Positive Spread: Cornerstone Progressive Return Fund (NYSEMKT:CFP)
Lowest Negative Spread: Helios High Yield Fund (HHY)
Last Week's Focus Stock: Aberdeen Chile Fund (NYSEMKT:CH)
CEF Weekly Review: On average, the 13 closed-end fund (CEF) types registered a share price decrease of 0.3% for the week ending 5/4/12. The high-low spread (average percentage price change difference between the highest and lowest fund types) registered this week was +2.4% versus +1.3% the previous week.
The PowerShares CEF Income Composite (NYSEARCA:PCEF), an ETF that invests in taxable income CEFs, decreased 0.6% for the week. PCEF is up 5.6% YTD on price appreciation. Currently, PCEF's trailing twelve months' yield is 8.2%. The S&P 500 decreased 2.4% during the week. The S&P 500 has gained 8.9% YTD.
Trading Volume: The average daily volume for the S&P 500 (Pending:GSPC) increased 1.1% to a below trend line of 3.83 billion shares, up from the previous week. For the previous three weeks, volume spiked on days when the S&P 500 experienced it's most serious declines. Both Thursday and Friday are days the S&P 500 declined 0.8% and 1.6%, respectively, as volume averaged almost 4 billion shares.
The Eqcome CEF Fear Index was flat for the week. The average CEF unweighted price was 0.0% while the average related NAV also flat-lined. The VIX reversed course and jumped 17.4% to 19.16 after consecutive weekly declines of 6.4% and 10.8%. Slower global economic growth and concerns over the direction of Europe merged to weigh down on the equity markets.
CEF Weekly Fund Type Performance: As would be expected, in a stock market that experienced a difficult week, fixed-income CEF fund types were the only asset class that experienced small advances. State and national muni funds advanced 1.0% and 0.4%, respectively. Also, generating small weekly gains were InvGrdBndFnds (0.4%), HiYldBndFnds (0.3%) and PrefStkFnds (0.1%).
The "yang" of the fixed-income sector advance was the decline of equity-oriented CEF fund types' WrldEqFnds and SpecEqFnds. Both declined 1.4%. This was closely followed by GenEqFnds that declined 1.3%.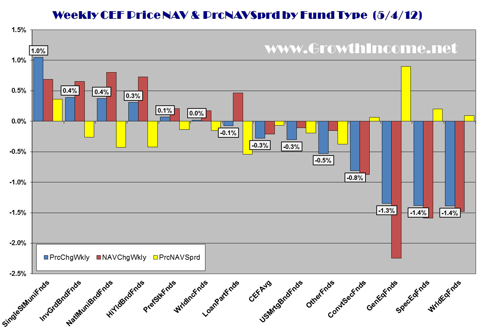 Weekly CEF Winners and Losers: Again, there were a number of small single-state muni funds that generated significant positive PrcNAVSprds. While last week such CEFs were centered on New Jersey (BLJ) and New York (AYN & NYH), this week it was Virginia: BlackRock VA Municipal Bond Fund (NYSEMKT:BHV) and Nuveen VA Premium Income Muni Fund (NYSE:NPV). These are thinly traded issues with wide bid and ask quotes. Both experienced a surge in relative volume for the week.
One of the CEF's with the greatest positive PrcNAVSprd* for the week, with some trading volume, was Cornerstone Progressive Return Fund . CFP's share price advanced 3.8% while it's NAV per share decreased 1.4% generating a positive PrcNAVSprd of 5.2%.
CFP is a conundrum from a fundamentalist's point of view. It trades at a 15.6% annualized monthly distribution yield and at a 38.0% premium. Its largest holdings are CEFs that can be purchased at a discount. Its monthly distribution is a 30% return of capital and it has reduced its distributions rate each in the past two years.
One way to look at value creation is to track NAV per share. Since April of 2008, CFP's NAV per share has declined 58.8%, from $12.50 to $5.15 per share. However, marginal CEF investors focus on distribution yield to the exclusion of fundamentals. (The issue of premiums and distributions was a topic of a recent article we wrote entitled, "How Marginal CEF Investors Are Being "Gamed" (4/24/12)).
CFP experienced a surge in trading volume Tuesday and Wednesday of this week, 182,000 and 212,100 shares, respectively. Average daily 3 month trading volume is typically around 60,000 shares.
One of the CEF(s) with the greatest negative PrcNAVSprd for the week was Helios High Yield Fund . HHY's share price declined 3.0% while its NAV increased 0.9% generating a negative PrcNAVSprd of 3.9%. HHY trades at an annualized monthly yield of 8.8% and at a slight premium of 2.1%.
Insider Trading: While there was scattered insider trading, Lincoln National Life Insurance, a 10% owner of Kayne Anderson MLP (NYSE:KYN), acquired 120 units of Senior Unsecured Notes at a total expenditure of $30 million. There was some small buying in Denali Fund (DNY), Boulder Total Return Fund (BTF) and Boulder Growth & Income Fund (NYSE:BIF). All three are related to the Horejsi's interest.
Last Week's Focus Stock(s): Our focus stock last week was Aberdeen Chile Fund. CH was down 1.6% for the week. The copper ETN (NYSEARCA:JJC) was down 3.1% while iShares MSCI Chile Index Fund ETF (NYSEARCA:ECH) was down 1.3%.
---
[*] All things being equal, price and NAV should move in tandem. A price movement greater than the NAV generates a positive PrcNAVSprd and may be interpreted as negative on a near-term basis and indicate that the stock is overvalued relative to its NAV which in theory is the stock's intrinsic value. The opposite would be true for a negative PrcNAVSprd.
Disclosure: I am long PCEF, CH. I own a diversified portfolio of CEFs and ETFs and am long stocks in the CEFBig10™ and CEFMuni10™. The first is a balanced equity-income portfolio (CEFBig10™) and the second a tax-exempt income portfolio (CEFMuni10™).